PUNJAB

HARYANA

JAMMU & KASHMIR

HIMACHAL

REGIONAL BRIEFS

NATION

OPINIONS

MAILBAG

BUSINESS

SPORTS

WORLD

Friday, September 9, 2005, Chandigarh, India
Updated at 3:00 am (IST)
42 Army men feared dead in bridge collapse
Kharo (Kinnaur), September 8
At least 42 Army men, including two officers of the 18 Engineers Regiment, were feared drowned in the Sutlej while four jawans were rescued with minor injuries in a bridge collapse here this afternoon.



Chandigarh page: Anxious moments in 'K' Area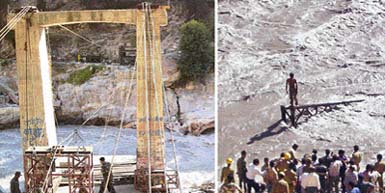 The Bailey bridge on the Sutlej which collapsed at Kharo in Reckong Peo in Kinnaur on Thursday, and (right) the remains of the bridge after its collapse. — Tribune photos by Kulwinder Sandhu
CAST YOUR VOTE
Should the Class X board exam be made optional?



LUDHIANA

JALANDHAR

AMRITSAR

DELHI

FORUM

EDUCATION

JOBS & CAREERS

HEALTH & FITNESS

SCIENCE & TECHNOLOGY

SPORTS

SOCIETY

TRIBUNE CLASSIFIEDS

BRIDES WANTED

GROOMS WANTED

OTHERS

HOW TO PLACE ADVTS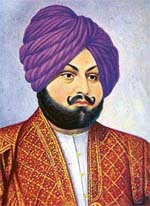 Along with millions of readers and admirers, The Tribune pays homage to its founder, Sardar Dyal Singh Majithia, who passed into eternity on this day 107 years ago.
Vajpayee, Yashwant back Khurana
New Delhi, September 8
The growing schism within the Bharatiya Janata Party came into open when former Prime Minister Atal Bihari Vajpayee today opposed party President L.K. Advani's decision to expel former Delhi Chief Minister Madan Lal Khurana from the party, saying that he should have been given another chance to explain his position.



In video (28k, 56k)

Editorial: Harsh punishment

QUOTE OF THE DAY
It would have been better if instead of action being taken against him, he was given one more opportunity to clarify his stand.
— Atal Bihari Vajpayee

THE TRIBUNE MAGAZINES
On Sundays

On Saturdays

CM's son Cong choice for Rohtak
Chandigarh, September 8
Another son will rise on the political horizon of Haryana when Mr Deepender Singh Hooda will file his nomination papers for the Rohtak Lok Sabha byelection on September 10 as the Congress candidate.
Deepender Singh Hooda talks to the media in New Delhi on Thursday after he got the Congress ticket for the Rohtak parliamentary byelection. — PTI photo

Haryana page: INLD, BJP nominees begin campaign
Manmohan, Blair for anti-terror law
New Delhi, September 8
The issue of international terrorism dominated the bilateral talks between Prime Minister Manmohan Singh and his visiting UK counterpart Tony Blair in Udaipur today.


In video (28k, 56k)



Delhi page: Cherie Blair interacts with HC judges
Chandigarh man is envoy to Iran
New Delhi, September 8
Mr Manbir Singh, presently Ambassador of India in Hungary, has been appointed as the next Ambassador of India to Iran in succession to Mr K.C. Singh.
Chandigarh blast: 7 hurt
Chandigarh, September 8
Seven persons were injured in an explosion at the Sector 17 inter-state bus terminus late this evening.
(Details on Chandigarh page)



Chandigarh page: Security beefed up at railway stations


Punjab page: Chandigarh blast: red alert in Punjab

Mahesh-Hantuchova win title
New York, September 8
India's Mahesh Bhupathi and Slovakia's Daniela Hantuchova won the mixed doubles title at the US Open today. (Details on Sports page)


IA loses 5 pilots, 6 engines in two months
New Delhi, September 8
At a time, when there should be celebrations within Indian Airlines with the government having cleared its long-pending plan for acquisition of new aircraft, there is more of disturbing news.
In Jalandhar Plus today
In Science & Technology today

E - Revolution 2005:
A Two-day IT conclave

Assembly Elections - 2005

Turbans

Chandigarh is 50

EARLIER FEATURES
India, EU to intensify fight against terror
September 8, 2005
Petrol dearer by Rs 3
September 7, 2005
Centre, Hurriyat agree to end all forms of violence
September 6, 2005
EC raps Haryana on code violation
September 5, 2005
Four-phase Bihar poll from Oct 18
September 4, 2005
Armed men wreak havoc in Panchkula
September 3, 2005
None will be spared: CM
September 2, 2005
843 die in stampede
September 1, 2005
India, Pak to free 1,100 prisoners on Sept 12
August 31, 2005
India, Pak fail to reach agreement
August 30, 2005