PUNJAB

HARYANA

JAMMU & KASHMIR

HIMACHAL

REGIONAL BRIEFS

NATION

OPINIONS

MAILBAG

BUSINESS

SPORTS

WORLD

Sunday, December 25, 2005, Chandigarh, India
Updated at 3:00 am (IST)
2 Haryana trucks torched in Assam
Strike brings life to halt in Kokrajhar
Kokrajhar (Assam), December 24
An angry mob in Assam today torched two trucks from Haryana in retaliation to the killing of three Bodo youths who clashed with Haryana policemen for allegedly sexually assaulting some women train passengers.



Six Haryana cops detained


IG sent to Guwahati

CAST YOUR VOTE
Should there be state funding of elections?


CHANDIGARH

LUDHIANA

JALANDHAR
New

DELHI

JALANDHAR PLUS

AMRITSAR PLUS

LIFESTYLE
New

FORUM

EDUCATION

JOBS & CAREERS

HEALTH & FITNESS

SCIENCE & TECHNOLOGY

SPORTS

SOCIETY

TRIBUNE CLASSIFIEDS

BRIDES WANTED

GROOMS WANTED

OTHERS

HOW TO PLACE ADVTS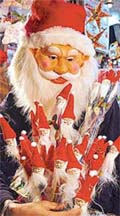 The Tribune wishes its readers a Merry Christmas.
PM hints at ushering in labour, tax reforms
New Delhi, December 24
Underlining that the decade ahead must be one of investment, Prime Minister Manmohan Singh today pledged to initiate new infrastructure investments, along with labour and tax reforms, to boost manufacturing industry and employment generation.

Expelled MPs may move court
New Delhi, December 24
Expelled BJP Members of Parliament are considering moving the Delhi High Court against the decision.



Opinions page: Sting operations must be in public interest, says Justice Ray


Rajnath slated to head BJP
Vajpayee, Advani stamp decision
New Delhi, December 24
Former Uttar Pradesh Chief Minister Rajnath Singh appears to have emerged a favourite of both the Rashtriya Swyamsevak Sangh and the BJP top leadership to take over the reins of the party when present president L.K. Advani steps down from office after the silver jubilee conference of the party in Mumbai next week.


In video (28k, 56k)
HC grants bail to Congress MP
Kolkata, December 24
Congress MP from Behrampore in Murshidabad district Adhir Chowdhury was yesterday granted bail by a Division Bench of Calcutta High Court, comprising Justice S.P. Mitra and Justice Amit Talukdar.

Quote
There is not a single complaint against him (Sourav). And whatever reports appeared in the media are unfair on any player, especially for the person who has got victories for India.
— Sharad Pawar

234 youths join J&K Light Infantry
Srinagar, December 24
As many as 234 young soliders took part in the Army's Jammu and Kashmir Light Infantry passing out parade here today at the Bana Singh parade ground.
(Details on J&K page)


A mother kisses her son at the passing out parade of recruits of the JAKLI at the regimental centre at Rangreth (Srinagar) on Saturday. — Tribune photo by Amin War
Burns' crucial visit to India next month
New Delhi, December 24
United States' Under Secretary for Political Affairs Nicholas Burns will come here next month on a crucial visit during which the final nuts and bolts for implementation of the July 18 Indo-US nuclear agreement are expected to be fastened, diplomatic sources said today.


Fog hits traffic, 40 flights delayed
New Delhi, December 24
Twenty flights had to be diverted to various destinations as thick blanket of fog and cold wave conditions gripped the capital today. Low visibility forced the airport authorities to divert the flights. Besides, rail and road traffic was also delayed due to fog.
Two more die of cold

In video (28k, 56k)

A heavy traffic jam on the Gurgaon- Jaipur National Highway on Saturday morning.
— PTI photo

In Society today

E - Revolution 2005:
A Two-day IT conclave

Assembly Elections - 2005

Turbans

Chandigarh is 50

EARLIER FEATURES
11 MPs expelled from Parliament
December 24, 2005
Curfew in Morena after BSP leader's murder
December 23, 2005
Expel 10 exposed MPs, says Bansal panel
December 22, 2005
MPLADS scam rocks Parliament
December 21, 2005
WTO pact to boost farm exports
December 20, 2005
42 die in Chennai stampede
December 19, 2005
Capt hints at debt waiver for farmers
December 18, 2005
Bomb scare in Parliament
December 17, 2005
Indo-US N-deal reciprocal: PM
December 16, 2005
North shivers
December 15, 2005