PUNJAB

HARYANA

JAMMU & KASHMIR

HIMACHAL

REGIONAL BRIEFS

NATION

OPINIONS

MAILBAG

BUSINESS

SPORTS

WORLD

CHANDIGARH

LUDHIANA

JALANDHAR
New

DELHI

JALANDHAR PLUS

AMRITSAR PLUS

LIFESTYLE
New
Thursday, February 16, 2006, Chandigarh, India
Updated at 3:00 am (IST)
Exservicemen take to streets
Army to remain secular, says Pranab
New Delhi, February 15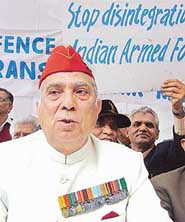 As Defence Minister Pranab Mukherjee today sought to put to rest the raging controversy over the survey of Muslims in the Indian Army by saying that the Indian armed forces were totally "secular and apolitical", a number of former defence officials and other ranks led by former Deputy Chief of Army Staff Lieut-Gen Niranjan Malik (retd) took to the streets here, saying any religious headcount in the armed forces could undermine its apolitical, professional character.

CAST YOUR VOTE
Will Rs 700 a quintal be a fair MSP for wheat?




FORUM

EDUCATION

JOBS & CAREERS

HEALTH & FITNESS

SCIENCE & TECHNOLOGY

SPORTS

SOCIETY

TRIBUNE CLASSIFIEDS

BRIDES WANTED

GROOMS WANTED

OTHERS

HOW TO PLACE ADVTS
QUOTE
Sachin has bowled well in both the games. We are trying to develop the fifth bowler by using Sachin, Yuvraj and Raina.
— Rahul Dravid

HOROSCOPE
Exservicemen under the banner of Sainik Kalyan Manch demonstrating against the survey of serving Muslim soldiers, sailors and airmen of all ranks, before submitting a memorandum to the President, Dr A.P.J. Abdul Kalam, at Parliament Street in New Delhi on Wednesday. — Tribune photo by Rajeev Tyagi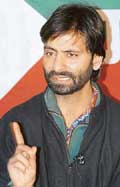 Malik to meet PM tomorrow
Srinagar, February 15
Two days after getting an invitation to meet the Prime Minister, the JKLF chairman, Mohammad Yaseen Malik, here today announced his party's decision to meet Dr Manmohan Singh in New Delhi on Friday. A two-member team comprising Malik and general secretary Ghulam Rasool Dar will meet the Prime Minister.

Yaseen Malik at a press conference in Srinagar on Wednesday. — Tribune photo

EC fails to break deadlock on state funding
New Delhi, February 15
An all-party meeting, convened by the Election Commission today, failed to evolve a consensus on the state funding of election, which is aimed at curbing money power in elections.
Indian sailor beaten to death over cartoon row in UAE
Dubai, February 15
An Indian sailor was allegedly beaten to death by his colleagues on board a Norwegian oil tanker in the international waters off the coast of Fujairah in the UAE following an argument over the cartoon row.
3 more killed in Pak violence
Islamabad, February 15
Violent protests in Pakistan against publication of Prophet Mohammad's cartoons in European dailies claimed three more lives today as thousands of people went on the rampage burning cinema halls and western businesses in northwestern city of Peshawar.



India: The Tasks Ahead
SPECIAL SUPPLEMENT

125TH ANNIVERSARY CELEBRATIONS,
INAUGURAL SESSION

| | |
| --- | --- |
| | |
| | HARYANA: INLD observes warning day |
| | HIMACHAL: Check copying, CM tells teachers, SDMs |
| | |
| | CHANDIGARH: MC chief loses no-trust vote |
| | LUDHIANA: NRI girl kidnapped a day before marriage |
| | |
| | Opinions: Tying the knot |
| | |
| | |
| | |
| | SPORTS: Will it be a decider? |
FORUM
Forum provides our readers with an opportunity to express their views on some of the vital issues facing the country. The new question being posed is:
Should lawyers resort to strikes?
The answers can be
e-mailed to:
forum@tribunemail.com
H.K. Dua
Editor-in-Chief

In Amritsar Plus today

In video (28k, 56k)
| | |
| --- | --- |
| | A Pakistani man runs past a bus set on fire by protesters in Peshawar on Wednesday. Three persons died, including a young boy, during violent protests in Pakistan on Wednesday against cartoons of Prophet Mohammad published in European newspapers, security officials said. — Reuters |
Order on marriage registration to apply to all religions: SC
New Delhi, February 15
The Supreme Court's directive on compulsory registration of marriages would apply to the people of all religious communities in the country and rules have to be framed by the Centre and states accordingly.
French court blocks Clemenceau transfer to India
Paris, February 15
France's highest court, the State Council, today ordered Paris to suspend the transfer to India of the asbestos-lined decommissioned warship Clemenceau.


Snow, rain break dry spell in HP
Reckong Peo, February 15
The piercing cold wave gripping the middle and upper hill areas of Kinnaur district and the adjoining Spiti valley in Himachal Pradesh continued unabated on the second day today as the upper hill areas of the entire tribal belt experienced intermittent snowfall since Monday night.

E - Revolution 2005:
A Two-day IT conclave

Assembly Elections - 2005

Turbans

Chandigarh is 50

EARLIER FEATURES
Marriages must be registered
February 15, 2006

Left not to back no-trust move against UPA govt
February 14, 2006
Kalam outlines Navy's future role
February 13, 2006
CPM, SP join hands on Iran issue
February 12, 2006
CPM plans stir during Budget session
February 11, 2006
FBRs not to be put in civilian N-list, US told
February 10, 2006
Gujarat to reopen 1594 riot cases
February 9, 2006
Stop wheat import, say farmers
February 8, 2006
5000 troops pulled out from J&K
February 7, 2006
Left seeks debate on Iran issue
February 6, 2006
IAEA refers Iran to Security Council
February 5, 2006