Games as work
Nikita Singh
Itís raining bullets left, right and centre. The pounding of your heart seems to grow louder than the deafening sounds of the machine guns. Skipping the landmines and ducking for cover, you finally arrive alive and safe in your own territory. The action, typical of a war-ravaged frontier, is being enacted right in your home. As living rooms the world over are being invaded by aliens, sky rocketing space ships, racing cars etc, people are witnessing a slice of the action of life in the fast lane.


Now, placement agencies for defence officials
Sky is now the limit for retired defence personnel, when it comes to choosing a post-retirement career option. The Defence Ministry has joined hands with placement consultants to help their skilled personnel. And the initiative has started showing results.



Careercature
Sandeep Joshi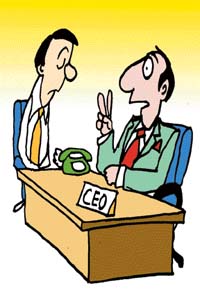 The perks of the job are: online chatting, access to computer games, etc.

Genpact tops among BPO employers
Genpact has entered the top league of the third party BPO and ITeS in the annual rankings for 2005-06, announced by industry body Nasscom. The employment in the BPO sector increased to 1.15 lakh in 2005-06 from 3.16 lakh in 2004-05.



Smart Skills
Count on a future as Company Secretary
Usha Albuquerque
Every company requires a Company Secretary, which means there will always be job opportunities for those with this qualification. With the growth of the Indian economy and the setting up of new ventures and business enterprises, the requirement for company secretaries has increased considerably.



Career Hotline
Joining open school
Pervin Malhotra
Q I failed to clear my Class X (Compartment) exam in Maths. And because I am overage my school is not allowing me to appear for the exams. If I shift to NIOS, will I have to reappear for all the papers? Is NIOS given the same weightage as the CBSE?