Sunit Dhawan
Have you completed your schooling and find yourself at the crossroads regarding making a career option? Do you want to make it big in life but find the technical and scientific fields rather uninteresting? Are you fascinated by the glamour of fashion and hotel industry, or want to be among kids for the rest of your life? If you are an ambitious young girl and your reply to any one or more of the above questions is in the affirmative, the discipline of home science beckons you to a whole new world of apparel designing, institutional housekeeping, child development and pre-school management, family studies, home economics, nutrition and dietetics, and lots more.
'We want to produce job-providers, not seekers'

Careercature
Sandeep Joshi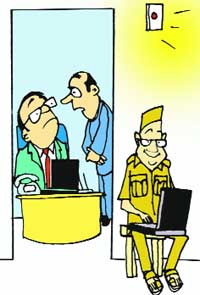 He is online. Sir, you can chat with him at peon@yahoo.com
BPOs to provide jobs in new areas
Receivable Management Services (RMS), one of the top companies in business accounting systems, is significantly expanding operations at its call centre in Gurgaon, and plans to open new centres in tier-II cities like Chandigarh, Ludhiana and Jaipur in the coming years.

Construction, finance sectors to offer highest jobs, says survey
Manoj Kumar
With the boom in housing and insurance sectors continuing, both these areas are set to provide the highest number of job opportunities to educated youths in the coming years. A global survey conducted in 25 countries by the Manpower Employment Outlook revealed that in India, 49 per cent of the companies engaged in construction and mining are anticipating increase in net employment. Over 4,500 employers were approached by the Manpower Outlook covering 30 cities, including Delhi, Amritsar, Chandigarh, Faridabad, Gurgaon, Chennai, Ahmedabad and Mumbai.The outlook is strongest in India with an overall Net Employment Outlook of plus 43 per cent, followed by Hong Kong at 27 per cent plus and Japan at 24 per cent.


Smart SkillS
Hospital management offers myriad opportunities
Usha Albuquerque
It is not only Rahul Mahajan, or his father, who were rushed to private hospitals in times of emergency, but more and more, the common man is beginning to depend on private hospital treatment. The past 10 years have seen a huge development in the healthcare sector with many more private organisations and multi-national companies setting up multi-speciality hospitals. For decades, it was the government that provided basic healthcare and essential hospital services in rural and urban areas. But with little growth in this sector, the infrastructure and the quality of services are inadequate to meet the growing requirements of an increasing population.

Career Hotline
Only the best make it to NASA
Pervin Malhotra