BRIDES WANTED

GROOMS WANTED

OTHERS

HOW TO PLACE ADVTS
HOROSCOPE

In Sports Tribune today

Punjab education scam-II
No record of crores spent on buildings
Chandigarh, June 23
The Punjab State Council of Education Research and Training had parked huge funds in bank accounts years ago and forgotten all about these. Separately, Rs 13.66 lakh meant for the conduct of the Class V examination had been wrongly diverted to print and prepare the Punjab Plan and budget for the 10th Plan — years 2002-2007.
Pakistan clears Javed Akhtar's visit
New Delhi, June 23
After initially denying permission to Javed Akhtar to visit Pakistan for the premiere of Mughal-e-Azam, the Pakistani Government late tonight gave its go-ahead to the visit of the veteran writer.

Nation page


Pak woman barred from singing at Ajmer dargah
Head Constable among 5 killed in valley
Series of grenade blasts leave 23 hurt
Srinagar, June 23
A series of grenade blasts and selective killings left three persons, including a police Head Constable dead and 23 persons, including 10 security force personnel, injured in Jammu and Kashmir overnight.

A Jammu and Kashmir Police jawan washes off blood stains from the site where militants shot dead a Head Constable in Srinagar on Friday. — A Tribune photograph

Power situation grim
Patiala, June 23
Power generation in hydroelectric projects in Himachal Pradesh, Jammu and Kashmir and Uttaranchal and in other dams of the Northern region has fallen drastically.


India: The Tasks Ahead
SPECIAL SUPPLEMENT
125TH ANNIVERSARY CELEBRATIONS,
INAUGURAL SESSION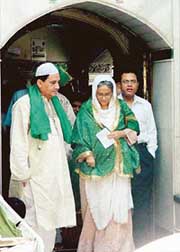 Former Prime Minister of Bangladesh Sheikh Haseena comes out of the Nizammuddin Dargah, New Delhi, after offering prayers on Friday. — PTI


In video (28k, 56k)

Haryana page: Haryana taking steps to meet power shortage
India pledges $ 2 million for UN peace fund
New Delhi, June 23
India has decided to make an initial commitment of $ 2 million to the Peacebuilding Fund proposed to be set up under the newly established Peace-building Commission (PBC) at the United Nations, the Ministry of External Affairs said today.
Additional DA for HP staff
Shimla, June 23
The Himachal Government today released another instalment of dearness allowance to its employee which became due from January, 2006.


Oldest Indian scales Mt Everest
New Delhi, June 23
He has climbed many a peak, but scaling Mount Everest has been special for BSF officer S.C. Negi as the feat made him the highest-ranking paramilitary official and the oldest Indian to reach the roof of the world.

E - Revolution 2005:
A Two-day IT conclave

Assembly Elections - 2005

Turbans

Chandigarh is 50

EARLIER FEATURES
Import of sugar, wheat allowed
June 23, 2006
SC cancels counselling for MBBS quota seats
June 22, 2006
2 former ministers arrested
June 21, 2006

Reliance inks pact with Haryana
June 20, 2006

Sonia asks partymen to gear up for UP poll
June 19, 2006
Sonia in attack mode
June 18, 2006
Fractured support for AIIMS Director
June 17, 2006
Minister, AIIMS docs on warpath
June 16, 2006
Rahul Mahajan gets bail
June 15, 2006
Left takes to the streets
June 14, 2006