CHANDIGARH

LUDHIANA

JALANDHAR
New

DELHI

HIMACHAL PLUS
New

AMRITSAR PLUS

LIFESTYLE
New

BRIDES WANTED

GROOMS WANTED

OTHERS

HOW TO PLACE ADVTS

Family of seven hacked to death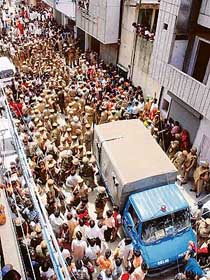 5 children among 7; septuagenarian couple also killed
New Delhi, July 31
It was a day of murders in the Capital. In all nine persons were done to death, including a family of seven and a septuagenarian couple.




Policemen, mediapersons and residents gather outside the house of Om Parkash, who was found dead along with his wife Santosh and five children, in New Delhi on Monday. — PTI photo

CBI begins probe into missing trucks
Gurdaspur, July 31
The CBI has initiated an inquiry into the 86 trucks loaded with foodgrains of the Food Corporation of India (FCI) meant for Jammu that had gone missing.
Bedi named CJ of Mumbai HC
Jain to be CJ of Punjab and Haryana High Court
New Delhi, July 31
The Supreme Court Collegium has recommended the appointment of four high court chief justices, including Mr Justice Vijender Jain and Mr Justice H.S. Bedi as the Chief Justices of the Punjab and Haryana High Court and the Bombay High Court, respectively.
| | |
| --- | --- |
| | |
| | HARYANA: Plan to preserve historical sites |
| | |
| | |
| | CHANDIGARH: Drivers leave Volvo bus midway |
| | LUDHIANA: Akalis gun for govt as poll nears |
| | |
| | OPINIONS: Stop it now |
| | BUSINESS: Infosys rings NASDAQ bell from Mysore |
| | |
| | |
| | SPORTS: Dalmiya vows to hit back at BCCI |

E - Revolution 2005:
A Two-day IT conclave

Assembly Elections - 2005

Turbans

Chandigarh is 50

EARLIER FEATURES
In Education Tribune today

UPA for executive say in SC, HC judges' appointments

CIC raps PMO for denying access to file noting
New Delhi, July 31
The Chief Information Commissioner, Mr Wajahat Habibullah, has rapped the Prime Minister's Office for denying access to files pertaining to the appointment of CIC and other Information Commissioners under the RTI Act on the grounds that they were "confidential."
Jaswant replies
New Delhi, July 31
Leader of the Opposition in the Rajya Sabha Jaswant Singh is understood to have replied to Prime Minister Manmohan Singh, who had written to the former yesterday, virtually rejecting his claim of a 'mole' in the PMO during the previous Congress government of Prime Minister P.V. Narasimha Rao.



Sidhu Damdami is Editor of Punjabi Tribune
Chandigarh, July 31
The Tribune Trust has appointed Mr G.S. Sidhu Damdami Editor of Punjabi Tribune. He will take over the new charge tomorrow, Mr H.K. Dua, Editor-in-Chief of The Tribune group of newspapers, said here today.
HOROSCOPE
'Mole' not named in letter, says PM
July 31, 2006

Kalam for speedy justice in terror cases
July 30, 2006
Peace must for J&K's progress, says Kalam
July 29, 2006
US House approves N-deal with India
July 28, 2006
No compromise on N-deal: PM
July 27, 2006
Govt's no to POTA
July 26, 2006
Price rise, terror rock Parliament
July 25, 2006
PM dares Jaswant to name mole
July 24, 2006
Cabinet clears 'profit' Bill unchanged
July 23, 2006
Hand over Dawood, Salahuddin
July 22, 2006
Amendment to RTI Act approved
July 21, 2006