BRIDES WANTED

GROOMS WANTED

OTHERS

HOW TO PLACE ADVTS
QUOTE
The country is running well and will continue to do so.
— Fidel Castro

Al-Qaida presence in J&K suspected
New Delhi, August 13
Intercepts of telecommunication messages between militants in Jammu and Kashmir and their mentors in Pakistan suggest that cadres of foreign terrorist group Al-Qaida are present in the Kashmir valley.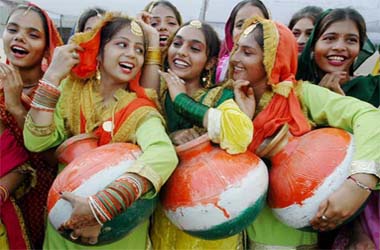 Punjab girls perform 'gidda' during a rehearsal in Amritsar on Sunday for the Independence Day celebrations. — AFP

HOROSCOPE
New twists surface in rape case
Gaganjit Barnala gets police remand
Chandigarh, August 13
A day after Gaganjit Singh Barnala, sitting MLA from Dhuri and son of Tamil Nadu Governor Surjit Singh Barnala, was booked on the charges of rape, several new facts, or rather contradictions, have surfaced.



Punjab page: Rape case: SAD to form panel, says Dhindsa


Chandigarh page: Rape victim under surveillance


Psychology of high-profile offenders causes surprise
Man burns parents alive
Nalagarh, August 13
A man allegedly burnt alive his old parents at Jhira village, about 12 km from here on Nalagarh-Ropar road, early today. Upset over his parents' refusal to give him a piece of land to construct his own house, Amarjeet Singh (43) allegedly set his aged parents on fire inside a cowshed of their home at around 5 a.m. today.
Cloudburst near Jubbal, 6 hurt
Jubbal (Rohru), August 13
Six labourers were injured in a flashflood in Bhagoli nullah triggered by a cloudburst on the Giri Ganga range near Jubbal in Rohru area, last evening.


Castro says he is better

Havana, August 13
A Cuban newspaper today published the first photographs of Fidel Castro since his stomach surgery and the Cuban leader said he had stabilised ''considerably'' but was not out of the woods.
A picture released by the Cuban newspaper Juventud Rebelde on August 13 shows Cuban leader Fidel Castro after his gasterointestinal surgery. The Cuban leader, who turned 80 on Sunday, appeared alert and in good spirits and displayed no discernible weight loss. He was wearing a striped polo shirt rather than his customary olive fatigues. — AFP photo


E - Revolution 2005:
A Two-day IT conclave

Assembly Elections - 2005

Turbans

Chandigarh is 50

EARLIER FEATURES
Barnala's son held on rape charge
August 13, 2006
US warns of terror attacks in India
August 12, 2006
Midair terror plot foiled
August 11, 2006
Key inputs ignored: Natwar
August 10, 2006
Congress suspends Natwar
August 9, 2006
Uproar over notice against PM
August 8, 2006
Natwar gives privilege notice against PM
August 7, 2006
India, Pak expel diplomats
August 6, 2006
Pathak report leak rocks Parliament
August 5, 2006