CHANDIGARH

LUDHIANA

JALANDHAR
New

DELHI

HIMACHAL PLUS
New

AMRITSAR PLUS

LIFESTYLE
New

BRIDES WANTED

GROOMS WANTED

OTHERS

HOW TO PLACE ADVTS
FORUM
The new question being posed is:
What should be done to stop tainted politicians from fighting elections?
Readers are invited to send their letters, not more than 150 words, to:
The Editor-in-Chief, The Tribune, Sector 29-C, Chandigarh, with 'Forum' superscribed on the envelope.
The answers can also be
e-mailed to:
forum@tribunemail.com

H.K. Dua
Editor-in-Chief
First Grand Slam title for Paes in 5 years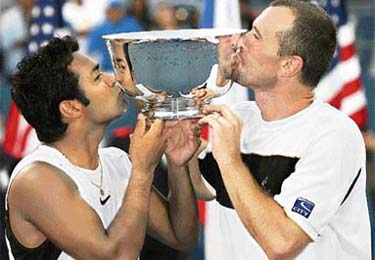 Leander Paes (left) and his doubles partner Martin Damm of the Czech Republic kiss their trophy after winning the men's doubles final against Jonas Bjorkman of Sweden and Max Mirnyi of Belarus at the US Open at the USTA Billie Jean King National Tennis Center in Flushing Meadows on Saturday. Paes and Damm won 6-7 (5/7), 6-4, 6-3. — AFP photo
Mahapanchayat rules in favour of
Kiran Chaudhary
Golagarh (Bhiwani), September 10
A mahapanchayat of three khaps of the Tosham Assembly segment representing 108 villages today unanimously declared that Tourism Minister Kiran Chaudhary and her daughter be allowed to stay in the Bhiwani residence of former Chief Minister Bansi Lal.
2 sisters murdered, house set on fire
Moga, September 10
Two sisters, Kaushalya Devi (70) and Satya Devi (60), were murdered in their house on Bagha Purana at Nihal Singh Wala today. Killers first strangulated them then set their room on fire to give the murder the shape of a mishap.
PM rejects BJP's demand on not meeting Musharraf
On board PM's special flight, September 10
Prime Minister Manmohan Singh today virtually rejected the BJP's demand that he should not meet Pakistan President Pervez Musharraf in Havana during the NAM Summit.

India: The Tasks Ahead

SPECIAL SUPPLEMENT

125TH ANNIVERSARY CELEBRATIONS,
INAUGURAL SESSION
Quote
I still love playing singles and still feel really fit to continue my duties in Davis Cup and Asian Games or Olympics. Singles is definitely not out of the question.
— Leander Paes

HOROSCOPE
US to mark 5th anniversary of 9/11 today
Washington, September 10
As Americans pay tribute to the nearly 3,000 victims of the September 11, 2001, attacks tomorrow, at the back of everyone's mind will be the thought of terror mastermind Osama bin Laden still roaming free and the rising toll of their soldiers in Iraq.

A man views the "Tribute in Light" as it is tested in Lower Manhattan in New York City on Saturday. September 11 will mark the fifth anniversary of the terrorist attacks on the World Trade Center in New York. — AFP photo


Opinions page: West Asia in turmoil
The marketing of a tragedy

178 killed in Sri Lanka fighting
Colombo, September 10
Sri Lankan forces inflicted heavy casualties on LTTE rebels killing 150 of them while losing 28 of their men as they launched a major offensive to push back Tiger artillery that has been targeting their main airbase in Jaffna peninsula.


Chicken is cheaper than ladoos!
Rates touch all-time low of Rs 38 per kg
Chandigarh, September 10
The price of a dressed chicken has touched an all-time low as it is quoted at Rs 38 a kg in the retail market. In the wholesale it was between Rs 32 and Rs 35 a kg. Interestingly, the minimum price of ladoos in the region is Rs 45 per kg.


E - Revolution 2005:
A Two-day IT conclave

Assembly Elections - 2005

Turbans

Chandigarh is 50

EARLIER FEATURES
Malegaon buries its dead
September 10, 2006
37 die in Malegaon blasts
September 9, 2006
5 pc DA hike for Central staff
September 8, 2006
Munda gets week to prove majority
September 7, 2006
PM cautions states of more fidayeen attacks
September 6, 2006
J&K sex racket cases shifted to Chandigarh
September 5, 2006
ED notices to Natwar, Jagat Singh
September 4, 2006
Beigh quits as J&K Deputy CM
September 3, 2006
Bugti buried in secrecy
September 2, 2006
Baluchistan heading for federal rule
September 1, 2006