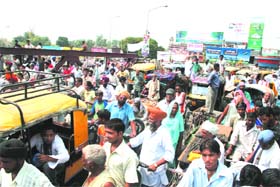 A scene of traffic chaos at Bhandari Bridge in Amritsar. — Photo by RS
Liquor vends mar holy city
With the liberalised policy announced by the state government, a large number of liquor vends have mushroomed in various residential, industrial and commercial localities of the holy city in total disregard of established norms.
My City
'Amritsar has seen many ups and downs'
It used to be my city. Now, I feel it is not only my city but also it has become a global city. In fact, Amritsar is unique city. Sri Harmandar Sahib and Amritsar have the same relation as that of nut and shell of almond.


Hands that fashion tandoors
Modern kitchens have come a long way from the days of the earthen stove (chulla) to the present day microwaves. Despite the changes, importance and significance of tandoors has not diminished. They are still relevant and inseparable part of Punjabi culture. But we hardly give a thought to the hands that fashion them.

A woman artisan gives finishing touches to a tandoor in Amritsar. — Photo by Rajiv Sharma

Encroachments dot fruit market near Hall Gate
The mushrooming of illegal encroachments in the old fruit and vegetable market outside the Hall Gate in Amritsar has become an eyesore for the public and the Municipal Corporation authorities. The building mafia is flourishing in the Moti Lal Nehru Fruit Market outside the Hall Bazar here.

Illegal constructions flourish in the fruit and vegetable market at Hall Gate in Amritsar.
— A Tribune photograph


Neglected Focal Point cries for attention
The Municipal Corporation has turned a blind eye to the problems and demands of the people of the Focal Point Industrial Area on the GT Road. The citizens have cried themselves hoarse seeking better civic amenities and roads, but their pleas have refused to prod the municipal corporation from lethargy.


Panchrang – a platform for art
Usually artists are known for secluded lifestyles, painting their imaginations in various colours and hues in remote corner away from the prying eyes. A local artist and teacher Mala Chawla thought from a different line altogether two years back. She wanted to bring senior painters and budding artists on to a common platform.

Mala Chawla gives finishing touches to one of her paintings at Amritsar. — A Tribune photograph
Music is this doctor's passion
Dr Navpreet Singh Hanspal is a doctor. But not many people in his circle know that he is good at flute, guitar, violin, tabla and jal tarang, for which he had taken professional training from Ustad Ramanand Shastri of Hoshiarpur at the tender age of nine.


'Aagaaz' makes new beginning by educating needy girls
"Aagaaz — Earth and Resources Care Group", an NGO aiming to create awareness among children and other strata of society, has added a new dimension to its work by educating and imparting training to poor and needy girls and women.

Ms Poonam (left) gives tips on fabric painting to a woman at Mission Aagaaz camp. — Photo by RS
450 students participate in talent search contest
More than 450 students participated in the talent search programme organised by SR Government College to tap the hidden potential of students of the college.
Thind's journey from reviews to travelogue
Sukhpal Singh Thind's parents wanted him to be a doctor, but he had a literary inclination. Though parental pressure made him join the science stream, he continued to nurture his literary aspirations.
Dengue mosquitoes breed in clean, stagnant water
Classic dengue fever is characterised by the acute onset of high fever in three to14 days after the bite of an infected mosquito. Patients develop frontal headache, nose bleeding, vomiting and nausea and sometimes rashes on the body.
Weizmann Forex to open 8 branches in Punjab
Weizmann Forex Ltd, the principal agent of Western Union Money Transfer in India, would soon open about eight branches across the state, as 25 per cent of the country's transactions take place here.
Samsonite store
In order to expand the retail business in the country, Samsonite has opened its two stores here. This has been done in collaboration with its local partner Gee Emm Sales Corporation. The company has its brands in the retail market in name of Samsonite and American Tourister.
Gully Cricket in city on Sep 23
Vivacious star Mandira Bedi, Sameer Khan and Tiger Deewana — will visit the city to participate in 'Gully Cricket' on September 23. Hyderabad, Nagpur, Kolkata, Mangalore, Visakhapatnam, Coimbatore, Ahmedabad and Lucknow are other cities hosting matches.