ADVERTISEMENT
ADVERTISEMENT

CHANDIGARH

LUDHIANA

JALANDHAR
New

DELHI

HIMACHAL PLUS
New

AMRITSAR PLUS

LIFESTYLE
New

BRIDES WANTED

GROOMS WANTED

OTHERS

HOW TO PLACE ADVTS
FORUM
The new question being posed is:
What should be done to stop tainted politicians from fighting elections?
Readers are invited to send their letters, not more than 150 words, to:
The Editor-in-Chief, The Tribune, Sector 29-C, Chandigarh, with 'Forum' superscribed on the envelope.
The answers can also be
e-mailed to:
forum@tribunemail.com

H.K. Dua
Editor-in-Chief
CMs take political dig at each other
Chandigarh, September 28
The chief ministers and senior ministers of Delhi, Himachal Pradesh, Jammu & Kashmir, Punjab and Haryana did not let go any opportunity to have dig at each other on sensitive inter-state disputes at the Chief Ministers' Conclave organised by the PHD Chamber of Commerce and Industry here today.



Remove trade barriers: PM
MiG-29 crashes in Ambala, pilot safe
Ambala, September 28
A fighter aircraft, MiG-29, of the IAF crashed in Ambala late this afternoon. There were no casualties. The fighter aircraft crashed within minutes after take-off from the Ambala airbase.
The mangled remains of the MIG-29 aircraft that crashed in Ambala on Thursday. — Tribune photo by Neetaj Chopra

Tribune Impact
Farmers to get market price for land: Capt
Chandigarh, September 28
In a partial climbdown following criticism from all quarters, particularly by farmers in the state, the Punjab Chief Minister, Capt Amarinder Singh, today declared that "not even a single kanal" of farmland would be acquired by his government for the special economic zones (SEZ) being set up by various private players.
Victory on N-deal "not in doubt"
New Delhi, September 28
India is not worried on whether the India-US Civilian Nuclear Cooperation Bill will be passed by the Senate or not, but its immediate concern is when will the voting take place.
India asks Pakistan to dismantle terror outfits
New York, September 28
Asking President Pervez Musharraf to stick to his commitment to end cross-border terrorism, India said today that Pakistan should dismantle terror outfits on its eastern border just as it was doing on its western border with Afghanistan.


India: The Tasks Ahead

SPECIAL SUPPLEMENT

125TH ANNIVERSARY CELEBRATIONS,
INAUGURAL SESSION



E - Revolution 2005:
A Two-day IT conclave

Assembly Elections - 2005

Turbans

Chandigarh is 50

EARLIER FEATURES
Quote
We cannot change our neighbours. And if you have to live together, it is better we live in peace. Trust begets trust.
— Pranab Mukherjee

In Science & Technology today

In Jalandhar Plus today
HOROSCOPE
Settle dispute amicably, Virk's daughter told
Kochi, September 28
The Kerala High Court today directed Dr Jasleen Virk, daughter of Punjab DGP S.S. Virk, to appear in person before it tomorrow to amicably settle the marital dispute with her husband Vikramjit Singh, an IPS officer in the state.
5 acquitted in 1993 blasts case
Mumbai, September 28
The special court constituted under the Terrorist and Disruptive Activities Act (TADA) today acquitted five persons charged with conspiracy in the 1993 serial bomb blasts case. One person was, however, found guilty.


Moral victory for Inzamam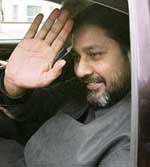 London, September 28
Pakistan captain Inzamam-ul Haq was today cleared of the ball-tampering charge but banned for four one-day internationals for bringing the game into disrepute.

Inzamam-ul-Haq waves to the crowd as he leaves the Oval cricket ground in London on Thursday.
— Reuters photo



ICC pulls Hair out of Champions Trophy

No package, only assurance
September 28, 2006
Mumbai blasts: 5 cops convicted
September 27, 2006
Ban on prime farm land for SEZs
September 26, 2006
No change in stand on terror: PM
September 25, 2006
PM warns of terror attacks
September 24, 2006
SC orders police reforms
September 23, 2006
Major-Gen gets 3 yrs in liquor scam
September 22, 2006
3 shot, 100 hurt in Delhi
September 21, 2006
India, Pak may not share hardcore intelligence
September 20, 2006
Pak, India to jointly fight terror: PM
September 19, 2006