City Beautiful is youthful too
Only 5% of population is aged above 60
Chandigarh, October 30
Contrary to the popular belief, Chandigarh is not the city of tired and retired people.
Local Govt, Forest Depts spar over Naya Gaon notification
Chief Secy calls special meeting today
Chandigarh, October 30
The Department of Local Government and the Department of Forests, Punjab, have locked horns over the notification of Nayagaon as Nagar Panchayat.
Dua lays stress on investigative reporting
Chandigarh, October 30
A 13-member inter-service team from the College of Defence Management, Secundrabad, visited The Tribune office today to have a glimpse of the functioning of a newspaper organisation.

Officers undergoing the Higher Defence Management Course at the College of Defence Management, Secundrabad, during a visit to The Tribune in Chandigarh on Monday. — A Tribune photo

Watch out


In Town


Passing Through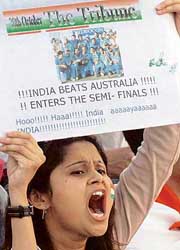 CHANDIGARH CALLING
Mona's trip pays off
Mona Singh and her twinkle-toed choreographer Tobby won Sony Television's 'Jhalak Dikhlaa Ja' despite her competitor Shweta Salve being a distinctly better dancer. However, for audiences voting, dance was not the only criteria and Mona's recent trip to the city to garner votes obviously paid off.



'Dus Saal'


CHB should be practical


Insanity on city roads


Honesty still exists


Yoga exercises


"Jungle" patch


9-yr-old dies in freak incident
Mohali, October 30
In a gruesome incident, a nine-year-old child was killed after he got trapped in a shaft of a machine at a flour mill in Mataur village here today. Chintu, who was playing with his brother and friends near the flour mill got trapped after his shirt accidentally got entangled in the extended portion of the shaft which was protruding out of a wall.



Wailing relatives of a child who killed after getting trapped in a machine at a village in Mohali on Monday. — A Tribune photograph


Challaning drunkard a battle for cops
Chandigarh, October 30
Challaning is not always fun for traffic policemen as is usually made out to be. On the flip side, it can be nasty and dangerous and all, because residents won't pay up a fine of Rs 100 for traffic violations they knowingly commit.
Visual disability alarming in Jammu & Kashmir
Chandigarh, October 30
Uttar Pradesh has another dubious distinction to its credit with the state topping the country in the number of physically challenged persons. If the latest figures released by the Department of Census Operations are to be believed, UP has 34.53 lakh physically challenged persons out of the total 2.19 crore such persons in the country.
Cadets, officers donate blood
Chandigarh, October 30
As many as 300 gentlemen cadets along with 40 officers from the Indian Military Academy (IMA), Dehradun, donated blood at a special camp organised at the academy today.
Fauji Beat
How Srinagar airfield was saved
THOUGH Indian troops began to land at the Srinagar airfield on October 27, 1947, threat to the airfield, which was the only link with their bases, continued to mount in the first 10 days. This was because of the tribals being in a much larger number than out troops.


Homage being paid at the 1 Sikh War Memorial.
Fire Dept's timely action saves 10 lives
Chandigarh, October 30
It was a harrowing experience for as many as 20 employees of a company — Mega Maya Estate— Sector 46-C — today afternoon after they were trapped in their office due to the dense smoke caused by a short circuit in the main electricity junction meter.
Governor focuses on industrial growth
Chandigarh, October 30
Punjab Governor S.F. Rodrigues today unfolded a structurally supported plan for upgrading the industrial sector and offered industrialists a partnership for the growth of this sector.


12 protesters hurt in clash with cops
Chandigarh, October 30
The protesting veterinary pharmacists from Punjab today braved water cannons and mild cane-charge at the Matka Chowk in Sector 17, here today.

The protesting veterinary pharmacists brave water cannon during a clash with the police at Matka Chowk in Sector 17, Chandigarh, on Monday. — A Tribune photograph
Poor sanitation, say councillors
Mohali, October 30
A number of councillors complained at a meeting of the Municipal Council here today that sanitation in the town was in a state of neglect.
MC cancels licences of 2 parking lots
Chandigarh, October 30
The Municipal Corporation of Chandigarh today cancelled the licenses of two parking lots in Sector 17 and 34 following the alleged failure of the operators to pay the installments of the bid amount. The Sector 17 contractor was running the 'Dr Sahib Singh and Sons' parking lot.
MC poll: BJP alleges rigging, shows VCD
Chandigarh, October 30
The Punjab unit of the BJP today released a video CD showing rigging and booth capturing during the MC byelections in Patiala. The party, seeking immediate annulment of the elections, alleged that the persons in the VCD were Congress workers and they had captured booths and cast ballots on their own.