Sound and fury at WAGAH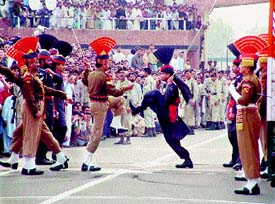 The change of guard at the Wagah check post is a spectacle that crowds throng to watch. Geetanjali Gayatri on showtime at this border village where fun is the mood and aggression the message as the parade begins
There's a biting chill in the air as evening sets in at the Wagah border. The setting sun nestles among the clouds in the horizon lending a rose-tinted hue to the sky. It's time for the flag-lowering border-closing parade between India and Pakistan, a time when hysteria reigns and patriotism spills over across boundaries.
Much more to the moon
A recent study by Planetary Science Institute geologists suggests that the moon is more geologically active than previously thought.
Flower power
Botanists in Arunachal Pradesh have rediscovered a rare medicinal plant after more than a century. Two scientists of the Botanical Survey of India spotted the wild flower, Begonia Tessaricarpa, during a routine research work near Ligu village in the northeastern state's Upper Subansari district bordering China.
A first-rate entertainer
Replete with the usual Bond accessories — fast sleek cars, Aston Martins, heady martinis and charming locales — there's much going for Casino Royale, writes Ervell E. Menezes
James Bond, that inimitable, stiff upper lip British secret agent is at it again (the 21st film) and since the cold war is dead and there's only one superpower, they've picked upon terrorism to peg their story on.
Full circle
But is James Bond relevant today ? Not really. With TV and Cable and DVDs that can bring all kinds of entertainers into your bedroom, the "girls, gadgets and guns" formula of yore is like Sunday school stuff.
The Blue Umbrella set for Jan release
Vishal Bhardwaj's The Blue Umbrella, based on a Ruskin Bond novella by the same name, will hit the theatres on January 5. The film, to be released by UTV Classics, a brand of UTV Motion Pictures, is a children's film which combines entertainment with morality.
A feast of world cinema
The films screened at the recent 12th Kolkata Film Festival were dominated by fear. Shoma A. Chatterji reports on the mood and tenor of the films that made a splash at the Festival
The Film Festival that ran through November 10 and November 17, screened 225 films from around 53 countries. There were select screenings at Chaplin under the Federation of Film Societies of India and also at the Cine Central where one of the oldest and the most active film societies of the city, hosted its own film festival. A hundred and fifteen films from 47 countries featured in the International Cinema section.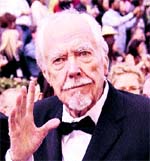 tribute
Rip-roaring renegade
Vikramdeep Johal
Altmanesque — the word conjures up a peculiar brand of cinema which has delighted, frustrated and outraged audiences for almost four decades. Robert Altman's untimely death — he was going strong even at 81 — means that we won't get any more of the satirical mosaics that made him an iconic figure in the film world.

Robert Altman
INTERVIEW
'I want to shed my goody-goody image'
IF Rajashri Productions had to select a heroine for their film from the current crop, it would undoubtedly be Amrita Rao. Somehow, her innocent look, petite frame and girlish voice makes for the perfect combination for a Barjatya production. The Mills-and-Boon heroine, who started her career with Shahid Kapoor in Ishq Vishq and continued to dish out hits in the form of – Main Hoon Na and The Legend of Bhagat Singh came back into the limelight with a Rajashri production – Vivah. Excerpts from an interview with Srabanti Chakrabarti