CHANDIGARH

LUDHIANA

JALANDHAR
New

DELHI

HIMACHAL PLUS
New

AMRITSAR PLUS

LIFESTYLE
New

BRIDES WANTED

GROOMS WANTED

OTHERS

HOW TO PLACE ADVTS
Punjab poll on Feb 13
Amritsar byelection on the same day; counting of votes on Feb 27
New Delhi, December 29
Punjab will go to the polls on February 13, Chief Election Commissioner (CEC) N. Gopalaswami said here today.


| | |
| --- | --- |
| I am glad that the wait is over. The Assembly elections will be a fight between the Congress, that is a party of the 21st century and has a vision to develop the state as the best not only in the country but in the world, and the Akali Dal which had not started thinking beyond the 18th century.— Amarinder Singh, Punjab CM | An era of repression, exploitation, and cheap stunts has come to an end. Punjabis had been waiting with bated breath for this day, and Amarinder will now see where he really stands. He will face the same burst of popular anger against him and his corrupt regime that all corrupt dictators do.— Parkash Singh Badal, President of SAD |
City businessman linked to Noida serial killings held
Chandigarh, December 29
The Noida police has arrested two persons, including a Chandigarh businessman, in connection with the disappearance of nearly 38 children from Nithari village in the past one and a half years.




A man carries some of the body parts and skeletons of children retrieved from the backyard of a house at Nithari village near Noida Sector 31, on Friday. — PTI photo
Land Acquisition
First meet owner's needs, says SC
New Delhi, December 29
The Supreme Court has upheld the Allahabad High Court verdict that the government cannot acquire land without addressing concerns and objections of parties affected.


India: The Tasks Ahead
SPECIAL SUPPLEMENT
125TH ANNIVERSARY CELEBRATIONS,
INAUGURAL SESSION



HOROSCOPE
In Sports Tribune today
FORUM
Forum provides our readers with an opportunity to express their views on some of the vital issues facing the country. The new question being posed is:
How can Indian hockey be saved?
The answers can be
e-mailed to:
[email protected]
H.K. Dua
Editor-in-Chief


Help for women deserted abroad
New Delhi, December 29
In a much-needed move, the Centre has prepared a scheme to provide counselling and legal services to Indian women deserted by their husbands in foreign countries.
Quota for Muslims in Manipur
Imphal: Manipur Chief Minister Okram Ibobi Singh has announced a four per cent reservation for the Muslim community in government jobs. — UNI

Windows 06
Bush and Britney top thumbs-down list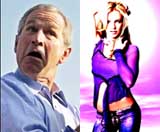 Washington, December 29
Bad guy of 2006: US President George W Bush. Good guy of 2006: President George W Bush. When Americans were asked in an AP-AOL News poll to name the villains and heroes of the year, Bush topped both lists, in a sign of these polarised times.

E - Revolution 2005:
A Two-day IT conclave

Assembly Elections - 2005

Turbans

Chandigarh is 50

EARLIER FEATURES
Buddha bends on Singur
December 29, 2006

NDA backs Mamata, seeks help of President
December 28, 2006

Saddam loses appeal
December 27, 2006

Lalu for Rahul; Nitish backs Atal
December 26, 2006
Defiant, Iran to enrich uranium
December 25, 2006
Manmohan Singh bytes, Mulayam bytes back
December 24, 2006
Protect witnesses: Bala
December 23, 2006
N-deal concerns remain: PM
December 22, 2006
Life term for Manu
December 21, 2006
India free to conduct nuke tests: Pranab
December 20, 2006