PUNJAB

HARYANA

JAMMU & KASHMIR

HIMACHAL

REGIONAL BRIEFS

NATION

OPINIONS

MAILBAG

BUSINESS

SPORTS

WORLD


Every Wednesday & Saturday

Illegal clubs continue to flourish in Rambagh

| | |
| --- | --- |
| Even after several years of expiry of the lease, four clubs continue to function in the heritage building of Rambagh. The district administration has done nothing to evict them and put an end to the illegal activity. | A boy flies a kite at the historical Rmmbagh in Amritsar. — Photo by Rajiv Sharma |
Petty crime rises in holy city
The year 2006 closed with about six big incidents of robbery and theft. A salesman of a leading ophthalmologic instrument manufacturing company was robbed off a laser eye machine worth Rs 15 lakh when he landed in city to deliver the machine to a leading eye specialist. The police remained clueless as foggy weather and swear cold conditions immobilised the force, especially late in the night and early morning.
Encroachments in walkers' way
Encroachments on footpaths have become a big nuisance in the city. Rehriwalas and shopkeepers encroach upon the space to sell their goods, installing their rehris or extending their counters on to the footpaths illegally leading to traffic chaos and inconvenience to the public.
Still not major tourist destination
Amritsar is a place of great historical and religious importance, both for Sikhs and Hindus. People from different communities, religions and regions come to the city along with foreign tourists but the city is still not among the major tourist sites like Jaipur, Udaipur, Goa, Shimla and McLeodganj.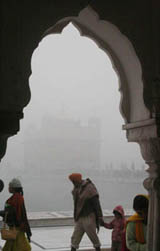 Undeterred on a cold and foggy morning devotees pay obeisance at Harmandar Sahib in Amritsar. — Photo by Rajiv Sharma

Breaking free from shackles
December 30, 2006

Stink in Ram Bagh
December 27, 2006
Restoring eyesight his vision
December 23, 2006
Save Virsa Bhawan
December 20, 2006
Farmers keen to breed fish
December 16, 2006
Gulab Singh's fort decaying
December 13, 2006
Khalsa spreads light of education
December 9, 2006
Poor children need no ban
December 6, 2006
Aroma business struggles to stay afloat
December 2, 2006
CM's assurance on medical college status
November 29, 2006
Unholy air around sacred pond
November 25, 2006
Youth takes to yoga
November 22, 2006