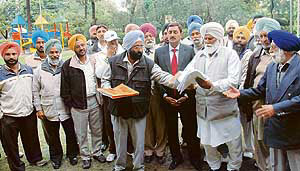 Voters seek Beas polling on Feb 24
Chandigarh, February 12
A delegation of sarpanches, panches and others from the Beas constituency today met Mr Sundaram Krishna, Chief Electoral Officer, Punjab, and requested him to advance the polling date for the Beas constituency to February 24.

A delegation of voters from Beas in Chandigarh on Monday. — A Tribune photograph
Kohli is no lightweight
Patiala, February 12
The Maharaja of Patiala, who won a landslide in the previous elections, faces a stiff battle this time from the SAD candidate, Mr Surjit Singh Kohli.
Banking on Amarinder govt's failures
Dera Bassi, February 12
It is set to be a straight fight between the Shiromani Akali Dal (SAD) stalwart, Capt Kanwaljit Singh, and the Congress candidate, Mr Rakesh Sharma, in the Banur assembly segment even as 1.78 lakh voters will decide the fate of the eight candidates in the crucial elections on February 13.
Parties overlooked key issues: NGO
Chandigarh, February 12
Faridkot-based non-governmental organisation Kheti Virasaat Mission today said issues concerning the future of Punjab had been overlooked by all parties.

Wary of security, SAD looks up to EC for fairness
Chandigarh, February 12
Though the SAD is not fully satisfied with the security arrangements for tomorrow's Assembly elections in Punjab, yet it is pinning its hopes on the Election Commission to conduct a free and fair poll, the SAD general secretary, Capt Kanwaljit Singh, said here today.


SAD general secretary Capt Kanwaljit Singh
Photos doctored, Kanwaljit tells EC
Chandigarh, February 12
The Shiromani Akali Dal (SAD) today wrote to the Election Commission alleging electoral 'malpractices' by the Congress candidate, Mr Balbir Singh Sidhu.
Tight security in place
Chandigarh, February 12
After almost three weeks of hectic campaigning in what is being touted as one of the toughest, fiercest and ugliest elections, more than 1.66 crore voters will exercise their franchise tomorrow.
Patrolling parties ready, nakas set up
Mohali, February 12
The SAS Nagar district police has totally geared itself up for the Punjab Assembly elections even as more than 2,000 police personnel have been deployed for conducting a free and fair poll in the three constituencies of the district.
code uncode
Candidates hire vehicles to ferry voters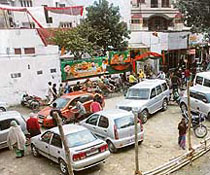 Jalandhar, February 12
Not caring two hoots for the orders of the Election Commission a day before the elections, candidates of all major parties from all 10 seats in Jalandhar today hired vehicles for ferrying voters from their homes to polling booths for casting votes in their favour.

Hired vehicles parked in front of the office of a BJP candidate in Jalandhar on the eve of the elections for ferrying voters to polling booths. — Tribune photo by Pawan Sharma

Poll managers rush for umbrellas

Chandigarh, February 12
Umbrellas and waterproof tents have suddenly become scarce in Punjab. Candidates from almost all political parties have purchased all available stocks in the retail market. The inclement weather can adversely impact the voter turnout, especially in the urban areas. "When the non-committed voters stay away, it can reduce the victory margins. The inclement weather has had an impact on urban voting behaviour, hurting parties that have a wider mass base in cities and towns", says Dr Pramod Kumar, Director of the Institute for Development and Communication.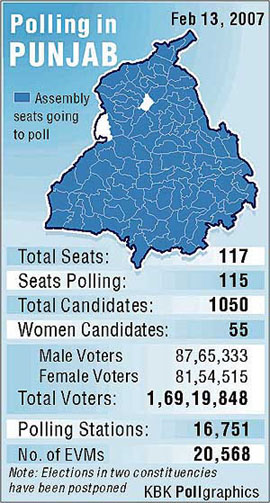 Special arrangements for Bholath
Kapurthala, February 12
The district police has made special arrangements to maintain law and order in the Bholath constituency, declared one of the most sensitive constituencies in Punjab. A former SGPC chief Bibi Jagir Kaur is locked in a keen contest with Congress candidate Sukhpal Singh Khaira on this seat.
DSP refrained, SHO transferred
Amritsar, February 12
A few hours before polling the district police chief of Majitha, Mr Lok Nath Angra, today directed DSP Balbir Singh to refrain from election duty, even as SHO (Majitha) Jarnail Singh was sent to Police Lines for 'dereliction' of duty.
Candidate held, freed
Ropar, February 12
Congress nominee Ramesh Dutt Sharma from Anandpur Sahib was today arrested and released on bail here. A case against Mr Sharma was registered under Section 188, IPC, on the report of the Returning Officer for holding a meeting after the deadline.
Valecha rebuts charge
Chandigarh, February 12
Reacting to allegations by senior BJP leader, Mr V.K. Malhotra, the president of the Punjab unit of the Uma Bharati-led Bharatiya Jana Shakti Party, Mr Pawan Valecha, today said "the BJP may be seeking funds from the Congress at the central level. This is why Mr Malhotra knows where to get these from".
No cakewalk for Kang
Morinda, February 12
For sitting MLA and Cabinet Minister Jagmohan Singh Kang, it seems to be far from a cakewalk.
fatehgarh churian
Urban voters hold the key
Fatehgarh Churian (Gurdaspur), February 12
The border constituency of Fatehgarh Churian is witnessing the toughest contest out of all the seats in the district. The Congress nominee, Mr Sukhjinder Singh Randhawa, is locked in a neck-and-neck contest with the SAD candidate, Mr Nirmal Singh Kahlon.
Election staff worried over voter turnout
Chandigarh, February 12
Weather holds the key to Punjab's fiercest electoral battle, voting for which is scheduled for tomorrow. As many as 1.64 crore electors will exercise their franchise to elect 115 members of the Punjab Vidhan Sabha from amongst 1,038 candidates. Elections in the Valtoha and Beas constituencies will be held later.
Polling booth sans door
Chandigarh, February 12
There is a possibility that 350 voters of Vaddikaroran village will not be able to reach polling booth No. 134 at the primary school of Masol village to cast their votes.
It remained a rich man's game
Chandigarh, February 12
The political fortunes of Chief Minister Capt Amarinder Singh, former Chief Minister Parkash Singh Badal, Deputy Chief Minister Rajinder Kaur Bhattal and several present and former ministers like Mr Partap Singh Bajwa, Mr Lal Singh, Mr Jasjit Singh Randhawa, Chaudhary Jagjit Singh, Capt Kanwaljit Singh, Mr Adesh Partap Singh and Mr Ranjit Singh Brahmpura will be decided as Punjab goes to the polls tomorrow.
SARDULGARH
Mofar tough for Bhunder
Sardulgarh (Mansa), February 12
A picture of abject neglect despite having seven-time MLA Balwinder Singh Bhunder from here, this constituency goes to the polls with yet another promise of development to voters by Mr Bhunder of the SAD. His archrival is Congress candidate Ajit Inder Singh Mofar.
Sidhus evenly poised in Talwandi Sabo
Talwandi Sabo, February 12
The electorate here has a tough job at its hand of choosing one Sidhu of the two, as the sitting MLA and Chief Minister's confidant, Mr Jeet Mohinder Singh Sidhu, is locked in a straight contest against the SAD candidate, Mr Amarjeet Singh Sidhu, a former IAS and greenhorn.
Votes on sale, says CPI
Chandigarh, February 12
"Democracy is in peril in Punjab. There is free sale and purchase of votes in the Malwa belt. The Election Commission is conniving with political parties to make a mockery of the electoral process," alleges Dr Joginder Dayal of the Communist Party of India.
SGPC secy proves tough for SAD
Amritsar, February 12
Mr Raghbir Singh Rajasansi, secretary, Shiromani Gurdwara Parbandhak Committee (SGPC), will be the first person to contest the Punjab Vidhan Sabha elections while serving with the SGPC.
Poll officials found absent, replaced
Mohali, February 12
A polling officer for a booth in Phase XI here was replaced today after he was found absent from duty and allegedly under the influence of liquor.
More police force for Nangal, Chamkaur Sahib
Ropar, February 12
In view of the elections to be held tomorrow out of the three, two assembly segments Nangal and Chamkaur Sahib are turned out sensitive due to the aggressive nature of canvassing witnessed in the past few days.
SAD blamed for using 'unfair' means
Mohali, February 12
Mr Balbir Singh Sidhu, Congress candidate contesting the Punjab elections from the Kharar constituency, today alleged that members of the Shiromani Akali Dal were resorting to unfair means to win the elections. He demanded that more security arrangements should be made so that elections were held in a free and fair manner.
91 bottles of liquor seized, eight booked
Mohali, February 12
The police has seized 91 bottles of liquor and booked eight persons here on charges of disobeying orders duly promulgated by the District Magistrate, imposing a ban on the sale and illegal possession of liquor for three days in connection with the Punjab Assembly elections being held tomorrow.
2192 bottles of liquor seized
Hoshiarpur, February 12
Keeping in view the polling tomorrow for the state Assembly elections, a special drive has been launched to nab liquor smugglers and bootleggers. The district police has seized 2192 bottles of country made foreign liquor of various brands worth lakhs of rupees last night.
Voters to have the last word
We will put Amarinder behind bars
Lambi (Muktsar), February 11
SAD chief Parkash Singh Badal and Congress candidate Mahesh Inder Singh Badal, both cousins, concluded their poll campaign on a confident note here today.
Wipe out SAD-BJP alliance
Ferozepore/Guru Harsahai, February 11
The Chief Minister, Capt Amarinder Singh, today gave a clarion call to the electorate to "wipe out the SAD-BJP alliance" and cautioned them to beware of "political stunts" of the Badal family.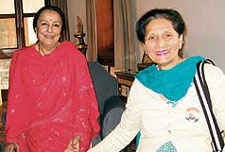 'Rani' holds fort in Patiala
Patiala, February 11
The mascara on Ms Rishma Kaur's eyes is as crisp as the mood on the final day of campaigning. She has everything in place - the make-up, the finery and the charm. "Let me show you the places I covered," she says, flanked by other women of the family, who've been camping at Moti Bagh Palace for a month.

MP Preneet Kaur with the 'Rani' of Nalagarh

Price rise due to corruption: Malhotra
Chandigarh, February 11
The Deputy Leader of the Opposition in the Lok Sabha, Mr V.K. Malhotra, today said the rise in prices of essential commodities was related to "corruption". The UPA government had allowed speculators a free run while trading in foodgrains on the commodities exchange.
Mr Vijay Kumar Malhotra, MP and Chief Whip, BJP Parliamentary Group, during a press conference at the Chandigarh Press Club on Sunday. — A Tribune photograph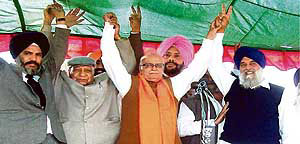 CM most arrogant: Advani
Fazilka, February 11
Calling Capt Amarinder Singh the most arrogant Chief Minister, Mr Lal Krishan Advani, Leader of Opposition in the Lok Sabha, drew a parallel between his regime and the Emergency imposed by late Indira Gandhi.
BJP leader L.K. Advani at a rally in Fazilka on Sunday. — A Tribune photograph

Touch and go in Gurdaspur
Gurdaspur, February 11
With the campaigning for the Assembly elections coming to an end today, the stage is set for a tough contest on most seats in the district.
Sham Chaurasi MLA claims 80 cr spent on development
Chandigarh, February 11
The Sham Chaurasi election agent for the Congress candidate has claimed that the MLA had spent approximately Rs 80 crore on rural development in the constituency over the past five years. The election agent has also claimed that the population of the township is much larger than reported in these news columns.
Tarn Taran: Deras may affect outcome
Tarn Taran, February 11
It's a fight between the untried politicians and the experienced leaders in the border district of Tarn Taran.
Promises defy ground realities
Chandigarh, February 11
Punjab's future in agriculture is a big issue in the elections and parties have been claiming to be pro-farmers. However, election promises by main parties, aimed at the welfare of farmers, are contrary to ground realities.


COUNTING ON STAR POWER

BJP MP Hema Malini campaigns for the SAD-BJP alliance in Patiala; and right Bollywood actor and Congress MP Govinda at an election campaign in Tarsikka village, near Amritsar, on Sunday. — Tribune photo/PTI
Dealers turn power brokers
Kharar/Morinda, February 11
Whatever may be the outcome of the Assembly elections in Kharar and Morinda, property dealers have already been "voted" to power here. With farmers getting unprecedented rates for their land in the past three years, the local property dealers are their "gods", who, in turn, are using their hold on villagers to the utmost in the elections.
Rampura Phul charged
Rampura Phul (Bathinda), February 11
Former minister in the Akali government Sikander Singh Maluka is engaged in a fierce poll battle with SAD-rebel-turned-Congman Gurpreet Singh Kangar in this constituency.
Names deleted, allege Bagrian voters
Sangrur, February 11
In a representation submitted to the Returning Officer of the Dhuri Assembly constituency, Mr Dilawar Singh, son of noted historian and Sikh scholar Bhai Ashok Singh Bagrian and resident of Bagrian village in the Dhuri constituency, has complained that six votes of their family members, including Bhai Ashok Singh Bagrian, have been deleted by the authorities concerned from the voters' list though their names were in the list in 2003.
Vote for third front: Sarna
Amritsar, January 11
Mr Parmjit Singh Sarna, president, Delhi Sikh Gurdwara Management Committee (DSGMC), claimed that the third front would play a pivotal role in forming government in the state.
'Jaago' voter
Amritsar, February 11
Don't mistake it for a wedding if you come across girls taking out "jaago" through lanes and bazars. With campaigning coming to an end, parties have started using unique ways to bolster their poll campaigns.
Three Independents back Capt
Patiala, February 11
Three Independent candidates for the Patiala City Assembly segment announced their support to Capt Amarinder Singh here today.
District status key issue
Anandpur Sahib, February11
It's going to be a tough fight between SAD patron Sant Ajit Singh and two-time winner Congress MLA Ramesh Dutt Sharma at Anandpur Sahib. What could bother the Congress here is the presence of the Congress rebel who has entered the fray as an Independent while for the SAD, denial of ticket to former minister Tara Singh Ladal could cost it dear.
Vote for development, says minister
Pathankot, February 11
Union Minister Ashwani Kumar addressed a number of rallies in favour of Congress candidate Ashok Sharma here today. The Union Minister said in the next Five Year Plan, a sufficient fund would be allocated for Gurdaspur district.
Official suspended over code
Amritsar, February 11
A senior official of the Ajnala Cooperative Sugar Mill, Mr Jaswant Singh, has been suspended on the recommendation of Poll Observer M.P. Singh for campaigning in favour of Mr Sukhjinder Raj Singh Lalli, Congress candidate for the Majitha constituency.
3 die as bus with supporters hits jeep
Faridkot, February 11
Three persons were killed and one was injured when a bus of Akali supporters rammed into a jeep on the Sadiq road, near here, this afternoon.
Congress harps on Akalis' poor progress report

Kharar, February 11
"Please do not leave in the rain. There is arrangement for everyone to be dropped in cars and buses. Mr Balbir Singh Sidhu has wished that no one should get drenched while travelling back," announced a supporter of the Congress candidate from Kharar. Obviously not taking any chances with the fickle voters, Mr Sidhu today made a last-ditch effort to garner support from Kharar residents.

Congress candidate from Kharar Balbir Singh Sidhu and Union Minister of State for Finance Pawan Kumar Bansal at a rally in Kharar on Sunday. Tribune photo: Vicky Gharu

Weather plays spoilsport on last day of campaigning
Patiala, February 11
Inclement weather conditions dashed the hopes of candidates of all political parties to take their campaign to a feverish pitch to garner maximum support on the last day of electioneering today.
Jasjit makes last bid
Mohali, February 11
SAD-BJP combine candidate Jasjit Singh campaigned in villages on the last day of campaigning whereas his wife Sanjit Kaur and father Capt. Kanwaljit Singh, who is also the general secretary of SAD, campaigned in the city.
Cong symbolic of growth: Hooda
'Badal minted crores and invested abroad'
Mohali, February 11
Haryana Chief Minister Bhupinder Singh Hooda addressed an election rally late last evening at Naya Gaon in the periphery of Chandigarh in favour of the Congress candidate from Morinda Assembly constituency Jagmohan Singh Kang.
Last-ditch wooing efforts
Dera Bassi, February 11
Even as the election din for the February 13 Punjab elections ended today, the security forces organised a flag march to instill a sense of security among the electorate of the Banur Assembly segment.
Intense canvassing witnessed
Ropar, February 11
Intense canvassing was witnessed on the last day of campaigning in three Assembly constituency here today in spite of incessant rain.
Five vehicles impounded for code violation
Rajpura, February 11
The local police today impounded five vehicles of Mr Karnail Singh Panjouli, an Independent candidate from the Rajpura segment, for violation of model code of conduct.
Vajpayee calls for change
Amritsar, February 10
The inclement weather notwithstanding, former Prime Minister Atal Bihari Vajpayee today addressed a gathering, which listened, with rapt attention, to his brief speech calling for "change of weather" in Punjab.
Sonia Gandhi's second leg rained away

Sirhind/Rampura Phul, February 10
As weather played spoilsport, the Congress president, Mrs Sonia Gandhi, could not keep her date with party workers and supporters on the second leg of her election campaign in Punjab.

A family huddles under an umbrella at Sirhind where the inclement weather forced Congress president Sonia Gandhi to cancel her rally on Saturday. — Tribune photo by Manoj Mahajan

Kanwaljit sails on 'winds of change'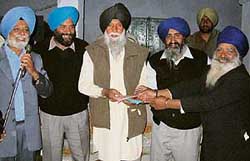 Lalru, February 10
A confident Capt Kanwaljit Singh arrives in his office at his residence in Chandigarh's Sector 9 around 8 am. Inclement weather fails to dampen his spirits as he warmly greets his supporters.
SAD workers hand over election fund to Capt Kanwaljit Singh in a Lalru village. — A Tribune photograph


Ashwani banks on development
Admits Behl was his choice
Pathankot, February 10
Union Minister of State for Industrial Policy and Promotion Ashwani Kumar, spoke with The Tribune at his residence in Gurdaspur, two days ahead of the Punjab poll. The following are the excerpts.
Q You have been campaigning in Punjab for the last two weeks. What is your assessment of the Congress prospects in the Assembly elections ?
3 Brars in fierce battles
Muktsar, February 10
The Muktsar-Faridkot belt is keenly watching three heavyweight Brars - former Chief Minister Harcharan Brar's son Kanwarjeet Singh Brar, senior Congress leader Jagmeet Brar's brother Ripjeet Brar and former Congress minister Avtar Singh Brar, battle it out with their rivals in hotly contested elections from the Muktsar, Kotkapura and Faridkot Assembly seats, respectively.
Senior Congress leader Jagmeet Brar campaigns for his brother Ripjeet Brar, who is contesting from the Kotkapura seat. — Tribune photo by Kulbir Beera

SAD happy in Sham Chaurasi
Sham Chaurasi (Hoshiarpur), February 10
The rural constituency of Sham Chaurasi comprises 170-odd villages, each one making no bones about its displeasure with the Congress for ignoring it during the past five years.

Foreign hand for help
Chandigarh, February 10
Mr Beant Singh Dhaliwal is a diehard Akali and president of the Youth Akali Dal, Canada, an affiliate of the SAD. Over 20 years after he immigrated from Raikot in Ludhiana to Canada, he and 14 others have returned home to campaign for the SAD.



Beant Singh Dhaliwal

Police remand for Rajan
Baba Bakala, February 10
Ms Jaswinder Kaur Shimar, Subdivisional Judicial Magistrate (SDJM) today sent Harpinder Singh Gill (Rajan), a brother of Congress MLA and candidate for Assembly elections from the Beas constituency and Balkar Singh, chairman Block Samithi Rayya, to two days' police remand.

Bhinder surrenders
Amritsar, February 10
Mr Varinder Singh alias Vickey Bhinder who also was booked for the clash between Congress and Shiromani Akali Dal workers, resulting in the killing of Akali activist Dilbag Singh, today surrendered before, Mr Manmonder Singh, SP who heads the Special Investigation Team (SIT), at Beas.

Police told to be vigilant
Chandigarh, February 10
With the arrest of two more persons, including Vicky Bhinder, the police is narrowing down on the remaining suspects in the Beas shooting case in which one Akali worker was killed on January 29.

Ferozepore: Family vs family
Ferozepore, February 10
The electoral battle here continues to be fought mainly between two families, with either of them having won the seat nine times between themselves. Veteran Congress man Bal Mukand Sharma is in the fray against sitting BJP MLA Sukhpal Singh Nannu. It is an open field so far.

Sahib Singh pitches in for Tohra


Devigarh (Patiala), February 10
Former Delhi Chief Minister Sahib Singh Verma gave a fillip to the campaign of the SAD candidate from Dakala, Mr H.S Tohra, while addressing a gathering at Anaj Mandi in Devigarh.

BSP candidate 'premi' too
Sangrur, February 10
It is a neck-and-neck contest on the Sangrur Assembly seat between SAD candidate Parkash Chand Garg and Congress candidate Surinder Pal Singh Sibia.

Orders to furnish advt details
Jalandhar, February 10
The Election Commission has urged newspapers to furnish details of advertisements to the District Election Officer by 6 pm on February 11.

Guru Harsahai RO removed
Chandigarh, February 10
The Election Commission today ordered the removal of Mr Sanjay Popli, Returning Officer, Guru Harsahai.

Nayagaon SHO shifted
Chandigarh, February 10
Taking strict notice of the pending complaints against Nayagaon SHO Mahesh Kumar, the Election Commission today ordered that he be relieved with immediate effect and attached to the Police Lines.

Plea to remove CEC
Patiala, February 10
The Punjab Pardesh Congress Committee (PPCC) today demanded removal of the Chief Election Commissioner, Mr N. Gopalaswami, stating that he was "biased in favour of the SAD-BJP combine and was taking decisions against the Congress."

Kin of councillor booked
Fazilka, February 10
On the instructions of the Returning Officer, Fazilka, the police yesterday registered a case against kin of Mr Davinder Kumar Sachdeva, Congress councillor, for getting enrolled as voter at more than one places.

Another notice to Brahm Mohindra
Patiala, February 10
Congress candidate from the Samana Assembly segment Brahm Mohindra has been served a notice for violating the Model Code of Conduct.

Studies can wait: Pupils clear way for booths
Jandu Singha (Adampur), February 10
Students and teachers of Government School, Jandu Singha, on the main Jalandhar-Hoshiarpur road are working hard to ensure a peaceful election.

Jeers for politicians, cheers for farmers
Dera Bassi, February 10
Saturday brought jeers for politicians and cheers for the farmers. With inclement weather playing the spoilsport, a number of scheduled rallies by the contesting candidates on the penultimate day of electioneering today for the Banur Assembly segment were washed out giving a severe blow to the last-minute efforts of the parties to woo the electorate.

"Milk will replace liquor"
Mohali, February 10
Milk will be made available for the youth of Kharar constituency instead of liquor once he wins the Punjab elections.

11 govt employees face action
Participation in political rallies
Mohali, February 10
As many as 11 government employees are likely to face action from the Election Commission for allegedly being associated with rallies being held here in connection with the Punjab Assembly elections.

Videography at sensitive booths
Mohali, February 10
The district administration has made special arrangements for videography at certain sensitive polling stations in connection with the Punjab Assembly elections being held in the state on February 13.

Voter cards row: Officer suspended
Mohali, February 10
A booth-level officer (BLO), put on election duty at Nayagaon, has been placed under suspension on charge of dereliction of duty.

Power theft: Case registered
Ropar, February 10
The Ropar police today registered a case of theft against the organisers of the function held at Gandhi Chowk four days ago to boost Congress campaign by using 'kundi' connections. The SSP, Mr Kapil Dev, said the case was registered on the report of the Returning Officer.
Khanna, February 9
At a time when all candidates in the state are making last-ditch efforts to win, all eyes are on this high-profile reserved constituency from where the PPCC chief, Mr Shamsher Singh Dullo, is locked in a tough contest with Mr Bikramjit Singh Khalsa of the SAD.

| | |
| --- | --- |
| S.S. Dullo | B.S. Khalsa |
It's getting dirty in Nawanshahr
Nawanshahr, February 9
Even though much canvassing is not visible in in Nawanshahr constituencies, a lot of activity is taking place in an inconspicuous way here. From indulging in mud-slinging against rival candidates to cashing in on the religious sentiments of voters, nominees from various parties have been making every effort to win the game.

SAD supporters distribute pamphlets of Guru Ravi Dass during a march taken out by party nominee Mohan Lal in Banga on Friday. — Tribune photo: Pawan Sharma
SAD has the edge in Chamkaur Sahib
Chamkaur Sahib, February 8
Considered an Akali citadel, this reserved constituency is witnessing a triangular contest among four-time winner SAD sitting MLA Satwant Kaur Sandhu, Congress nominee Manmohan Singh and Congress rebel Charanjit Singh Channi. The Congress has fielded a new face in Mr Manmohan Singh, denying the ticket to two former MLAs.


It is telling on them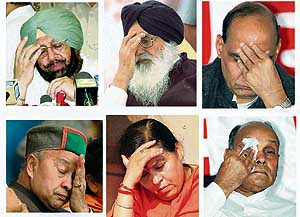 Chief Minister of Punjab Amarinder Singh, SAD president Parkash Singh Badal, BJP president Rajnath Singh, Chief Minister of Himachal Pradesh Virbhadra Singh, president of Bharatiya Janshakti Party Uma Bharati and former Chief Minister of Himachal Pradesh Prem Kumar Dhumal in different gestures during the campaign in Punjab. — PTI
Dera move leaves parties jittery
Chandigarh, February 9
Insertion of an advertisement in vernacular newspapers yesterday by the political wing of Dera Sacha Sauda (Sirsa) asking its followers to vote for the Congress elections has made the Opposition Shiromani Akali Dal (SAD) and the Bharatiya Janata Party (BJP) and other parties "jittery".
Simultaneous big bytes roll out in Majitha
Majitha, February 9
Two major parties held massive rallies simultaneously here today. The Congress rally was addressed by Chief Minister Amarinder Singh while the Shiromani Akali Dal (SAD) rally was addressed by Mr Arun Jaitley, senior BJP leader, Mr Om Prakash Chautala, president of the Indian National Lok Dal (INLD), and Mr Sukhbir Badal, general secretary of the SAD.


The Chief Minister, Capt Amarinder Singh, addresses a rally; and (right) BJP leader Arun Jaitley with SAD general secretary Sukhbir Badal during the election campaign at Majitha, near Amritsar, on Friday. — Tribune photo/PTI
Listed dead
Chandigarh, February 9
More than 52, 000 voters of Amritsar West are without electoral photo-identity cards (EPICs) till date. These comprise 23 per cent of the total registered voters in the area.
Nabha: Rebels also in reckoning
Nabha, February 9
Even as all 12 candidates, who are in the fray in this Assembly segment, have been trying their best to make their presence felt, the main contest is among four candidates: sitting Congress MLA Mr Randeep Singh, SAD (B) candidate Raja Narinder Singh and Congress rebels fighting as Independents Ramesh Singla and Mahant Harwinder Singh.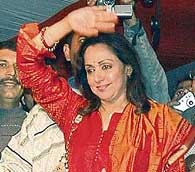 'Dream Girl' attracts young & old alike
Nangal, February 9
Although she reached here six hours behind schedule, the "Dream Girl" and Rajya Sabha member Hema Malini proved to be a major crowd- puller at the rally of the SAD-BJP candidate, Mr Madan Mohan Mittal, this evening.People of all ages, from schoolchildren to the old, gathered from distant villages here to get a glimpse of the beautiful actress-cum-politician.


Bollywood actress and MP Hema Malini at a BJP rally in Janakpuri, Ludhiana, on Friday. — Tribune photo by Sayeed Ahmed
code uncode
No outsiders after February 11: EC
Chandigarh, February 9
The Election Commission has put restrictions on the presence of political functionaries, party workers, and campaign managers, brought from outside after the campaign period ends on February 11.


Shatrughan on a rally spree
Mohali, February 9
Film star and senior BJP leader Shatrughan Sinha said here today that the Punjab elections were important for the Indian democracy as people would throw out an autocrat ruler with the power of vote.


Actor-turned-politician Shatrughan Sinha campaigns for the SAD-BJP candidate from Kharar, Mr Jasjit Singh Bunny, in Mohali on Friday. — Tribune photo by Vicky Gharu
Jagraon, Kila Raipur Observers called back
Chandigarh, February 9
Mr Ajit Kumar and Mr Bajnath Prashad, Election Observers for the Jagraon constituency and the Kila Raipur segment, respectively, have been asked by the Election Commission to report back to their home state Jharkhand.
8 held with weapons; councillor absconds
Barnala, February 9
The police has arrested eight persons with arms while a local municipal councillor fled from the spot.


ON THEIR JOB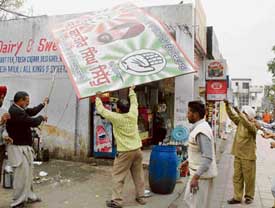 Municipal Corporation employees remove an election hoarding in Mohali on Friday. — A Tribune photograph
Bihar ministers do their bit
Hoshiarpur, February 9
The Punjab Government, led by Capt Amarinder Singh, has deceived people, particularly farmers and unemployed youths, by not fulfilling its election promises. This was stated by Mr Ram Nath Thakur and Mr Narinder Narain Yadav, both Bihar ministers, here today.
Behl: It will cost the Congress dear
Pathankot, February 9
Sitting Congress MLA from Gurdaspur Khushal Behl has said the Congress decision to expel him and his son will cost the party dearly all over Punjab and Gurdaspur in particular.
Mohali SSP transferred
Mohali, February 9
The Election Commission today transferred the SSP, Mohali, Mr G.S. Dhillon, after reports of the Mohali police website carrying a pre-poll survey were published in a section of the media today.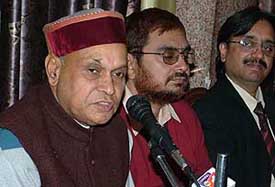 A former Chief Minister of Himachal Pradesh and BJP leader, Mr Prem Kumar Dhumal, in Jalandhar to campaign for party candidates on Friday. — Photo: S.S. Chopra
ADC recommends action against booth-level officer
Mohali, February 9
Strict action was recommended against a booth-level officer for dereliction of duty in connection with the Assembly elections by the Additional Deputy Commissioner (ADC), Mr Ajoy Sharma, here today.
Shopkeeper held with 17 voter I-cards
Nayagaon, February 9
Tempers flared here today as Congress and Shiromani Akali Dal (SAD) supporters levelled allegations against each other after a shopkeeper was "caught red handed" with 17 voter Identity Cards in his possession by the Election Observer.
Haryana FM campaigns
Ghanaur, February 9
The Haryana Finance Minister, Mr Birender Singh, today campaigned for Jasjit Singh Randhawa, Congress candidate from Ghanaur.
LJSP vice-president supports Sidhu
Mohali, February 9
Mr Balbir Singh Sidhu, Congress candidate from the Kharar constituency, today claimed that the vice-president of the Lok Jan Shakti Party (LJSP), Mr Harpal Singh Neeta, had come to his support.
Kanwaljit pressurised me, says councillor
Decides to support Balbir Singh Sidhu
Mohali, February 9
A municipal councillor and former senior vice-president of the civic body, Ms Amteshwar Kaur, today alleged that she was humiliated and pressurised by the SAD general secretary, Capt Kanwaljit Singh, to provide support to his son, who is contesting the Assembly elections from the Kharar constituency.
Ambika Soni campaigns for Kang
Kurali, February 9
The Union Tourism and Culture Minister, Ms Ambika Soni, was here today to campaign for Mr Jagmohan Singh Kang, Congress candidate from Morinda Constituency.
MC vice-president joins SAD
Mohali, February 9
Mr Harmanpreet Singh, vice-president of the Municipal Council, today joined the Shiromani Akali Dal (SAD) and assured support to Mr Jasjit Singh, who is contesting the Assembly elections from the Kharar constituency.
Badal case adjourned
Ropar, February 9
The special court, Ropar, judge Mr G.S Saran, today adjourned the case of corruption against SAD chief Parkash Singh Badal and others after hearing the arguments by the defence counsel in connection with framing of charges against the accused for February 14.


Give aided college staff salary: EC
Chandigarh, February 8
Teachers of over 100 private and aided colleges in Punjab will get their salary. Taking note of the report published yesterday in The Tribune columns "CEO halts grants; teachers shoot letter to EC", the Election authorities summoned senior officers of the Punjab Education Department and directed them to release their salary.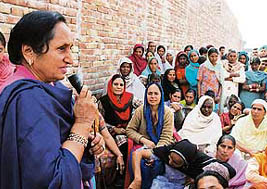 Dutybound, Bibiji goes about her task
Badal (Muktsar), February 8
Mrs Surinder Kaur Badal (Bibiji) has seen it all. Contended, she now wants to spend her time reading about religion and doing path.



Mrs Surinder Kaur, wife of former Chief Minister Parkash Singh Badal, at Chapianwali village on Thursday. — A Tribune photograph

Candidates must pay for VVIP visits: Panel
Jalandhar, February 8
Prime Minister Manmohan Singh and UPA chairperson Sonia Gandhi's visits to Punjab may prove dear for Congress candidates. The Election Commission of India has issued directions to include the money spent on the Congress leaders visit in the expenditure of Congress candidates concerned, Kapurthala DC-cum-DRO Raminder Singh told The Tribune here today.
POLL CHASE
She knows every voter counts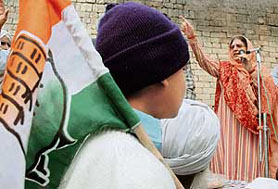 Leharagaga, February 8
A seasoned politician, Deputy Chief Minister Rajinder Kaur Bhattal says the common man is not getting his due. "I am not satisfied as projects are not being implemented at the grassroots level. The delay needs to be checked. Progress has to be made at a faster rate," she says.
Deputy Chief Minister and Congress candidate for the Lehragaga constituency Rajinder Kaur Bhattal addresses a rally at Lehal Kala village. — Tribune photo by Rajesh Sachar

Warrants against Dimpa, brother
Chandigarh, February 8
The decision to defer polling in the Beas Assembly segment has come as a rude shock to the top administrative brass of the Punjab Government as it claims that "law and order situation in the state in general and Beas in particular has been under complete control".

Dhillon, Keetu slug it out in Barnala
Barnala, February 8
For two candidates vying for a predominantly rural constituency, the campaign styles couldn't have been more different.
Cong tottering in Mahilpur
Mahilpur, February 8
The BSP cannot be underestimated in the Mahilpur (Reserved) Assembly segment where its state supremo Avtar Singh Karimpuri can boast of an established mass base.
Games pull in more
Chandigarh, February 8
Elections to the Punjab Vidhan Sabha may be just four days away, but the games people play continues to pull more crowds than the games politicians are playing to wrest power in the state.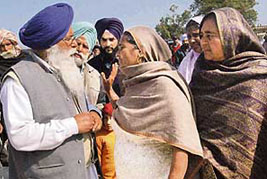 Badali on sympathy wave
Morinda, February 8
Strange, but true. The biggest factor working in favour of the Shiromani Akali Dal (SAD) candidate from Morinda, Mr Ujagar Singh Badali, is that he has lost three elections in a row.



Mr Ujagar Singh Badali, SAD candidate from Morinda, campaigns in his constituency. — A Tribune photograph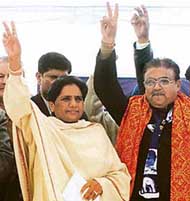 BSP can ensure equality: Maya
Amritsar, February 8
Bahujan Samaj Party supremo Mayawati has said people have a misconception that the BSP only supports the people from lower castes, adding that her party can bring equality in the country.




Bahujan Samaj Party supremo Mayawati at a rally in Amritsar on Thursday. — A Tribune photograph

Badal vows to abolish octroi
Ferozepore, February 8
With less than a week to go for the Punjab polls, SAD president Parkash Singh Badal today promised to abolish octroi in Ferozepore and Jalandhar cantonments if voted back to power.
All in name of the Ghaggar
Sangrur, February 8
For years, politicians have been winning elections by promising to tame the Ghaggar, a river that has been bringing misfortune to vast areas in Patiala, Sangrur, Mansa districts. However, the Ghaggar has remained untamed so far. Again, its streamlining has become an issue in the Assembly elections.
Claims, counter-claims by SAD, Cong
Dera Bassi, February 8
With just three days remaining for the election campaign to end for the Punjab elections on February 13, both the Congress and the SAD-BJP alliance have intensified their campaigns.
He is the face of CPI-ML in Mansa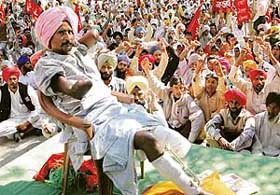 Joga (Mansa), February 8
Remember Bant Singh of Burj Jhabhar village in the Joga Assembly constituency of Mansa district? A Dalit singer, his pictures of amputated arms and a leg, had shaken the sensibilities of the nation. The limbs were cut off by doctors to save his life from injuries sustained after he was beaten up by an alleged group of landlords, against whom he was fighting for the rape of his minor daughter.
Bant Singh who is a star attraction at rallies of the CPI-ML. — A Tribune photograph

Sector 68 residents await voter I-cards
Mohali, February 8
Residents of Sector 68 here are up in arms against the administration for failing to deliver voter identity cards even as the election to the Punjab Assembly is only five days away.
2,000 cops to be deployed on poll duty in Mohali
Mohali, February 8
More than 2,000 police personnel will be deployed on election duty in SAS Nagar district during the Punjab elections being held on February 13.
Ban on sale of liquor
Mohali, February 8
The District Magistrate of SAS Nagar, Mr Tejveer Singh, has imposed a ban on the sale of liquor for three days in connection with the Punjab Assembly elections.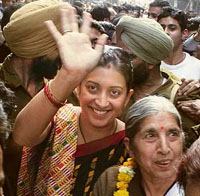 Tulsi gets crowds, loses mobile
Amritsar, February 8
Dislodge the 'arrogant' government of Capt Amarinder Singh by voting in favour the SAD-BJP combine, which can only bring peace and development in the state, said Smriti Irani, famous TV star, during a road show here today. She lost her mobile during the show.
TV actor Smriti Irani with Ms Laxmi Kanta Chawla, BJP candidate for the Amritsar Central constituency, during a road show in Amritsar on Thursday. — A Tribune photograph

Ambala politicians campaign in Punjab
Ambala, February 8
Politicians of Ambala are busy these days campaigning in Punjab.
Surjewala campaigns for Randhawa
Ghanaur, February 8
Alarmed at the presence of the rebel candidates, the Congress and the SAD-BJP alliance candidates are relying on the Haryana bigwigs in the battle of votes, scheduled for February 13, in Chief Minister Capt Amarinder Singh's home district.
Rebel trouble for Cong's Jain
Moga, February 8
The Congress campaign to woo the electorate here has been marred by disgruntled party leaders, who are now either secretly supporting rival candidates or have openly boycotted the campaign and instead levelled serious charges against the official candidate.
Jaitley, Sidhu visit dera
Chandigarh, February 8
The BJP leader, Mr Arun Jaitley, accompanied by Mr Navjot Singh Sidhu, today visited Dera Sacha Sauda at Sirsa in Haryana. Both leaders met the dera chief, Sant Gurmeet Ram Raheem Singh.
Cong expels Behl, son for six years
Gurdaspur, February 8
Chief Minister Amarinder Singh today expelled Gurdaspur MLA Khushal Behl and his son Raman Behl, president of the Gurdaspur Municipal Council, from the primary membership of the party for a period of six years.
Mann: Police terrorising farmers
Sangrur, February 8
Mr Simranjit Singh Mann, president of the Shiromani Akali Dal (A), alleged today that the police had been terrorising the residents of Fatehgarh Chhanna village (Barnala) against holding a protest tomorrow in connection with the "forcible" acquisition of their land. Under such a police terror free and fair elections in the segment were not possible, he alleged.
EC shifts SSP of Faridkot
Chandigarh, February 8
The Election Commission tonight transferred the SSP of Moga, Mr Gautam Cheema, with immediate effect. The SSP, Faridkot, Mr Arun Pal Singh, will hold the additional charge till a fresh appointment is made.
Police station gheraoed
Amritsar, February 8
Communist activists and the Nasha Virodhi Front seized two trucks and a car, carrying liquor allegedly meant for voters, at Karampura here today.
MANIFESTO
Wheat MSP should be Rs 900: CPI
Chandigarh, February 7
The Communist Party of India (CPI) today slammed the Congress government in Punjab for "agrarian distress, failure of industry and burgeoning unemployment". It criticised Prime Minister Manmohan Singh saying "he was spreading the bogey of revival of terrorism in Punjab to create fear in the minds of Hindus".
PM remarks on terror uncalled for: Advani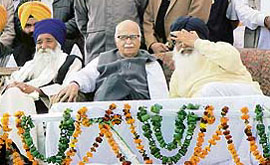 Ropar, February 7
Claiming that there was a strong anti-incumbency factor in the state, a senior BJP leader and former Deputy Prime Minister, Mr L.K. Advani, remained mostly confined to national issues while addressing rallies at Ropar and Nangal here today.


The BJP leader and former Deputy Prime Minister, Mr L.K. Advani, at a rally in Ropar on Wednesday. — A Tribune photograph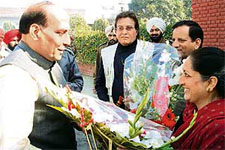 Congress playing caste politics: Rajnath
Sujanpur (Gurdaspur), February 7
The BJP president, Mr Rajnath Singh, today accused the Congress of trying to play caste and religion politics, stating that it was trying to divide the country once again by proposing reservation in jobs for Muslims despite the fact that reservation on the basis of religion was against the spirit of the Constitution.

President of the BJP Rajnath Singh is welcomed at Pathankot. — A Tribune photograph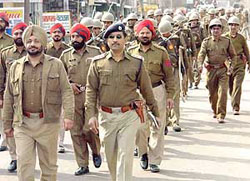 Securitymen hold a flag march in Ferozepore on Wednesday. — A Tribune photograph
BJP a poor photocopy of Congress: Uma
Jalandhar, February 7
Dubbing the BJP as a "poor photocopy of the Congress", Bharatiya Janashakti Party chief Uma Bharti has asserted that "nobody will be allowed to build a mosque in India in the name of a foreign invader like Babar".
Warrants against Dimpa's brother
Amritsar, February7
The ruling Congress received a major setback today when the Special Investigation team issued warrants of arrest against Mr Harpinder Singh, alias Rajan ,younger brother of Mr Jasbir Singh Dimpa, Congress nominee for the Beas Assembly constituency.

Didn't campaign, says Bhajji
Jalandhar, February 7
"Neither did I ever campaign for Congress candidate from Jalandhar (Central) Tejinder Bittu, nor I went door to door seeking votes for him". This is the reply of cricketer Harbhajan Singh to the Election Commission. Meanwhile, the commission has deputed Mr Sukhwinder Pal Singh Marar, Additional Deputy Commissioner, to inquire into the controversy.
Jaitley targets Manmohan, Amarinder
Abohar, February 7
The BJP secretary and in charge of party campaign in Punjab, Mr Arun Jaitley, has said that empty chairs and non-responsive audience at the election rally of Prime Minister Manmohan Singh at Patiala yesterday were indicative of the election trends in Punjab.
SAD-BJP upbeat in Garhdiwala
Garhdiwala, February 7
The Garhdiwala (SC) Assembly segment that was keeping candidates guessing about their prospects has begun to throw up clearer indicators.
Arhtiyas back Kanwaljit
Dera Bassi, February 7
The anti-industry and anti-trader policies of the Congress have forced the industry to migrate from Punjab. This was stated by Capt Kanwaljit Singh, SAD candidate from Banur, at a public rally at Lalru Mandi today.
Support for SAD-BJP combine
Patiala, February 7
An emergency meeting of the All-India Bahawalpur Ekta Samaj was held here today under the chairmanship of Mr Prem Mehta, which was attended by Mr Madan Lal, Mr Mahesh Nagpal and other representatives from Rajpura, Samana and Dakala.
Mill misery for SAD-BJP
Mansa/Budhlada, February 7
Two closed mills in Mansa district may spin out misery for the SAD-BJP candidates in the four Assembly constituencies.
Cong violating law on poll expenses: BJP
New Delhi, February 7
The Bharatiya Janata Party today drew the Election Commission's attention to violation of Section 77 of the People's Representation Act by the Congress and asked the commission to initiate action against the party.
It's between Congress and BJP in Nangal
Nangal, February 7
It's a direct contest between Chief Minister's confidant and sitting Congress MLA K.P.S Rana and BJP stalwart Maddan Mohan Mittal in this Assembly segment of Ropar district. Flags of both parties fluttering on rooftops of houses and shops suggest a keen contest between the two parties.
Virbhadra campaigns in border seats
Gurdaspur, February 7
The Chief Minister of Himachal Pradesh, Mr Virbhadra Singh, today rallied in favour of Congress candidates in border constituencies of the district.
Preneet Kaur warns Congress rebel
Rajpura, February 7
Ms Preneet Kaur, wife of Punjab Chief Minister Amarinder Singh has warned Mr Madan Lal, a Congress worker who is contending election from Ghanaur Assembly constituency as a rebel, that necessary action would be taken against him at the party level.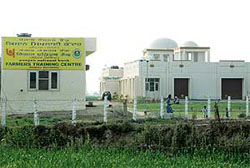 Mehraj can't forget Raja's meharbani
Mehraj (Bathinda), February 7
Delighted over the performance of the son of their soil on the development front, residents of Chief Minister Amarinder Singh's ancestral village of Mehraj are praying for his return to power.
Mehraj, ancestral village of Chief Minister Amarinder Singh, has seen unprecedented development in the last five years. — Tribune photo by Kulbir Beera

Congress candidate's son booked
Mansa, February 7
The Mansa police today booked Mr Vikram Singh Mofar, son of Congress candidate Ajit Singh Mofar, from the Sardulgarh Assembly constituency, his gunman Balbir Singh and Mr Rajesh Garg, vice-chairman, Market Committee, here, for their involvement in a firing incident at Jhuneer village late last night.
Vote against capitalist parties: Pandhi
Amritsar, February 7
The Politburo member of the CPI (M), Mr M.K. Pandhi, today said the ruling Congress and the SAD both are trying to woo votes on false promises. He said if the Congress government wanted to provide subsidised foodgrain why did it not do so in the last five years.
Cong, SAD have failed to check corruption: MP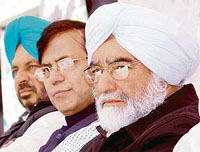 Rajpura, February 7
Mr Mohammad Salim, MP and member of the Central committee of the CPM, said the SAD-BJP alliance and the Congress had failed to control unemployment and corruption in the state.



The CPM candidate, Mr Inderjit Singh Bhagrana, and Mr Mohammed Salim, MP and member, central committee, and Mr Balwant Singh, state president, CPM, at an election rally in Rajpura on Wednesday. Photo: J.S. Virdi


BSP could be decisive factor
Guru Har Sahai (Ferozepore), February 7
Mr Mohan Singh Phallianwallan goes about his campaign with a smile on his face. There is no cavalcade of vehicles accompanying him. On reaching a village or a hamlet, he alights from his vehicle and walks through dusty bylanes meeting people and patting cattle on his way. Men folk of all ages hug him while women fold their hands in respect.

Mohan Singh Phallianwallan
Wide open in Dhuri
Dhuri (Sangrur), February 7
The contest here is wide open. Anybody could be the winner. The SAD and Congress are both talking of development, which seems to be the key issue here.
Respite to voters sans photo cards
Chandigarh, February 7
The Election Commission today clarified that all voters who had been issued electoral pictoral identity cards (EPICs) would have to produce these to exercise franchise in the Assembly elections as well as the bye-election for the Amritsar parliamentary constituency.
Purvanchalis count in 4 dists
Jalandhar, February 7
Come elections, parties start wooing over 15 lakh migrant labourers from Uttar Pradesh. A majority of them live in the districts of Ludhiana, Jalandhar, Amritsar and Patiala.
Ex-Sarpanch's death due to liquor at poll rally?
Mohali, February 7
A former Sarpanch of Bhagomajra village, near Kharar, died last night allegedly after consuming liquor at an election rally even though the police and the hospital authorities have denied allegations attributing his death to the consumption of liquor.
Authorities tighten noose
Put up nakas to curb liquor smuggling
Mohali, February 7
Reacting to the allegations by candidates contesting the Punjab Assembly elections that liquor was being served at poll rallies, the district administration has taken stringent measures.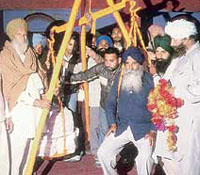 Coins make way for ladoos
Chandigarh, February 7
Coins are passe. Voters and supporters of candidates are now latching on to newer options while showcasing their support to their leaders. So out go good-old coins and in come "ladoos", other sweets and, strange but true, blood.



A candidate of the SAD (1920) is weighed against ladoos at Daomajra village near Kharar on Wednesday. — A Tribune photograph
Bigwigs in big battles



Bathinda, February 6
Big shots like Chief Minister Amarinder Singh, Deputy Chief Minister Rajinder Kaur Bhattal, former Chief Minister Parkash Singh Badal and son of former Chief Minister Harcharan Singh Brar Harkanwarjit Singh Brar (Sunny Brar) are facing the toughest challenge in their respective segments.
Masol makes light of poll
Masol, February 6
A mere 10 km from Chandigarh on the Punjab and Haryana border exists a village where there is no water, no electricity. "We don't want a change in government. We want to change our state," is the refrain of every single household in Masol village, where time seems to have come to a standstill. No politician till date has bothered to get a road constructed to link this village to the outside world.
Tota Singh finds opponent tough


Moga, February 6
Both the Shiromani Akali Dal (SAD) and the Congress have intensified campaigning in this Assembly constituency. Akali stalwart and sitting MLA Tota Singh is finding himself battling against a tough contender, Mr Joginder Pal Jain, Congress candidate who has the backing of Radhaswamis. Though there is no anti-incumbency factor against Mr Tota Singh, a strong faction of the Congress is making the going tough for him.
Chautala's call to oust Cong
Mohali, February 6
Mr Om Prakash Chautala, former Chief Minister of Haryana, today called upon the people to give a crushing defeat to the Congress and vote for SAD-BJP combine which he said, would usher in a new era of peace, prosperity and happiness in the state.
Jakhar wants train to Pak


Abohar (Ferozepore), February 6
Being the son of a famous father is not enough to survive in politics. It is sheer hard work, says Sunil Jakhar as he sips tea and puts forth his idea that can change the economic scenario of the area. "The rail link between Abohar-Hindumalkot in India and Samasatta-Fort Abbas in Pakistan should be reopened as this will be the shortest possible route to the port city of Karachi."
Be wary of SAD-BJP opportunism: Uma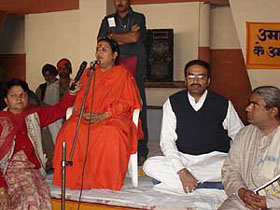 Gurdaspur, February 6
The president of the Bharatiya Janshakti Party, Ms Uma Bharti, today termed the SAD-BJP combine an alliance of opportunism. Addressing a press conference at Pathankot, Ms Bharti said the Ram Temple was the main agenda of the BJP, but questioned whether the SAD would ever support the BJP on this issue.



Bharatiya Janshakti Party chief Uma Bharti addresses a rally in Pathankot on Tuesday. — A Tribune photograph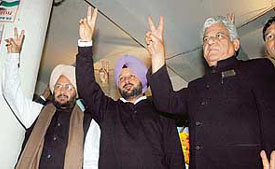 Bollywood star Om Puri and Congress candidate for the Dakala constituency Lal Singh (extreme left) at a rally at Sanour, 6km from Patiala, on Tuesday. — Tribune photo by Rajesh Sachar
BSP extends support to Cong: Sidhu
Mohali, February 6
Mr Balbir Singh Sidhu, Congress candidate contesting the Punjab elections from the Kharar constituency, today claimed that the senior leaders from the Mohali district unit of the BSP had extended their full support to him.
Code uncode
CEO halts grants; teachers shoot letter to EC
Chandigarh, February 6
Members of the Punjab and Chandigarh College Teachers Union (PCCTU) have alleged that the Chief Electoral Officer of Punjab has violated the code of conduct in "stopping" the release of salary grant to over a 100 private aided colleges in the state.
EC team arrives today
Chandigarh, February 6
Close on the heels of the Election Commission (EC) summoning the Punjab Chief Secretary, Mr K.R. Lakhanpal, and the Director-General of Police, Mr R.S. Gill, to New Delhi for a review of the overall situation in Punjab, it is now the turn of Deputy Election Commissioner R. Bhattacharya to arrive on a two-day visit to Chandigarh tomorrow.
DFOs: Govt 'misleading' EC
Chandigarh, February 6
Violating the Election Commission guidelines with impunity, the Punjab government continues to post a large number of forest officials in their home districts or at stations where they have already served for over three years.
Transfers: Govt misleading poll panel
Chandigarh, February 6
Violating the Election Commission guidelines with impunity, the Punjab government continues to post a large number of forest officials in their home districts or at stations where they have already served for over three years.
Give us a chance, Mayawati asks electorate
Dera Bassi, February 6
BSP's fight is against the oppressive "Manuvadi" system and not against any particular section of society, BSP supremo Mayawati said here today.
YOUTH SPEAK
Height of ignorance: Survey bares Generation X
For them, Bir Devinder in fray, Sidhu to be MLA!
Chandigarh, February 6
They know the names of all 12 stars in "Salaam-e-Ishq". They know the names of players in the Indian cricket team. However, the Generation X of Punjab is certainly not interested in politics. For some Capt Kanwaljit Singh is standing for election from Kharar and for some Navjot Singh Sidhu is going to be the next MLA from Amritsar!
Ex-servicemen to support SAD-BJP
Chandigarh, February 6
Retired senior defence officers today pledged their support to the SAD-BJP alliance candidates from Banur, Kharar and Morinda constituencies.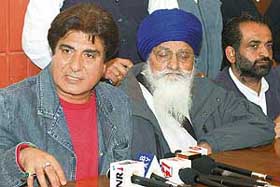 Raj Babbar talks UP in Punjab
Jalandhar, February 6
Actor-turned-politician Raj Babbar's Jan Morcha is not averse to joining hands with the Congress for ousting Mr Mulayam Singh Yadav's government in the forthcoming UP Assembly elections.



Actor-turned-politician Raj Babbar at a press conference in Jalandhar on Tuesday. — Tribune photo by Pawan Sharma

Dayal: Vote for candidates, not parties
Amritsar, February 6
National executive member of the CPI Joginder Dayal has urged the voters to defeat the candidates of the Congress and the SAD-BJP combine and elect true representatives close to people.
I don't lie for votes: Kang
Morinda, February 6
Congress candidate from Morinda Assembly constituency Jagmohan Singh Kang stated today that unlike other politicians he didn't believe in lies to seek votes. Mr Kang today undertook a tour of Salamatpur, Dhodamajra, Bharojian, Rasulpur, Sainimajra, Jhampur, Manana, Thaska, Bhelolpur, Raipur and Daun villages, where he addressed meetings.
Karat: SAD, BJP promoting privatisation
Hoshiarpur, February 6
The big houses and anti-people policies of the UPA government are responsible for the skyrocketing prices of the essential commodities. This was stated by Mr Parkash Karat, secretary of the CPM, while talking to mediapersons at Garhshankar, about 40 km from here, today.
Notice to Harbhajan Singh
Jalandhar, February 6
The Election Commission is still waiting for cricket star Harbhajan Singh's response to a notice served on him last night for "canvassing" in favour of a Congress candidate. He had allegedly canvassed for the Congress candidate from Jalandhar (Central), Mr Tejinder Bittu, despite the fact he being an employee of Indian Airlines, a public sector undertaking.
Poll bytes
Support for Cong rebel
GIDDERBAHA: Rebel Congress candidate Sant Singh Brar on Tuesday got a shot in the arm with party leader Shivkanwar Singh Sandhu declaring to support him.