Those Magnificent Flying Machines
The Aero India, 2007, held at the Air Force base in Bangalore was a truly unique air show. However, one could not help but notice the poor fare presented by the country's own defence establishments,
reports Jangveer Singh from Bangalore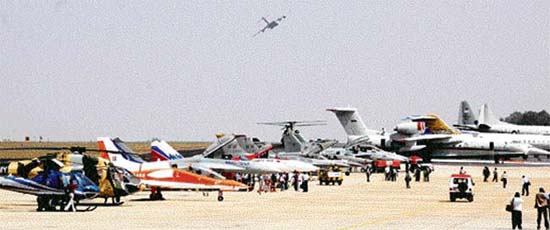 WE have a surfeit to choose from. The American technology barrier is finally behind us. We will continue to maintain ties with old friends – the Russians—who will supply us next-generation fighters and know how. Our military cooperation with the Israelis is set to enter the next level with the country offering the best of its Unmanned Aerial Vehicles (UAVs) and air defence systems to India.

Height of luxury


Fight for fighter jets
French connection that was
A trip to Chandernagore on the eve of the 1949 referendum is unforgettable, recounts Ramesh Seth
Chandernagore on the right bank of river Hoogly, 21 miles upstream from Calcutta, had been a French territory for over 250 years. Due to its geographical position, being deep inside British India, it did not develop much. It remained a small town but with its French charm intact.
The Big Night
The glamour and glitz associated with the Oscar night has the biggest worldwide audience. The thrill associated with the awards makes it quite a must watch, writes Ervell E. Menezes
It's Oscar time again and the newspapers are full of it, why Indian films can't make it and all kinds of insights into this great event. It used to be the third week of March but in the last few years it has been advanced to February and D-Day is February 25, which for us is the morning of the next day.
Jodis that made it in Bollywood
Is there a formula that makes a pair click? None, whatsoever, much in the manner in which there is no formula for a hit film. Shoma A. Chatterji on a few famous hit pairs
WHAT does one mean by 'hit' pairs? It means a romantic pair that clicks on screen enough to keep the box office jingling and drive producers to repeat the pair in film after film. The definition of a 'hit' pair seems to have changed and the pair's youth is no longer a qualifying factor.
'Life has taught me a lot'
Actor Sarika talks to V. Ananth about herself and Parzania
Sarika is happy with the feedback that she has received for her performance in Parzania. She has spared no pains to go around the country to promote the film. She concedes that working in a film like Parzania has been a great learning process for her. "The work process is the same whether you are acting in a mainstream film or a film like Parzania.