Pitcher Perfect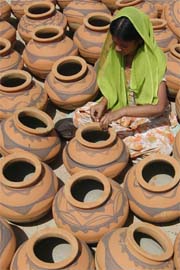 DEXTROUS HANDS: With the onset of summer, this woman is busy giving final touches to the earthen pots in Amritsar.—Photo by Rajiv Sharma
High-rise buildings on govt radar
Amritsar, April 3
During the regime of the Congress government, the multi-storey buildings, in gross violation of building bylaws, mushroomed in various parts of Amritsar. The NGOs and city planners have said that the sky-rise buildings may result in traffic chaos in the vicinity of the Golden Temple, The Mall, Ranjit Avenue and Lawrence road in the coming days. The state government is contemplating to order a high level probe into the change of land use in alleged connivance of the Municipal Corporation and Improvement Trust in the last five years of Congress rule.
47 engineering students get placement
Amritsar, April 3
In a bid to take fresh blood staright out of the educational institutions, a team of Perot System TSI Limited conducted a placement drive at the Amritsar College of Engineering and Technology recently. As many as 1,700 students from 18 colleges appeared for the test. Of them 165 students were shortlisted for interview. Fortyseven students were selected for placement at a salary package of Rs 2.80 lakh each per annum.
Minister flays attack on scribe
Amritsar, April 3
Condemning the murderous attack on Rajan Mann, reporter, Punjabi Tribune, here today, Bikram Singh Majithia, information and public relations minister, Punjab, said the state government will take strict action against all the disruptive forces and anti social elements.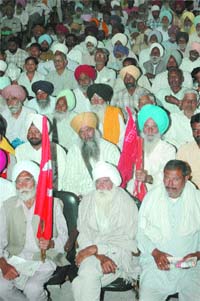 Activists of Punjab CPM attend a state-level convention at Desh Bhagat Yadgar Hall in Jalandhar on Tuesday. —Photo by Pawan Sharma
Life plays cruel jokes on kids
Amritsar, April 3
Death is cruel. So is the life for those who are left behind to fend for themselves. And among these are some innocent lives who don't even realise what life has done with them. For five-year-old Sukhpreet's life comprises of laughter which can be heard from a distance as she plays with her cousins. Sounds just like any other kid of her age. But death took away her mother and father. Mother because of illness and father due to the excessive liquor consumption.
My City
Holy city turns into encroachers' paradise
My holy city Amritsar, known as 'Pool of Nectar' and home of our Prime Minister Dr Manmohan Singh, can best be described as a city of khokha, hoardings and paradise for encroaches. Our administration during last five years has done their best to ruin the city.
Fear Factor
Campus thefts give staff sleepless nights
Amritsar, April 3
A theft on Guru Nanak Dev (GND) university premises, wherein burglars decamped with gold worth Rs 40,000 from the house of a university teacher, has set the alarm bells ringing amongst the campus residents who are now demanding additional security arrangements.
Police should be independent
Amritsar, April 3
The Punjab Government should make the police department independent instead of taming the cops and give them enough leverage to bring discipline in public life. These views were expressed by chairman citizens forum Brij Bedi to Amritsar Plus while commenting on the statement of Chief Minister Parkash Singh Badal for bringing about drastic changes in the functioning of the police and converting it into a force that would respect human dignity and human rights.
Illicit liquor haul
Amritsar, April 3
The Majitha police has seized 3632.5 litres of illicit liquor during 2006-07, registering an increase of 35 per cent as compared to the previous year. The 2005-06 figure was 2078.4 litres. District police chief Lok Nath Angra said that during a special drive they had recovered 170.85 quintals of lahan in the last three months.