Chohan had strong affinity with the city
Varinder Singh
Tribune News Service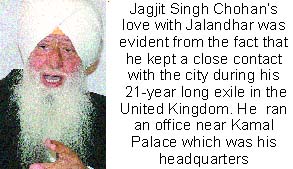 Jalandhar, April 5
Popularly known as a 'day dreamer' or a 'perennial trouble-maker', the Khalistan ideologue Jagjit Singh Chohan, not only had a special place in his heart for Jalandhar, but had also nurtured a long cherished dream to set-up a film city in Punjab.
Chohan's closeness for the Jalandhar was evident as he kept a close contact with city during his 21-year long exile in UK. He not only ran an office in the Dilkusha market of Jalandhar before he fled to the UK in 1971, but also another place which later was re-christened as Shahid Darshan Singh Pheruman gurudwara near Kamal Palace. This place was his head quarter of his activities irrespective of his stay in Punjab or elsewhere. So, much so, that while he was away to the UK, where, he had declared himself to the President of the Council of Khalistan, he used to issue most of his controversial statements from Jalandhar. He also had a large circle of friends in the city. Old timers recall that some or the other way Chohan remained attached to Jalandhar in more than one ways.
During 2001, when Chohan came back he kept descending upon city very often and also announced the formation of the Khalsa Raj Party in Jalandhar about two years ago alongwith his staunch supporter Principal Baldev Singh.
The motive of his new party, according to him, was to carry forward the cause of Khalistan through peaceful means.
"For about four years before he marched on to the UK in 1971, Chohan used his office in the Dilkusha market as a centre for his social gatherings. Rather, it remained to be a meeting point for intellectuals. This office had nothing to do with the Khalistan propoganda or ideology," said Tejinder Kohli, a Jalandhar-based vetern journalist.
Old buddies of Chohan recall his passion about films vividly.
Chohan, according to them, was so obsessed about films that he had even ventured to bring a part of the Bollywood to Punjab with the help of renowned film personalities like Dara Singh and Raj Kapoor during his brief stint as the Finance Minister of Punjab in the Lachman Singh Gill government.
Chohan was not only instrumental in allotment of a huge piece of land to Dara Singh outskirts of Mohali, where now Dara Studio stands. He also held a series of meetings with Raj Kapoor.
"He had almost persuaded Raj Kapoor to set up a studio near Ropar during that Golden era of the Indian Cinema, but, his plans got fizzled out as the Lachman Singh Gill government fell just after nine months of its formation."
Though, a leftist originally and a man of 'revolutionary thinking', Chohan got inclined towards the Sikh politics when he drew close to Master Tara Singh and got fascinated by his slogan of "Sikh Homeland." Later, he coined the term 'Khalistan' and shot to fame when he declared himself to be the President of Council of Khalistan in England and issued passports, currency notes and stamps in the name of Khalistan.
Highly placed sources pointed out that during his initial phase in the politics Chohan, who, was known as an accomplished medical practitioner, remained close to late Prime Minister Indira Gandhi even as, he had has remained to be 'one of biggest and perennial trouble makers' for Government of India later.
Far away from diverse fields of politics and allopathy, Chohan had also mastered 'Ayurveda'. During one of his recent visits to Jalandhar, he showcased his knowledge about traditional Indian medicine system by prescribing a few ayurvedic medicines to one of his friends.