Big Bite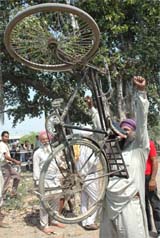 A farmer lifts a bicycle with his teeth in Amritsar.—Photo by Rajiv Sharma
STATS WISE
10 per cent Amritsar teens obese: Study
Amritsar, April 17
Nearly 10 per cent of school-going teenagers in Amritsar are suffering from obesity. This shocking statistics are result of a survey conducted by Escorts Heart and Super Specialty Institute. A total of 1,280 students of class VII to X participated in the study.
'Proper foreign policy need of the hour'
Amritsar, April 17
A country like India needs a carefully crafted foreign policy which should adequately reflect the aspiration of its citizens. This was said by former high commissioner of India to New Zealand Bal Anand while delivering a lecture on "India's external relations - an insider's overview" at Guru Nanak Dev University (GNDU).
Campus Notes
AETI strikes gold in placements
Amritsar, April 17
The Amritsar Engineering and Technology Institute has recorded success rate of 90 per cent in placement of their 2007 batch in various national and multinational corporations at the recently held campus placement programme.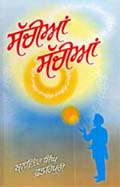 'Sachian Sachian' released
Amritsar, April 17
A compilation of essays "Sachian Sachian" by Balwinder Fatehpuri is an attempt to highlight rampant corruption and problems ailing our society. The book was released by former vice-chancellor of Guru Nanak Dev University H.S. Soch at a function organised by the Mansarovar Punjabi Sahit Academy. Academy president R.S. Bindra said: "The essays are a satire on the social evils we all face in our daily life." Fatehpuri, he said, had reflected on crucial issues in a creative way which makes the book a must-read.
Park cries for help
Amritsar, april 17
Jassa Singh Ramgarhia Park, situated on the GT Road along the periphery of the East Mohan Nagar Industrial Area, is crying for attention from the Ramgarhia community and the Municipal Corporation.
Garbage galore: Dang comes to rescue of Chheharta residents
Amritsar, April 17
The residents of the Chheharta area here, who have been seeking attention of the municipal corporation to provide better civic amenities, have got a stronger voice in the form of former MLA Satyapal Dang.




stinky affair: Garbage dumped outside the Government Senior Secondary School at Chheharta in Amritsar.—Photo by Rajiv Sharma
Dastar carnival draws huge crowd
Amritsar, April 17
Akal Purakh Ki Fauj, an NGO, organised 'Dastar Carnival- 2007' yesterday to mark the birth anniversary of Khalsa Panth. The carnival gave a great impetus to 'Dastar Svaiman Lehar', being run by the organisation in the holy city and its neighbouring areas, to encourage the Sikh youth to sport turbans.
Diets don't work
No matter how much weight you loose dieting, it will always come back, warn researchers.