Go Travel
Where shall we go this Summer?
A large number of people from the region are fleeing from the annual heat spell by holidaying abroad, finds Priya Gill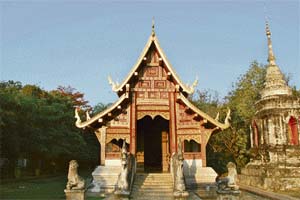 A Pagoda in Thailand
Need to escape from the searing summer heat? Have more than a few extra bucks in your pocket? Always contemplated foreign lands? Well, you are not alone. As part of a rising nation, more resourceful Indians are rising to the occasion and planning trips abroad.
The number of Indians travelling overseas this year has increased says Param Shergill of Shergill Travels, Sector 17. "Nowadays, more families are vacationing abroad and there is an emphasis on learning about the world through travel", she reveals. Moreover, an increased number of women are travelling. "They no longer want jewellery; they would rather see the world." In less than a month, she has booked 120 passengers to Singapore and Malaysia. "Trips to Mauritius, and cruises to Singapore and Thailand are also still very much in demand," she adds.
Surprisingly, it is actually cheaper to fly abroad than it is within India. It is more economical to fly to Singapore, which will cost only Rs 8,500 plus taxes, than say to Kerala, which will cost you Rs 13,000 plus taxes. "Less people are travelling within India these days; we do offer holiday packages to South India, but maximum travel is abroad", says Param.
Indians are also currently rushing to Europe to be romanced by ancient history and cultured settings. Shergill Travels offers packages for honeymooners and solo travelers for 30 days. "People don't mind spending money, even if it is 2 lakhs; they just want to see the world." "Many professional young couples with good income also opt for a break overseas", she explains.
The rush is on from beginning mid-May to the first week of July when schools and colleges are on break. Param has noticed a new trend in travel where people are booking in early for their vacations. "Many now book in two months prior; before they would organise their trip only one month in advance."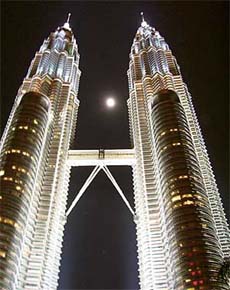 Malaysia's Twin Towers
Director of Global Airways R P Singh in Sector 35 says, "South-East Asia, Thailand, Malaysia, Hong Kong, China and Macau have become very popular for the first time traveller; Thailand and Malaysia in particular are appealing the budget tourists." Believe it or not, a trip to these countries can actually work out cheaper than a domestic tour.  "Sight-seeing holidays in Switzerland, Germany, France, Spain, Italy and UK are becoming increasingly popular especially with slightly older people and families," he says. "Rich people like to see Europe," he adds.
Indians are definitely spending more on travel than before. "Shopping holidays are on the rise especially from the metropolitan cities and even from Chandigarh and Punjab," he says.
Kapil Malhotra, director of Ekido Holiday Tours in Sector 8, says, "Australia, France, UK, Austria, and Switzerland are becoming popular in addition to the standard holiday destinations in Fareast Asia." Kapil has noticed a 70 to 80 percent increase in travellers since last year.
Owner of Sector 17's Bajaj Travels, Mohinder Bajaj has already booked nearly 200 people for May and June vacations and says bookings have just picked up. "There is more spending power in India these days", he says. The demand still lies in Singapore and Malaysian holidays, but new destinations like London, Italy, Mauritius, and Turkey, are being added to holidaymakers' to-see lists.
To Singapore or Malaysia, the travel agency charges Rs 24,000 including airfare, hotel stay, breakfast, and sightseeing and for five nights in Mauritius, the cost is Rs 37,000 inclusive. For those who are just itching to travel but are low on funds, the tour operators can tailor make a special package with the appropriate airlines and hotels to cater to individual needs.

Plan a group holiday
Smriti Sharma
Summer vacations are here but the days of spending the break at Nana-Nani's place, chasing birds in open spaces and flying kites are passé. The world has shrunk to a global village and the vacation options galore. After the honeymooners, it is now the turn for family, friends, kitty members and adventure seekers to head straight to foreign destinations. The reason for opting foreign locales is simple, informs Kapil, director, Ekido tours and travels, Sector 8. "With an increase in paying capacity of the people, most of them see these getaways as an outlet to spend money."
"People don't mind shelling out those extra bucks as long as they have an assurance of coming back charged up to take on their mundane work", avers Kapil. Interestingly, now more people want to go out in groups; and if your group members happen to be locals from the region, nothing like it. Says Kapil, "We have introduced groups in the region for the first time, where in people can go together in large numbers and enjoy their kind of food and environment in Switzerland and Europe as well". So while you are amidst your own people, chances of having language problems and food are all taken care of. "We get special requests from corporates and others for group travelling and they are interested only in sight seeing and relaxing, and not shopping", articulates Kapil.
So go ahead and soak yourself in the beauty of picturesque Switzerland and Europe while enjoying desi food in the company of friends.

Personal
memorabilia
S.D. Sharma
Endowed with a vision and power of expression all artists including painters, writers or sculptors always feel pleasure in depicting the regular experiences of life through artistic creations. But, the budding young painting maestro, Suresh Chandra Jangid has endeavored to share his reminiscences through his collection of sixteen painting in acrylic medium at Punjab Lalit Kala Akademi. The MFA pass out from Rajasthan School of Fine Arts seems to be 'face to face ' with himself in his solo group exhibition. He claims a motivational theme of 'search within' for all the untitled displays.
The series of works in bold shapes and elegant catchy colours is an intimate and visual narration which brings alive his memories of childhood, college days spent under the disciplined care of teachers and masti with friends. His repertoire of exhibit starts with paintings of his childhood days of going when he would go to school and college on a bicycle and bus. The bus driver and conductor in natural poses also find a place in his second solo show. He has also been a part of seven group shows earlier.
Paintings of female classmates seem to fascinate Jangid more and these are inherent with poetic lyricism and feature many psychological dimensions of young life. Some paintings depicting the emotions of young girls and their life style in the college and outside are decidedly attractive.
On till May 1

Mythical figures
Contemporary strokes
Parbina Rashid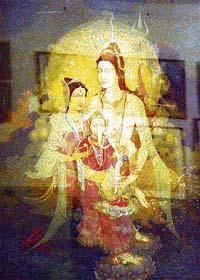 By the standard norm of the city, the art scene should be in the lull at this time of the year. But this year is seems to be different. Not only art galleries are still busy doing business but curators of Art Folio in Sector 9, have decided not to take their usual month-long vacation and go on holding exhibitions.
The latest one at Art Folio is a mixed one—few Kolkata-based artists, Delhi and our homegrown artist Madan Lal—all showcasing their works under no specific banner. Hence their works are not connected, though after a round one can see that mythology dominates.
For instance Rattan Acharya, a senior artist from Kolkata has worked with the wash- technique in water-colour. The theme is mythology and the huge frames that have captured Shiv, Parvati and Ganesha in different moods come with a dream-like quality and print-like finesse.
Swapan Saha from Kolkata redefines Radha Krishna in his paintings. A long-forgotten still life (flower vases) also makes an appearance. There is Shweta Talwar from Delhi, who has an interesting interpretation of a woman's sensuality, symbolising her passion with fire.
Shweta has used oil on canvas. Another interesting frame from Shweta's collection is Man & Chess, which has a horse and a chess-board, indicating the power play in human life.
Alok Sarkar, another Kolkata-based artist has worked on Goddess Kali in mixed media. Besides interesting man-woman forms, he has done a panel on miniatures.
What the other artist have achieved with colour, city-based artist Madal Lal has achieved with economy of colour. His has drawn semi-abstract human forms in bold lines, with a hint of water-colour, that makes his drawings aesthetically sound.
On till May 2

Moksha the easy way
Radhika Singh
"One has the right over the action of the duty and not over the fruits of the action."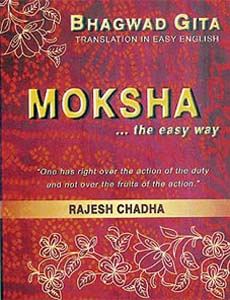 The ancient wisdom, that so far was the prerogative of the learned, has now been made available to the common man. No longer do we need to rely on priests or philosophers for interpretations of the Bhagwad Gita. The great book has now been packaged in a way that the layman can understand its thought and apply its principles to life.
City-based author Rajesh Chadha has come out with an easy to understand translation of Gita in English. As he mentions in the introduction, "The main objective of the Bhagwad Gita is that a man of any discipline, follower of any ideology, should be able to attain moksha in any situation. He should not be deprived of attaining moksha since birth of all mankind is only with the objective to attain moksha." It is with this thought in mind that he decided to translate the holy book into an easy, simple language, so as to make it accessible to the common man.
Having previously authored two books, titled How to be a High Performance Manager and Write a Letter to God, he embarked upon this project to make people understand the vast wisdom of the scripture. "I had read many translations of the Gita before, and felt that this book could make individuals understand their relationship with themselves as well as with God. So, I began by translating the first adhyaya. I made audiotapes of this translation and circulated it among friends. The feedback was positive, so I went ahead and translated the whole book," he says. Stretching across 136 pages, this book has just 18 chapters and is light and easy to read. Not only does it enlighten and educate, it does so in a manner that is neither taxing, nor strenuous.
An avid reader himself, Chadha feels his inspiration for writing comes from reading. Out of the other works on spirituality, Mahatma Gandhi's All Religions are True and Khalil Gibran's The Prophet particularly moved him. "I think anyone can write. I don't think I am a natural writer. But I believe that in life if you want do something, just go ahead and do it," he says.
Any more projects in the pipeline? With this book ready for release, he is already at work on his next, The man who sold his honesty, an attempt to analyse the process of changing attitudes with the coming of power.
He is a man on a mission, spreading the message of God, and packaging it in a way that it reaches out to all. Just grab a copy of this book and step on the path to moksha!

Since the inception of life on earth the visionary saints and seers of India have given the world virtues of wisdom, humanistic vision and spiritual awakening. An American legal luminary, turned Indian saint, Makhanlal Das Prabhu is spreading the teachings of the Indian seers to encourage mankind to follow the right path. Talking about his original name, the 61-year-old sadhu laughingly remarked. "My American name was burnt in the sacred yagna fire that transformed me to an ardent disciple of AC. Bhaktivedant Swami Srila Prabhupada, the founder of ISKCON."
Defining dharma, as upholding respect and practicing virtues of morality, ethics, mercy, compassion, tolerance and mutual brotherhood; he said that unfortunately in India spiritual wisdom is being sacrificed at the cost of following western culture. He talked about the need to spread awareness amongst the people about good sanitation habits, abuse of drugs and the spread of AIDS. He also stressed on the need to open more schools. He is in the town for a week to impart moral and spiritual education. — S. D.

Treasure Trove
In search of the lost world
This Patiala-based collector values and preserves discarded old stuff, writes Parbina Rashid
For Bhalinder Singh Dhaliwal, it was the callous attitude of the elder generation towards old household goods that ignited his love for collecting them. Yes, he is an antique collector who would not mind searching through the fare of any kabadiwala, if he can find that right piece.
"Our elder generations were not even aware of the treasure trove they were sitting on," says Dhaliwal. He recalls one such incident when he rescued two Kangra paintings and a few old utensils from being sold to a kabadiwala at his ancestral house near Malerkotla. "They were lovely miniature paintings of Kangra which were in a poor condition; I restored them and now they are one of my prized possessions," says Dhaliwal. That was only the beginning. And, later his passion for antiques took him to various places in search of them.
Now, after 15 years of his continuous search, he is richer by a chok, a long-flowing kurta that was worn by a security guard in Maharaja Bhupinder Singh's time, an achkan which was meant for the Nawab of Malerkotla, two swords which were presented by the British rulers to a jagirdar and a general for their service, two Buggi lamps as old as 90 years that used to be lit up using kerosene, a stone-top stool from the Victorian era and a pair of breeches which was worn by Dhaliwal's grand uncle who was in the Nabha Police way back in 1924-25. "I recently collected this sofa jung, a unique axe look-alike weapon of the Sikh fighters," he says. Among other weapons he has is a 100-year old sword, which he inherited from his fore fathers. "This one has been handed down from generation to generation, and in our family every bridegroom carries it at the time of marriage."
A businessman by profession, Dhaliwal believes in spending more time than money to keep up with his hobby. "Buying antiques is surely an expensive hobby, but if one knows where to look for, then it becomes affordable," he says. And he explains, that one can make trips to villagers to collect authentic ones. "Earlier every family in and around Malerkotla had something to offer, the 'hand-me-down' old things that they wanted to get rid off. But now, there is an increasing awareness about the values of antiques and so the prices have gone up and also there is a lot of duplication," he adds.
So how does one go about it? "It's only with experience that one develops an eye for antiques," he says. But we force him to part with a few tips as a quick-fix —"Look at the joints carefully, it reveals whether the piece is old or recently made."
This is one tip one should remember while going for an antique hunt to Chandni Chowk next time.
If you too collect unique things and wish to be featured, write to us at lifestyletribune@gmail.com or Lifestyle, The Tribune, Sector 29,Chandigarh

It is so filmi!
Saurabh Malik
Reel therapy
A movie a day may actually be keeping the doctor away. Cinema therapists abroad feel movies are good for mental health and the flicks can actually be used for therapeutic purposes. A city-based physician, Dr Jatinder Sharma, believes movies can be used for personal growth.
If your little one is bored of putting two and two together in the classroom, forget all about your calculations and get ready to give him a few lessons in fun. Just take him to 'Fun summer kids' film festival' for a bag full of excitement Beginning Friday, the week-long festival at Fun Cinema in Manimajra is all set to open a new chapter of entertainment, education and inspiration for the young innocents. Running simultaneously in eight cities and 10 locations across the country, the film fest promises to be a 'blockbuster event' with a flick a day for children between six and 15 years.
The movie sessions, scheduled to commence at 11 am, will be interspersed with fun-filled moments. In fact, the young crowd will enjoy periods of 'entertainment activities' right there in the cinema hall during the intervals.
Fun Cinemas' senior vice-president (Marketing) Shirish Handa says the supplementary events have been tailored to benefit the participating kids. The planned activities include art and craft workshops, competitions and lessons in oral-care.
To top it all, lucrative gift hampers will be handed over to select children participating in the workshops. The bonanza will continue with the organisers presenting additional gift hampers to 'lucky seat winners' daily.
You can pick up your daily pass to entertainment. Or else, you can opt for a heavily discounted seven-day season pass. It entitles you to two McDonalds Happy Meals.

Films at a glance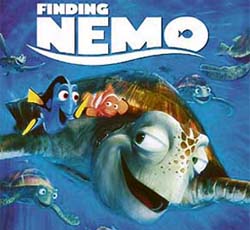 Finding Nemo
Nemo, a boy clown fish, is stolen from his home and taken to a fish tank in a dentist's office in Sydney. His timid father, and a blue tang fish, must follow the East Australian Current to reach Sydney and take Nemo home. April 27
Chicken Run
Is a comedy set on a sinister Yorkshire chicken farm in 1950's England. The film follows the turbulent romance between two farmyard chickens, who plan a daring escape. April 28
Lion King
A young lion prince is born in Africa, thus making his uncle Scar the second in line to the throne. April 29
Iqbal
In a nation obsessed with cricket, it is not often one comes across people who loathe cricket as much as farmer Anwar Khan. The movie is all about cricket and it's craze. April 30
Scooby Doo 2
At the grand opening of the Coolsville Museum of Criminology, a masked villain shows up and creates havoc before stealing the costumes. Watch Scooby Doo in action. May 1
The Incredibles
When Mr Incredible is offered the chance to play the hero's role again by a mysterious informant, he jumps at the opportunity, but it turns out to be a trap set by an old nemesis. May 2
Open Season:
A grizzly bear named Boog helps deer friend Elliot escape from the hunter. May 3

Animal Planet is searching for the next great wildlife filmmaker. The reality series Unearthed will return for a second season of five episodes, following six new contestants on an intensive training course. Renowned wildlife filmmakers Lyndal Davies and Andrew Barron will return to guide the contestants through their tasks on the course. An international panel of experts will judge the final documentaries and the winner will have his or her film broadcast on Animal Planet in 160 countries.
For details, log on to www.animalplanet.co.uk/ unearthed2. The closing date for receipt of applications is May 7. — TNS

Little Interview

Ta Ra… is different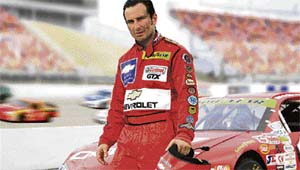 Every human being dreams of something. And to fulfill that dream he needs to have a set vision, an ambition to accomplish it, hard work and dedication. That is precisely what actor Saif Ali Khan did, and, achieved his goal.
Five consecutive widely-acclaimed films later, Saif has earned the lucky mascot tag. On a high about his role in Siddharth Anand's Ta Ra Rum Pum, Saif Ali Khan speaks his heart out about his career to Life Style.
Viewers think your performances in Parineeta, Salaam Namaste, Being Cyrus, Omkara and Eklavya are your best to date. Did you expect positive reactions?
I think these films came to me at the right time. Now people know I am versatile. Yes, I had expected praise for these films.
Are you cautions about the new films you sign?
Yes, I am very choosy about the subjects. I believe in quality not quantity.
How attached are you to your kids Ibrahim and Sara?
My children are my blood. I love them both. I want to spend as much as time as possible with them.
Tell us something about your role in Ta Ra…
I play Rajveer Singh (RV), the best car racer in the world. It is a different role and I am proud of it.
What was it like working with Rani Mukherjee?
It was excellent. Rani and I did Kunal Kohli's Hum Tum. She is very cooperative and cool. It's always a pleasure working with her and I enjoyed every moment.
How was working with Siddharth Anand?
Siddharth Anand debuted with Salaam Namaste. He is a young and talented director and when a winning actor-director combination comes together, the audience will expect them to raise the bar. Siddharth has done a good job with this film.
What are your forthcoming films?
I am working with Karan Johar, Kunal Kohli, Abbas-Mastan and Yash Chopra.
— Dharam Pal

New Release
Ta Ra Rum Pum
Of great expectations
Yash Raj Films' first release this year is unlike previous production of the banner. The film's colourful look and commercial tone catapult it into an entirely different genre.
Rajveer Singh (Saif) is passionate about driving and dreams of making it big on the racecourse. He is discovered by his manager Harry (Jaaved Jaffrey). Rajveer meets Radhika (Rani) and instantly falls for her. A few months later, Rajveer and Radhika marry and their family is complete with the birth of two children - Priya (Angelina Idnani) and Ranveer (Ali Haji). Luck follows him as RV and he is soon the no. 1 race car driver in the US.
Tragedy strikes when RV is involved in an accident and is hospitalised for a few months. He is forced to auction his house and move with his family to a run-down neighborhood. The family struggle with their new lifestyle but stick together. An incident forces RV to make a decision and reclaim the life that was taken away from him...
Catch it at Piccadily, Kiran, Fun Republic and Suraj. — Dharam Pal

FILMY has now roped in Bhojpuri superstar Ravi Kishan as a movie jockey on the channel. He will be presenting his hit Bhojpuri film Ganga that will premier on 29 April.
Talking about his association with FILMY, he further said, "When they approached me with the offer, I was very excited and took it instantly." Since, the role was different than his regular roles, Ravi says he took it as a challenge and enjoyed himself thoroughly. He will be sharing trivia, anecdotes and other details of the making of film and thus make the whole movie watching experience an enjoyable one.
Speaking about his experience of working with Amitabh Bachchan, he stated, "One of the most memorable moment was when he called me a mahanayak (superhero) during the music release of Ganga." "Coming from a legend like him, surely made my day," he added.
— Dharam Pal

Rising Star
Theatre is his life
Safar karte huye, manzil-ba-manzil jaa rhe hain ham
Mujhe ye saari duniyan, carvaan maloom hoti hai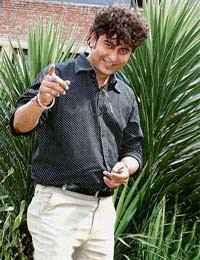 City-based actor Sachin Sharma defines 'theatre' in poet Mehroom's couplet. For him drama is a life-size art and everything comes within its fold. In that sense, life, too, is a stage where one's joys and sorrows are depicted, he says.
Credited with 17 TV serials, films and scores of stage plays, Sachin's foundation to fame was laid in school. His first play Anjaam-e-Gulistan Kya Hoga won him national recognition and laurels for his school, DC Model School, Panchkula. He maintained this tradition of excellence while studying at DAV College, Chandigarh. He walked away with the national best actor's award at the inter-university meet for two consecutive years and also clinched the national award for best actor in the cultural festival of DAV colleges.  
Before joining the Department of Indian Theatre at Panjab University, Sachin completed Adarsh a TV serial by Wg. Cdr. Bedi for DD-1. Besides three departmental productions, he played lead roles in G.S. Channi's play Bandhak and tele film Sehar. Films like Vansh, Shaheed-e-Azam, Baba Balak Nath and Phansi other than serials like Samjhauta, Rishtey, Rano, Agnichakra, Filmistan, Naa Jayio Pardes and Gafil have made him a popular name in entertainment industry. It was Perfect Husband, a feature film in English, which introduced Sachin to the Western world. "Playing a negative role for a big banner was challenging but a learning experience," says Sachin.
"Theatre is my first love. I enjoyed playing Kaifi Azmi in Rani Balbir Kaur's play Waqt ne kiya kya haseen sitam... He has played lead roles in 'Theatre Lab' productions like Ek aur Dronacharya and Ek Satya Harish Chander made waves at the Pune and Kolkatta festival. His other obsessions include RJing and anchoring shows. — S. D.
(Beginning today, this column profiles budding artists)

SIDELANES
FRIENDS to the fore
Joyshri Lobo
Dorothy Parker Riddle wants to stay with us this coming October. She has been invited by her alma mater — Woodstock, Mussoorie — to be honored for her global achievements, which include a huge business set up in Vancouver. It frequently takes her across the world. In fact, she has spent so many hours flying that her legs gave trouble and had to be operated upon.
Dorothy also sent a Christmas round robin, describing a trip to the southern most city of the earth with an impossible name — Ushuaia. Dorothy and a group of naturalists' ultimate destination was the Antarctic. That's my chaddi-dost, all six feet of her —adventurous, curious, oozing with guts and gumption. She rolled through 15-foot waves, waddled with the penguins, smooched the seals, "aaahed" the albatrosses and visited the research stations — one of which flies the Indian tricolour. She wrote, "The centre of the Antarctica is the driest desert in the world. Mt Erebus is an active volcano with a bubbling lava pool of 100 meters in its cone and then glaciers on the sides of the cone."
Dorothy's grandfather, Rev Parker was a founder father at Woodstock   Her father, Rev Chuck Riddle conducted my wedding. Her mother Kittu, wrote the Landour Cook Book and suggested nutritional policies to John F Kennedy. They were accepted nationally. Kittu even set up a settlement in the Arizona desert, the sole purpose of which was to nourish the land (plant trees, harvest water and create an area of development with the existing Native Americans, Red Indians to us Bharat-vasis.)
Dorothy and I grew up together in the Mission Hatha, Jalandhar. In a black and white photograph taken fifty-seven years ago, when we were about seven years old, both of us are the same height. She raced ahead after 12 while I touched 5'-4". After Woodstock, I lost my friend to a US college while I tried my wings at Kanya Maha Vidyalaya, Tanda Road, Jalandhar.
Dorothy keeps returning to India. The last time she visited, I bought her a kilogram of plain, milk burfi that she demolished in a couple of hours. An IAS officer, who travelled with her on the Shatabdi, invited her for burfi, jalebis and samosas the next day. He wanted her to help take his son across the Atlantic. Being a close friend, I made my son Raoul, do the route to St Johns University, Queens, New York, on his own. I refused to take advantage of our friendship. After the samosa party, Dorothy and I went and bought a lilac, raw silk salwar kameez. She said that on her return, the President had invited her for dinner to the White House and she would be proud to show off her Indian roots.
Dorothy wants to know if I would like to go with her to Woodstock. I am tempted as her friends, Tom Alter, his writer brother, and the Sauer boys will be there. I remember trying to do a square dance at that school, many years ago. Maybe I can join in again in October.

youth speak
Earn & learn
Shubh Ashish


Shubh Ashish
Largely a western concept, the trend of working during summer break caught up with the students in the city recently; lots of senior students and college students now look out for employment opportunities during vacations.
A large number of college students take up summer jobs and participate in productive activities rather than wasting their time. There are many options to choose from like sales person, marketing executives, researchers for market research companies, call centers and tutoring younger students.
The job is an opportunity to earn money and combine academic study with on-the-job experience. With the increase in the cost of living of youth that includes mobile bills, branded clothes, weekend parties, fuel expenses and above all educational expenses, more students are going in for summer jobs.
They also help the students discover the realities of particular career fields and expand their network of contacts in the field of interest. They prepare the youth to get familiar with their capabilities and shortcomings.