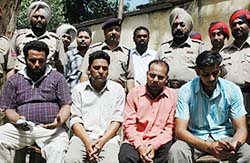 Inter-state gang of robbers busted, 5 held
Amritsar, June 8
The police, in a major achievement, has busted an inter-state gang of robbers operating in various districts of Punjab, Haryana and Uttar Pradesh and was involved in more than 25 incidents of robbery.

Accused were involved in more than 25 robbery cases.
A healing touch for needy kids
Amritsar, June 8
Paying a visit to citizens forum Vidya Mandir at Maqbool Pura, popularly known as 'Locality of widows', BJP leader Balramji Dass Tandon along with local MLA Anil Joshi promised to give Rs 2,000 to school every month.




BJP leader Balramji Dass Tandon interacts with students at Citizens Forum Vidya Mandir in Amritsar on Friday. — A Tribune photograph
BoB to open 2 ATMs at city railway station
Amritsar, June 8
The Bank of Baroda would open two ATMs at Amritsar railway station, said bank general manager K N Suvarna.
'Knowledge update a must for teachers'
Amritsar, June 8
Dr Karamjeet Singh, chairman, Department of Punjabi, Kurukshetra University, presided over the valedictory function of General Orientation Course-70. The course organised by Guru Nanak Dev University concluded here recently.
Ex-GNDU VC bereaved
Amritsar, June 8
Kartar Kaur (92), mother of former Guru Nanak Dev University vice-chancellor Dr S P Singh passed away after brief illness here on Thursday.
Taking Up Cudgels
Restore city's pristine glory, NGO urges Badal
Amritsar, June 8
The holy city should be developed as world class tourist distination as it was the only city of Punjab which has great tourism potential, national as well as international, said Dr Charanjit Singh Gumtala, patron, Amritsar Vikas Manch (AVM) in a missive to the Chief Minister Parkash Singh Badal.
Army recruitment rally from July 11
Amritsar, June 8
An Army recruitment rally of soldier (general duty) Sikh and Sikh (M and R), AIAC, Dogra, Muslim, Brahmin, Gorkha (Magar and Gurung of Gurdaspur district only), soldier clerk (all caste) and soldier technical (Sikh and Sikh M and R) for candidates of Amritsar, Tarn Taran and Gurdaspur will be held at Rayya (Beas) from July 11 to July 14.
Field Marshall hits stands
Amritsar, June 8
Field Marshal, glossy colour fortnightly magazine, hit the stands today. Brought out by Marshal Media Private Limited it is a politico-social, informative and entertaining magazine.


Nimrat swims to glory
Amritsar, June 8
Nimrat Batra has made the city proud by winning various medals in the state and district level swimming competitions held in Punjab and Rajasthan. A class 10 student of Mayo College Girl's School in Ajmer (Rajasthan), Nimrat began swimming at five years of age.


Nimrat Batra shows medals won by her in various competitions.


News website launched
Amritsar, June 8
Raj Mohinder Singh Majitha, Rajya Sabha MP, inaugurated news portal www.bharatsandesh.com designed by Anantdeep Dhillon and Hardeep Singh from Amritsar.




Rajya Sabha member Raj Mohinder Singh Majitha launching the website, www.bharatsandesh.com.
Language Identity
AVM demands Punjabi portal
Amritsar, June 8
Amritsar Vikas Manch (AVM) has sought the intervention of the Prime Minister to launch a portal in Punjabi language on the Government of India website of the Press Information Bureau (PIB). The patron of AVM Prof Mohan Singh has said the PIB did not have a Punjabi portal.