A hobby makes him popular among tourists
Palak Bajaj
An Indian rupee 10 coin, coin from the time of Alexander, coins with bronze metal in the middle, you name it and he has it.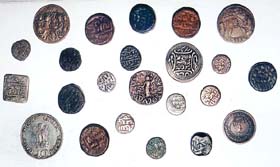 Coin collection of Keshav Chander Grover
The name (of the man) is Keshav Chander Grover and the hobby, not hobby, passion, is collecting coins, stamps, postcards and what not and a noble intent to help the tourists whether foreigner or Indian in the holy city of Amritsar.
It seems the man has shrunk the world into his humble abode.
"How did you start?" was my first question. The man in his early forties, who has been pursuing this hobby for the past 20 years, replies: "I had given my class X examination and there was a scheme of a free flag of a country with a 10-paisa toffee.
We had to paste the flag in a flag album and from there I gained knowledge about many countries and their respective currencies. Soon after that a friend introduced me to collection of coins."
Since then there was no looking back and today he is the proud owner of more than 1,500 coins and 25,000 stamps.
Ask him if he got any help from his family members and the god-fearing man proudly announces "God" and recalls an incident when one night he sat counting coins.
"The coins were about 99 in number I looked up in the sky and murmured let's see God where the 100th coin comes from."
The next morning while offering water on a "Shivaling" he found a rare coin from Thailand and exchanged it with the priest for a genuine amount.
Such is his passion for collecting coins that once while visiting the birthplace of Lord Krishna (Mathura) he was told by someone that he would get rare coins from Agra and the cities nearby.
He left his family while they were paying obeisance at various temples in Mathura and went to Agra, Firozabad and Fategarh and collected 13 coins.
In order to have all possible (existing) coins from round the globe, he interacts with foreign tourists visiting the city and has detailed knowledge of almost every part of the globe.
It seems as if the whole globe is embedded in his brain, for he graphically has awesome knowledge of almost every country on the planet (although he has visited none).
He also accumulates knowledge by staying hooked to Discovery channel and if anything interests him it finds space in his diary.
He then shows us the greetings he has been receiving from his foreigner friends.
Some of the visitors to his house include Bob Lening (traveller) from National Geographic and Jan Berger, a Swiss pilot.
Also a philosopher he was once asked by Douglas Kuch, professor of music, religion and philosophy in Curry College of Milton, USA, to deliver a lecture on peace but he refused for some personal reasons. He then share his views that according to the Hindu mythology after about 84 lakh births one gets body of a human being.
Why not use it constructively? He shakes his head in dejection as he talks about the various perils eating our society. A believer of the saying, "service to mankind is the service to God", he puts his maximum to help everybody.
He gives the message of peace so that life can be utilised to its fullest and he signs off with a quote, "Yeh jindagi pyar karne ke liye kam hai, pata nahin log nafrat ke liye samay kahan se nikal lete hain. (life is so short to love and be loved, I wonder how people manage to take time for hatred).