PUDA Wakes Up
After two years, treatment plant to get operational
Phagwara, June 14
After long hue and cry of the residents of local Urban Estate, Punjab Urban Development Authority announced to start much-awaited sewage treatment plant in the area from June 26 as it was lying uninstalled without a valid power connection.


A hobby makes him popular among tourists
An Indian rupee 10 coin, coin from the time of Alexander, coins with bronze metal in the middle, you name it and he has it. The name (of the man) is Keshav Chander Grover and the hobby, not hobby, passion, is collecting coins, stamps, postcards and what not and a noble intent to help the tourists whether foreigner or Indian in the holy city of Amritsar.
Keshav Chander Grover

Young World
Vacation: Students indulge in hobbies
Jalandhar, June 14
Hobby classes were conducted for students of Seth Hukum Chand SD Public Senior Secondary School during the summer break.

Principal of Guru Amar Dass Public School Tarlochan Singh gives away prizes to the winners of the art and craft exhibition in Jalandhar on Thursday.


City students leave for USA to fetch NASA trophy
Jalandhar, June 14
Five students of Apeejay School (junior branch), who have won a trophy in a space design competition organised by the National Aeronautical Space Architecture (NASA), are leaving for the USA to fetch their prize on June 15.


New magazine for the 'real' dolls
Jalandhar, June 14
Women have proved to be far more than what the profit run ad mad world of business and entertainment would like to portray them as. For those tired of watching women brought down to mere products Market Informer has launched a new magazine Ladies Special.
tough ride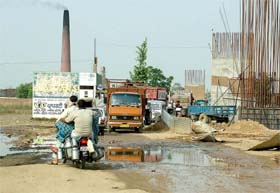 Commuters have a tough time commuting on the Jalandhar- Jandusingha road near railway crossing as a ROB construction company has covered almost full width of road without laying any diversion passage in Jalandhar. — Photo by S.S. Chopra
Award for NITJ professor
Jalandhar, June 14
Dr Rajiv Kumar Garg of the department of industrial engineering of Dr BR Ambedkar National Institute of Technology, Jalandhar, has been felicitated by Air-India and The Tribune at a function held in Chandigarh on May 26.
19 pension cases received in sangat darshan
Kapurthala, June 14
As many as 19 grievances about different types of pensions were received in a sangat darshan held in Bholath on Thursday. Presiding over the sangat darshan, ADC Balwinder Singh Multani marked these grievances to the district social security office for disposal.
For A Noble Cause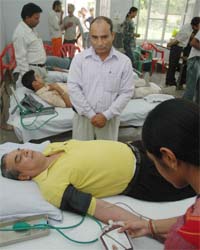 Volunteers donate blood at a camp organised by Citizen Welfare Protection Council at Sainik welfare office in Jalandhar on Thursday.
— A Tribune photograph
Demand to fix ice rates
Phagwara, June 14
After hearing the pleas of residents, Shiv Sena Punjab vice-president Pawan Parbhakar has urged the administrator to fix the rates of ice. The residents complained that ice being sold at Rs 300 per block is double from the normal rates.
EC mulls single voters' list for all polls
Phillaur, June 14
The Election Commission of India plans to prepare only one voter list which could be considered in all elections including village panchayats, nagar councils, assembly and Lok Sabha elections. This move is being viewed as an important step in promoting transparency and preventing bogus voting in the elections.



Mann's judicial remand extends
Jalandhar, June 14
A city court today extended the judicial remand of SAD (Amritsar) president Simranjeet Singh Mann for two weeks till June 28. Mann's supporters raised slogans in his favour while he was being produced in the court amidst tight security.

SAD (A) chief Simaranjit Singh Mann at a city court in Jalandhar on Thursday. — Tribune photo by Pawan Sharma
Two run over by trains
Phillaur, June 14
Two unidentified persons were run over by two trains at Phillaur railway station today. One person was crushed to death when he fell down from the train while attempting to get down.