Mirage effect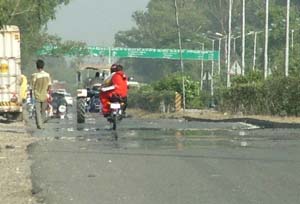 Torched up

: Heat waves are not only influencing humans, even roads give a dazzling gaze. Here itís mirage effect seen on the GT Road in Jalandhar.
ĎCapt, Sarna playing into ISIís handsí
Phagwara June 7
All-India Anti-Terrorist Front president Maninderjit Singh Bitta openly alleged that Captain Amarinder Singh was the brain behind the Dera Sacha Sauda incident to disturb the peace of the state and divert attention of the government from the rampant corruption he made during his rule as chief minister.
Forum restrains PSEB from replacing old meters
Jalandhar, June 7
The District Consumer Disputes Redressal Forum yesterday restrained the Punjab State Electricity Board (PSEB) from replacing old meters already installed inside complainantsí houses at Chhoti Baradari, Phase-II, with new ones to be installed outside.
Govt hikes cash incentives for inter-caste couples
Phagwara, June 7
Punjab governmentís recent move to increase cash incentives to couples going in for inter-caste weddings, by doling out rich cash incentives, is getting an enthusiastic response. With the recent hike in cash gifts to the tune of Rs 25,000, a large number of such couples have applied to the social welfare department to draw new monetary benefits.
Man duped of Rs 5.46 lakh, 2 held
Phagwara. June 7
The police, headed by deputy superintendent of police H.P.S. Khakh has arrested two persons, Krishan Kumar Hero and Amit Kumar Babbu of Phagwara, under sections 420, 406, 120-B and 24 of the Immigration Act for cheating Sat Pal, a resident of Basant Nagar, and duping him of Rs 5,46,000 on the pretext of sending him abroad.


Mr India owes his fitness to city guy
Jalandhar June 7
Grasim Mr India 2007, Bharat Kundra, has a connection with this city. His physical instructor is based in Jalandhar. Preparing himself for the forthcoming Mr International contest, Kundra was here to take tips from Rajiv at his fitness studio. Attired in a black full-sleeve T-shirt, designer jeans and accessories including a necklace made out shells and a designer white belt, he flexes his muscles using various gadgets there. Kundra, a B.Tech (software designing) student of Amity School of Engineering and Technology, says, ďFrom now onwards I am simply going to concentrate on my fitness as I have appeared for my final semester examination.Ē


Grasim Mr India 2007, Bharat Kundra, at a gym in Jalandhar. ó Tribune photo by Pawan Sharma
Begging menace plagues Phagwara
Phagwara, June 7
Beggars found at all the major crossings of the town are posing many problems to the commuters and residents.
PSEB employees hold rally
Phagwara, June 7
The Punjab State Electricity Board Employees Federation went on a strike today after talks with the board management over their demands failed on Monday.


Young World
Contestants to vie for the pie
Jalandhar, June 7
After a series of cooking classes at Rana Cooking School, there would be an inter-district competition, said school principal Taranjit Kaur.



Students of CT Public School at a summer workshop in the school hostel in Jalandhar.

Bhavna tops Jalandhar in 10+2
Jalandhar, June 7
Bhavna Sharma of KMV Collegiate Senior Secondary School, who has got the sixth position in Punjab and first position in Jalandhar district in the Class XII examination conducted by the Punjab School Education Board by securing 450 out of 500 marks.