Cooling Off Effectively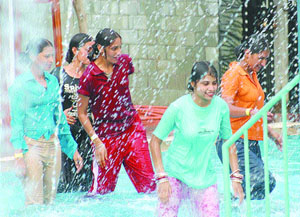 Women take a chill pill at an amusement park in Jalandhar on Tuesday. — Photo by S.S. Chopra
Unending wait for medical reimbursement
Jalandhar, June 12
In an example of how usually government departments delay completion of work of common man apparently due to their vested interests, Tarlok Singh, a retired superintendent, PWD public health, has not been reimbursed his medical bill for the past six months.
With dreams in his eyes
Phagwara, June 12
Sumit Sharma of Amritsar has been part of the U-19 Indian cricket team which won various cricket matches held in New Zealand, Pakistan, England and Malaysia in 2006 and 2007.


Water Break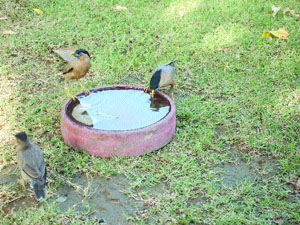 With mercury heading north, these little birds have also started feeling the heat. — Tribune photo by Varinder Singh
PSEB sets up more nodal offices
Phagwara, June 12
Punjab State Electricity Board has set up six nodal offices at zonal centres and headquarter Patiala for the convenience of power consumers and monitoring power supply during current summer and paddy season, said H.S.Thukral, chief engineer north.
Young World
Fun games: City schools play host to summer camps
Jalandhar, June 12
An overnight summer camp was held at Seth Hukum Chand SD Public Senior Secondary School.


Golf for rookies
Golf is no longer a game of the
elite. Thanks to the media and better performance of Indian golfers at the international level, the popularity graph of the game
is on the rise says Lt-Col Kuldip
Dosanjh (retd)



Basically, golf originated in Scotland. King James of Scotland played it during the 15th century. It is generally considered that the Royal Black Heath Club of London
is the oldest existing club
of the world.


Jalandhar, June 12
As part of an academic and cultural exchange programme, a group of seven students from Police DAV Public School, their principal Rashmi Vij and faculty member Ratlandeep visited Sollentina International School Sweden for 14 days.


Students and staff members of the school address a press conference in Jalandhar on Tuesday. — A Tribune photograph