Parking blues: A TRIBUNE DEBATE
Go for multi-level parking
The response to the debate was large and passionate while some readers spoke of an integrated approach to deal with the problem, others suggested raising the entry tax. At least one reader thought preferring two-wheelers over cars should help. Here goes a selection:
The problem is a serious one and the administration needs to give it a serious thought before the situation goes out of hand. The rapid growth of vehicles in the past few years have added to the problem. The only solution is to give a facelift to the conditions of the roads. With the widening of roads, the problem can be sorted out to a great extent. Encroachers like reheriwallas, who make their base in the parking lot should be removed from these areas.
Yogesh Sharma, Shimla
Traffic police can help
To cope up with the problem, the traffic police should take necessary measures to stop the vehicles from crowding on busy roads. There should be a provision for proper parking lots for vehicles. People who violate traffic rules should be dealt with strictly and a heavy fine should be imposed on them.
Vikas Dogra, Jawali, Kangra
Make parking mandatory
Word of mouth is the most effective publicity tool. The problem is affecting tourism in Himachal. For tourists 'parking hunting' is more important than 'room hunting' these days. When a tourist drives to Shimla, he first looks for a hotel with parking. If he parks his vehicle on the roadside, he is challaned for 'idle parking.' Cops order him to park in Government's parkings, which are far from hotels and already jam-packed. Signboards should display names of hotels with number of vehicles their own parking can accommodate, at entrance of restricted roads. Parking lots should be made mandatory in all buildings. If locals and tourists can't park their vehicles in Shimla, the government should stop sale/registration of vehicles, or shift the capital elsewhere as a solution.
Roshni Johar, Shimla
Hotels can help out
Government should realise that Shimla is losing its charm due to lack of parking lots, it has become a transit place and is no longer a tourist destination. Undeniably, the government parkings are inadequate for both local and tourist vehicles. It should urgently construct more multi-storied parkings in various pockets (like Dingle Estate and Yodha Nivas) especially near hotels. While the Army has made its parking for 50-60 vehicles, civil authorities are yet to act. It should be compulsory for every building to have its own parking. While the government has parking lots mandatory for hotels, yet strangely, the government has banned tourist vehicles to be driven to hotels. These hotels definitely help to ease out parking woes. Prior to buying a vehicle, a local must ensure its parking. Social needs must override personal ones. Many feel that the government should shift the capital elsewhere to reduce its increasing official vehicles.
M.Seth, Shimla
Multi-level parking systems
There are multi-level parking systems available. Vehicles can be stacked on top of each other (on pallets) and two to 10 levels of parking levels can be achieved. These systems take up very less space. The government can identify and allot certain places all around the town to private investors on a long-term lease basis. These systems are being used all over the world and can be purchased from China or Germany.
Sanjay Gupta, Houston, Texas, USA


Need to strengthen public transport system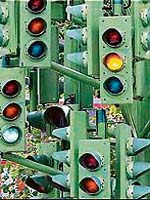 Vehicles are flooding the roads and vehicular traffic is posing multifarious problems and parking of vehicles seems to be insurmountable bottleneck emerging these days. This problem has become a serious one in tourist destinations. The government can mitigate the potential of the problem by finding out the additional land for parking purposes, increasing the efficiency of traffic regulatory mechanism, stringent laws for issuing driving license, spreading awareness among people about traffic rules and also developing an efficient public transportation system
Hitesh Lakhanpal, Dharamsala
Regulate traffic
Parking space should be verified by the government at the time of registration of any new vehicle. At present, the number of vehicle in Solan town have grown in numbers and the parking space is not sufficient for vehicles here. The roads are narrow and owners are parking their vehicles on the roadside with the result there is always blockage of traffic on the roads. Auto rickshaw drivers also halt at any convenient place to them. What I feel is the traffic should be regulated on a regular basis.
Jagdish Chander, Solan
Hike entry tax
Find few short-term and some long-term ideas for addressing the parking problem. In the short-term, impose a reasonably high-daily-vehicle-entry tax for tourists who wish to drive in their own vehicles locally in Shimla. For example, a daily-vehicle-entry tax may be imposed for Rs100 to Rs 500, based on the size of the vehicle. This would discourage many tourists to drive down in their own vehicles, but rather find alternate ways, if they exist. To start with, use the money collected to build out-of-town parking places or lots and from there provide a super-deluxe bus service to the city streets either free or at nominal charges that just cover the expenses. Locals can also take them but by paying a ticket price that is almost prohibitive for a typical routine travel.
Sanjeev Singh, Danbury, USA
Integrated efforts needed
Parking of vehicles is a major problem of concern all over India. The increasing number of vehicles is increasing parking problem in Shimla. In summer, there is inrush of tourists from different parts of India. Road-side parking should not be allowed and vehicles parked along the roads should be fined heavily. It should be made mandatory for hotel/restaurant owners to provide ample parking space for tourists. An individual should not be allowed to possess more than one. Basement parking is an effective way of reducing parking problem in hilly areas like Shimla. Both the government and civilians should help and support in solving the problem, as it is got to be an integrated effort.
Vivek Guleri, Kangra
Opt for two-wheelers
The genesis of parking blues lies in according approval to car manufacturing projects without simultaneously starting matching road building and parking projects. A planning error committed at the level of the Planning Commission. To get over parking blues, shift to two wheelers, which are easier to park and move around on.
L.R. Sharma, Solan
Tourists can help
To overcome the problem, more parking facilities should be provided. Traffic system should be up to the mark. Tourists can also help in their own way by co-operating with the authorities. Instead of coming in seperate vehicles, they can accommodate themselves in one large vehicle to reduce the parking problem.
Purnima Bali, Shimla
High-tech parking meters
To tackle the problem, the government/administration has to take strict measures and make certain rules and regulations and implement them strictly. First of all, the government as well as private agencies should build multi-storey car/vehicle parking at different locations of a tourist place and fix the parking charges. High-tech parking meters should be installed to make the payment easier. Secondly, the government should not allow vehicles on a particular place of tourist interest or on a single road which leads to a tourist place (e.g. Manali to Rohtang Pass). The government should ply their own buses or issue permits to some private transporters on fixed time table so that the excess traffic jams could be avoided.
Nikhil Sahota, Paprola, Kangra
Increase parking space
Special efforts must be made by the government to increase parking space in every town, particularly in hill resorts, on a priority basis. All roads must be maintained properly and widened, where possible, so as to avoid traffic jams. Traffic discipline must be enforced All construction activity in every town must scrupulously follow the stipulated rules. Encroachments must be severely dealt with. Creation of additional parking space should be encouraged. A number of special 'no traffic' zones should be earmarked in every town so as to reduce traffic. Maximum use should be made of by-pass roads to regulate traffic. Tourists should be accorded assistance to acquaint them with local traffic rules and other relevant information so as to enable them to enjoy their holiday and make it a memorable trip.
Govind Singh Khimta, Shimla
Metered taxis
The state government should improve the standard, quality, frequency of local buses so that local peoples minimise the use of their cars. The government should also introduce and run metered taxis covering only local limits. It will help tourists and locals to avoid their own vehicles. Safe parking lots on entrance of Shimla should be constructed, so that tourists can park their cars and hire metered taxis for movement. This will automatically reduce the parking problem.
Anuj Sharma, Summer hills, Shimla
Blanket permits
Rules should be one and for all. Tourists should be allowed to drive down to hotels as these hotels have parking lots. Blanket permits should be reintroduced which were issued to hotels to drive down on restricted roads. The Chief Minister and the Tourism Minister should intervene in order to save tourism industry.
D.V. Sethi, Jalandhar
Let's be responsible
We should follow rules made by the administration and we must not shrink from our responsibilities.
Supreet Singh Dhanjal, Jubbal, Shimla