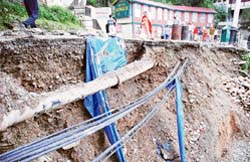 A view of cables dangling precariously along a prime road just in front of the high court in Shimla. — Tribune photo by S. Chandan
Six ultrasound machines sealed
Dharamsala, July 10
Six ultrasound machines being operated illegally by ayurvedic practitioners in Kangra district were sealed in the past few days. Legal action was being mooted in the case. Show-cause notices had also been issued to private clinics having 22 ultrasound machines to submit the details of their registration and tests conducted in the recent past along with the particulars of the staff operating them.
Women panel settles 6 cases
Mandi, July 10
As many as 19 cases, most of them related to matrimonial and propriety disputes, including sexual harassment, came before the state commission for women here today. Out of the 19 cases that came up for the hearing, today the commission settled six cases.
Pong Dam Oustees
Life not on track even after 35 yrs
Nurpur, July 10
Scores of displaced families of Jawali and Dehra subdivisions of Kangra district, which were uprooted after their immovable properties were acquired for the construction of Pong Dam more that 35 years ago, are still running from pillar to post for their rehabilitation in Rajasthan.


Anganwari workers hold march
Hamirpur, July 10
Hundreds of women activists of the CITU-affiliated Anganwari and Helpers Union today observed a strike in all projects of Hamirpur district and held a protest march and a rally to highlight their demands. They marched to Deputy Commissioner's office, shouting slogans against the government.





Activists of the Anganwari Workers Union hold a protest march in Hamirpur on Tuesday. — Tribune photo by Dharam Prakash Gupta
Forest test postponed
Shimla, July 10
The Forest Department has postponed the written examination for filling the posts of forest guards scheduled to be held from July 16 to August 5.
Cyst removed from jaw
Dharamsala, July 10
Dental surgeons of the zonal hospital here have performed a typical surgery on a woman's jaw and successfully removed a dentigerous cyst, raising the hopes of giving her a relief from mouth swelling shehad been suffering from for the past over two years.
Cafe owner shot at
Solan, July 10
Vijay Kumar, a cafe owner, was shot at from point-blank range by three unidentified youths at Mihani village, near Chail, around 9 pm yesterday. While one bullet went past his left ear, the second one hit the roof as he managed to divert the direction of the revolver.
Life term for murder
Shimla, July 10
Additional district and sessions judge Rajan Gupta today convicted Amar Bahadur on the charge of murder and sentenced him for life besides a fine of Rs 10,000.
Man jumps from building, dies
Kumarhatti, July 10
A poverty-stricken man ended his life by jumping from a double-storeyed building at Baddi today. Pramood Kumar (55), who hailed from Ropar, had got the job of a cashier in an under-construction hotel yesterday. He was reportedly in depression due to his poor financial condition.
Two die as JCB falls into gorge
Nahan, July 10
Two persons were killed on the spot as a JCB engaged in constructing a link road to Borli village under Sangrah tehsil fell into around 200-foot-deep gorge around 9.45 pm at Borli village, 55 km from here.
Lecturer killed in accident
Kangra, July 10
Vijay Kumar (50), a lecturer at Govt. Senior Secondary School, Tiara, was hit by a scooter near the new bus stand here late last evening, leaving him in a pool of blood. Scooter driver Bal Krishen managed to take away the scooter which had not yet been traced. Vijay Kumar died on the way to Dr. R. P. Govt. Medical College Hospital, Dharamsala. A case has been registered.
Student hurt in SFI-ABVP clash
Hamirpur, July 10
Members of the SFI and the ABVP clashed at the local Postgraduate Government College this morning, leaving a student injured seriously. The SFI and the ABVP have blamed each other for the clash. Injured student Ravi Chandel has been admitted to the zonal hospital. Officiating college principal Nalini Kaushal said the matter had been reported to the police. — TNS
Body found
Baddi, July 10
The body of a six-month-old girl was found floating in Rattapul rivulet at Thana village this morning. The medical officer of the Civil Hospital, Nalagarh, conducted a post-mortem examination on the spot. The doctor discarded the matter related to female foeticide. — OC