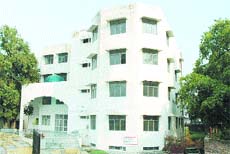 Virsa Vihar Bhawan row gets murkier
'Admn failed to inform representatives of various artistes' body about constitution of managing committee'
Amritsar, September 4
The charge of the Virsa Vihar Bhawan (VVB), the cultural heritage centre, should have been handed over to democratically elected body of various associations associated with art otherwise instead of promoting art it would lead to infighting among these bodies for grabbing the bhawan.
Dairy farming good for sustenance, youth told
Amritsar, September 4
The farmers should emulate precision farming as done in the European countries to supplement their income, said Amritsar deputy commissioner Kahan Singh Pannu at a seminar organised by the Progressive Dairy Farmers Association (PDFA) at Sathiala near Baba Bakala.
Turban Trouble
US to hold talks with Sikh community
Amritsar, September 4
In view of the protests lodged by the Sikh community over the turban screening all over the world, the Transportation Security Administration of the United States has decided to hold a meeting with the representatives of the Sikh community living in the country to resolve the issue.
City doc to attend world conference on neurological diseases
Amritsar, September 4
City doctor Dr Ashok Uppal is going to attend a conference from September 6 to 9 on neurological diseases in Berlin (Germany). The conference would discuss in detail about stroke, epilepsy, headache, muscles and other nerve disorders. This was disclosed in a press release issued here.
Market Buzz
Mega project promises the moon
Amritsar, September 4
A mega project to be launched in December 2006 - Global City Amritsar - stands apart from other colonies with its latest features, which promise state-of-the-art facilities and green ambience. More than 50 per cent of the area in the project is under green cover and road network.
The mysterious 13
Though we boast about entering a scientific arena, still many of us believe in taboos associated with number 13. It is evident from the fact that the dread of 13 is not limited to India but spreads throughout the world. Many buildings in US and Europe have no 13th floor and are numbered 12(a) or 12 (b). People generally refuse to take car number 13, students hesitate to occupy room number 13 in hostels and businessmen are reluctant to take new business or a journey on 13.