Trust raises £2,50,000 for charity in India
London, October 21
The Loomba Trust, set up a decade ago, for the welfare of children of widows in India, has raised a staggering £2,50,000 at its Diwali dinner at Mansion House here. Legendary Bollywood actor-producer Dev Anand was the special guest while Sir Ian Blair, chief of the metropolitan police, was the guest of honour at the glittering ceremony attended by over 250 guests.
Sonia to meet Chinese leaders
Beijing, October 21
Congress President Sonia Gandhi is set to be the first foreign political party leader to meet the new leadership of the ruling Communist Party of China, which will be revealed to the world tomorrow, signalling the importance Beijing is placing on strategic ties with India.


Autobiography
Dev turned author to do justice to his experiences
New York, October 21
Evergreen Bollywood film star Dev Anand decided to write autobiography as he was convinced that no biographer could do justice to the varied experiences he had had during his journey from being a struggling film star to heartthrob to producer. Speaking at the release of autobiography 'Romancing With Life' in the United States, he said a lot of people had approached him to write his biography. But he had one question "how could they portray the depth of his life and experiences when they knew him only superficially".

Veteran actor Dev Anand at the release of his autobiography, "Romancing with Life", at Bharatiya Vidya Bhavan in New York on Saturday. — PTI photo
Countering Depression
Dalai Lama, experts discuss meditation's effect
Atlanta, October 21
The Dalai Lama and some of the United States' top experts on depression have met to discuss how Buddhist practices can affect the disease. Buddhist meditation can play a big part in treating patients with depression, the researchers said.
'Diana was in love with Charles'
London, October 21
As the Diana inquest enters its fourth week, one of her closest confidantes has claimed that neither the Princess of Wales was planning to marry Dodi Al-Fayed nor she was pregnant with his child at the time of the couple's deaths in a Paris car crash 10 years back.
Nepal King visits temples on Dussehra
Kathmandu, October 21
Breaking a long spell of isolation following the popular uprising of 2006, King Gyanendra for the first time shook hands with the ordinary people during his visit to a famous Hindu temple on here on the occasion of Vijaya Dashami.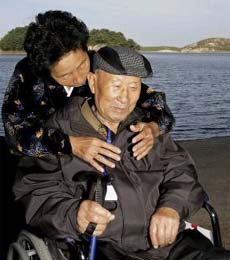 North Korean Ryu Sung-ok (left) hugs her South Korean father Ryu Hyung-ryul during their three-day temporary family reunion at Samilpo near the Mount Kumgang resort in North Korea on Sunday. Hundreds of South Koreans travelled to communist North Korea for temporary reunions with their North Korean family members they have not seen or talked to since the 1950-53 Korean War. — Reuters
Soyuz goes off-course, but returns safely
Arkalyk, October 21
Malaysia's first space traveller and two Russian cosmonauts survived a rough descent Sunday after a technical glitch sent their Soyuz spacecraft on a steeper-than-normal path during their return to Earth, officials said.
Iran insists no nuclear shift after Larijani
Tehran, October 21
Iran insisted today that its policy in the nuclear crisis with the West would not change after the sudden resignation of chief negotiator Ali Larijani, amid fears his successor would take an even tougher line.
New York welcomes ladybugs as pest killers
New York, October 21
Ladybugs, 720,000 of them, have been released in the middle of New York City to help protect one of the city's biggest apartment complexes from pests.
Pentagon chief to seek troops for Afghanistan
Kiev, October 21
US Defense Secretary Robert Gates will ask Ukraine and other eastern European countries this week to send troops to Afghanistan to cover a shortfall in trainers for the Afghan army, a senior US defence official said.
Myanmar still in fear as curfew lifted
Yangon, October 21
Residents in Yangon today welcomed the end of a curfew imposed on the eve of Myanmar's bloody crackdown on peaceful protests, but again voiced fears in private over the country's iron-fisted junta.
Mouth sewn shut in protest
Bogota, October 21
An unemployed Colombian man has sewn shut his mouth and locked himself behind an iron mask to demand the government attend to his family's desperate economic plight. Luis Miguel Aldana (52) told The Associated Press yesterday that he started the peculiar protest five days ago, after being locked out of his apartment in Bogota.
Postcard reaches friend after 64 years
Tokyo, October 21
A postcard mailed by a Japanese soldier from a World War II battlefield in Burma reached his friend 64 years after it was sent, thanks to a Japanese exchange student and the family of a former US soldier who kept the card.
Woman survives 19 hours afloat in Pacific
Ukumehame, October 21
A 49-year-old woman stayed afloat for 19 hours in the Pacific Ocean, clutching a water container, until she was rescued, she said. Lillian Ruth Simpson said her canoe flipped in strong winds about 1.6 km off the Hawaiian coast. She could not restore the canoe, and tried to swim to shore and failed.
Two Indian labourers killed in Dubai
Dubai, October 21
Two Indian labourers were crushed to death under a heavy beam at an under construction building near Dubai creek in Deira. The deceased identified as Ram Babu and Venkat Rao were clearing the debris of the demolished building when the beam collapsed.
4 Globalstar satellites put into orbit
Paris, October 21
Four Globalstar telecommunications satellites blasted off today from the Baikonur space centre in Kazakhstan atop a Russian Soyuz rocket and were successfully placed into orbit, an Arianespace spokesman said.