Festival of lights turns into festival of gifts!
Bhanu P Lohumi
Tribune News Service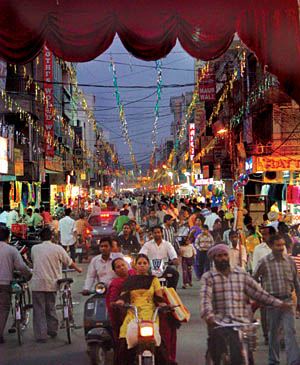 Festive fervour:

Residents go for shopping four days before Diwali in Bathinda on Sunday. — Tribune photo by Malkiat Singh

Bathinda, November 4
With the festival of lights, Diwali, just four days away, the city is already draped in a festive mood. The main bazaars of the town are buzzing with unusual activity, with dry fruits, gifts and jewellery shops being virtually raided by shoppers.
While the spirit of the festival has remained undiluted, the pattern of celebrations is changing. The festival of lights is virtually being turned into a festival of gifts in recent years.
As the big brands have targeted this festive season with a variety of products, there is considerably less demand for sweets. These gift packs, priced between Rs 150 to Rs 2,000 have a much longer shelf life and can be consumed over a period of time.
Apart from the artificial flowers, lights and Chinese gift items, the new range of gifts, which offer a combination of juices, chocolates, namkeen and dry fruits are more presentable and available at a highly competitive price.
The shopkeepers have also gone with the trend and added a wide variety of branded items to meet the demands of the consumers. Owner of the Arora dry fruit shop, Nishant, said the big brands have come up with a variety of products and there is a wide range of gifts available for the customers.
The recent news reports about adulteration in milk products and sweets have alarmed the customers and they are wary of buying sweets made of milk. But sweet shop owners are optimistic about the increase in sale in the coming days.
"We are looking for safer items and find the branded packed items more reliable," says a local resident, Manpreet Singh.
Purchasing gold jewellery and steel utensils is an essential component of Diwali celebrations but the high price of gold is keeping people away.

Mini-secretariat at Ferozepur soon: CM
Anirudh Gupta
Ferozepur, November 4
The Punjab Government would soon establish a state -of-the-art mini-secretariat at the district headquarters in Ferozepur.
Revealing this during an informal talk with media persons at the Golf Rang Helipad here this morning, Punjab Chief Minister Parkash Singh Badal said Ferozepur was among the most prosperous districts of erstwhile Punjab but had not been able to progress much after independence due to its proximity to the international border.
The CM said a lot needed to be done for this town for which his government stands committed.
According to Badal, this border town, despite being a divisional range and a district headquarters, lacked infrastructure which had not only proved to be an impediment in its progress, but had also contributed to its poor economic condition.
The CM promised that a mini-secretariat would soon be constructed here.
He also reiterated his assurance to establish a government degree college here, as promised by him during the last assembly elections.
Badal also instructed the PWD department to prepare an estimate for the reconstruction of a road overbridge to connect the city and the cantonment area.
He said the Ministry of Railways would also be contacted so that the replacement for the bridge that has already outlived its span, could be constructed soon.
The CM also stated that construction of the Circuit House, which has been lying incomplete for the last several years, would soon be completed and for this, the required funds would be made available by the government.
Earlier, the CM along with irrigation minister Janmeja Singh Sekhon, Sukhpal Singh, chief parliamentary secretary and a battery of civil and police officials visited the proposed sites for the construction of the mini-secretariat which included the land behind the central jail and a piece of land near the DRM office on the railway road, which belongs to the defence estate department.
The CM said the government would send a proposal to the defence authorities to give this piece of land for the construction of mini-secretariat and judicial complex in exchange of land at another site.
It is pertinent to mention here that in the absence of the mini-secretariat, various offices of various government officials like the Commissioner, DIG, Deputy Commissioner, SSP, SDM, Civil Surgeon, DTO , RTA , DPRO, DEO, besides the PWD department, Roadways, offices of various procurement agencies like Markfed, PUNSUP, PSWC and the FCI are all scattered and situated at distant places due to which people who come from far off villages for their work related to these offices, face a lot of ordeal.

Tug-of-war over Bhadur truck union leadership
Our Correspondent
Barnala, November 4
A tug-of-war has initiated between two Akali groups over the presidentship of the truck union in Bhadur.
One of the groups with affinity to local MLA Balbeer Singh Ghunus presently holds the post of the union president whereas the second group, headed by former market committee chairman and former SGPC member, Sadhu Singh Ragi, wants to oust the sitting union president Hardeep Singh, and wrest control of the union.
Saturday was a hectic day for both the factions as Ragi tried to take control of the union while MLA Ghunus did his best to send him jail today.
The effort to take control of the union cost Ragi dearly as he landed in jail today due to alleged high-handedness at the truck union premises in Bhadur on Saturday afternoon.
Acting on a complaint filed by the munshi of the union, Baljeet Singh, the Shaina police sent Ragi to jail after a formal investigation.
In his complaint to the police, Munshi Baljeet Singh stated that on Saturday evening, he was sitting at his truck union office in Bhadur. Suddenly, the former SGPC member along with his three companions entered the truck union building.
He asked for the records of the truck union and told him that he (Ragi) himself would make the 'pukar' (a call for trucks to send them for consignments). When the munshi refused to submit the record to Ragi, the later forcibly tried to snatch it away.
Baljeet Singh further said that sensing the gravity of the situation, he shouted for help and many truck operators gathered at the scene. Seeing the operators side with the munshi, Ragi along with his companions fled away from the scene.
Before leaving, Ragi reportedly used derogatory language for the truck union president Hardeep Singh and local MLA Balbeer Singh Ghunus.
It may be recalled that Hardeep Singh is a lieutenant of MLA Ghunus.
Ghunus said that Hardeep would complete his term as the president of the Bhadur truck union and he would not tolerate any attempt to meddle in the affairs of the union.
A case has been registered by the Shaina police against Sadhu Singh Raghi, his son Peeta Singh, Nirmal Singh and Sonu Singh.

Reality check: 2200 schools in state sans heads
Praful C. Nagpal
Fazilka, November 4
Despite several announcements by the education department, the scene is far from rosy on the education front in Punjab. A report prepared by an NGO says that 75 per cent of schools in the state do not have a regular principal and are being run by officiating heads.
The report, prepared by the NGO, Siksha Sudhar Committee, Punjab, reveals that the education department stopped direct recruitment of principals and headmasters in 2001 and had decided to fill up 55 per cent of the vacancies for principals by promoting lecturers, 30 per cent by promoting headmasters and the remaining 15 per cent by promoting vocational teachers.
Patron of the NGO, Raj Kishore Kalra, said the decision has not acquired a practical shape so far. Thus hundreds of headmasters, lecturers and senior teachers retired from the service or are on the verge of retirement.
According to available figures, of the 1,298 senior secondary schools, 1,146 are without a regular principal. Similarly, of the 1,742 high schools, 1,039 are without a regular headmaster. Besides, of the 10,000 sanctioned posts of lecturers, nearly 4,000 are vacant. Most of the posts are in the English and Punjabi subjects, which are compulsory.
The situation in the primary wing of the education department is also no better. The entire state has been divided into 228 blocks and the same number of posts has been sanctioned. But ironically, 220 posts are vacant and senior head teachers supervise the work.
Kalra also provided details of the district wise vacancies. Of the 1,146 vacant posts in 20 districts, 66 posts out of a total of 79 are vacant in Patiala district, 103 out of 124 are vacant in Ludhiana, 34 out of 40 in Ropar, 65 out of 75 in Sangrur, 13 out of 22 in Mohali, 22 out of 25 in Barnala, 27 out of 32 in Fatehgarh Sahib, 103 out of 117 in Jalandhar, 79 out of 94 in Hoshiarpur, 108 out of 119 in Gurdaspur district, 40 out of 43 in Nawan Shahar, 71 out of 85 in Amritsar , 51 out of 52 in Tarn Tarn, 21 out of 24 in Faridkot, 63 out of 71 in Bathinda, 38 out of 42 in Mansa, 64 out of 67 in Moga, 76 out of 81 in Ferozepore district. The officiating principals are running these institutes.
In Muktsar, the home district of Chief Minister Parkash Singh Badal, there is a regular principal for just one school and the remaining 56 are being run through temporary arrangements. Similarly in Kapurthala, the home district of Education Minister Upinderjit Kaur, 46 posts are vacant out of a total of 49.
Likewise in high schools, of the 1,039 vacant posts, 54 out of 100 are vacant in Patiala district, 93 out of 191 in Ludhiana, 29 out of 59 in Ropar, 89 out of 119 in Sangrur, 13 out of 51 in Mohali, 43 out of 50 in Barnala, 25 out of 41 in Fatehgarh Sahib, 83 out of 140 in Jalandhar, 65 out of 140 in Hoshiarpur, 63 out of 124 in Gurdaspur, 43 out of 62 in Kapurthala, 37 out of 56 in Nawanshahar, 67 out of 109 in Amritsar, 71 out of 82 in Tarn Tarn, 29 out of 42 in Faridkot, 56 out of 87 in Bathinda, 41 out of 49 in Mansa, 54 out of 77 in Moga, 42 out of 77 in Muktsar and 44 out of 93 in Ferozepore district. Senior teachers are running these schools.
In the light of its findings, the NGO has demanded that senior headmasters, lecturers and teachers working should be promoted to fill up the vacancies to improve teaching and administration in schools.

Redefining destiny: Life at risk but still lively
Bhanu P. Lohumi
Tribune News Service
Bathinda, November 4
A six-year-old girl living with HIV-positive status since her birth! Sounds shocking, but it is an inspiring story of a playful child leading a normal life, totally unaware of her disease and sending a strong message that AIDS patients are normal people and need not be shunned.
The aggressive campaigns for creating awareness about AIDS have not achieved what this little girl has done by making herself acceptable to all without any inhibitions.
Orphaned at the tender age of one year after the death of her mother in December 2002, Aarzoo (name changed) who was detected as HIV-positive, is enjoying her childhood like other normal children.
She is ignorant about her disease but others are fully aware of it and treat her with love and compassion.
Aarzoo has endeared herself to one and all and her neighbours and friends are so fond of her that they enjoy spending time with her.
Her charming ways have erased impressions of the dreaded disease from the minds of the people and she has proved that love can change people and their perceptions.
Adopted by a local social worker after the death of her mother, Aarzoo got her new identity from her foster parents. Destiny deprived her of her parents but not of her fortune as she has become a source of happiness for everybody in her contact.
Like other children of her age, she loves good clothes and food, playing with friends, visiting places and mixing up with people, but she also has the rare quality of carving a place in the hearts of the people.
How much people adore her can be gauged from a small incident that took place on her birthday. The former SSP of Bathinda came to attend her birthday party and shared a piece of cake with the little girl without any hesitation, knowing full well that the girl was affected by HIV. He was so impressed by the innocent child that he got her admitted to the Police Public School where she studied for one year.
How Aarzoo became the beloved daughter of her parents is another story. A social worker got a call on the night of December 1, 2002, that a woman was critically ill in Deep Singh Nagar and rushed to help her. On reaching the place, he found that knocking repeatedly, the doors had not been opened. The door was broken open in the morning and the girl was found sitting by the side of her unconscious mother who died in the hospital ten days later.
There was no shelter or home for the orphaned child and the social worker and his friends decided to take her to the orphanage. Call it a divine intervention or something else, his conscience did not permit him to leave the hapless innocent child in the orphanage and he took the decision to bring her home and adopted her.
The girl is undergoing homoeopathic treatment for the past six years. Her HIV infection has neither aggravated nor reduced and she is enjoying her childhood like any other child of her age.
Aarzoo's father says that his only desire is to see the girl live long. "I pray for her long life and want to see her get married," he says hoping for a miracle to happen.
The social activist is all praise for her wife who cooperated with him and adopted the child without the slightest reservation. It would not have been possible without the compassion shown by his wife, he adds.
It is not merely a story of a HIV-positive girl but a ' lighthouse' for all those who choose the noble path of serving the humanity with compassion and love.

Absence of industries behind unemployment, addiction in Mansa
Our Correspondent
Mansa, November 4
Mansa is one district that has great scope for setting up industries. In reality, it is the absence of industry and the consequent lack of avenues for the youth that is seen as one of the main reasons for problems like unemployment and drug addiction here.
Some time back, a sugar and a cotton mill were set up at Budhlada and Mansa, respectively. But they are now proving to be white elephants.
 The fact of the matter here is that small and big industries are absent here. Farmers here had some hope from the Budhlada sugar mill and the Mansa cotton mill but these mills could not fulfill the hopes of farmers.
The Mansa cotton mill was sold some time back and a residential colony was constructed on the same site. The Budhlada cooperative sugar mill too became economically unproductive.
Small-scale industries based on soyabean, ghee, electricity, tooth powder, ayurvedic medicines, plastic industry and steel furniture, etc. can be set up here. The work of making artificial jewellery has been developed across the country but there is no such industry in the Mansa region.
 Lack of industries is also the reason for the high rate of unemployment. When asked about their view, they said that the government should provide proper facilities to clear the way for the coming of industry in Mansa region that can mean jobs for them. One of the main hurdles in this way is the lack of facilities factors like subsidy on land, electricity and sales tax etc. Facilities like interest-free loan and finance had been stopped to small-scale industries.
 The District Commerce and Industry Association is of the view that there is no raw material in this area and lack of transport and marketing facilities are the main reason for this.
A local leader Manjeet Singh Jhalbooti and Kisan Union leader Ram Singh have demanded that the government should encourage the industry by providing financial help and subsidy. They said that the setting up of industries would solve the problems of the people of this region and generate jobs for the youth.