All for the new age songsters
Jalandhar, November 20
| | |
| --- | --- |
| Nachattar Gill went around on a scooter to make music directors listen to his songs. His toil paid off 10 years later as he came riding into the hearts of his fans only to stay. Credited with the revival of duet singing, Gill says he is ready to continue with the style. Talking before the 'Voice of Punjab' programme held at the Dussehra grounds here yesterday, the artiste says the platform provided by the channels is what dreams are made of for any budding artiste. | Nachattar Gill |
It was yesterday once more for Lt Gen Sekhon
Kapurthala, November 20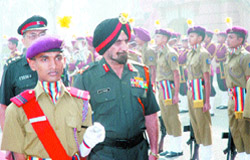 Last Saturday was extraordinary for Lieutenant General Amarjit Singh Sekhon. An alumnus of Sainik School here, Sekhon availed the opportunity of visiting the school for the first time after becoming General Officer Commanding (GOC) 15 Corps.


General Officer Commanding 15 Corps Lt Gen AS Sekhon inspects guard of honour during the Old Boys' Association meet at Sainik School, Kapurthala — A Tribune photograph
Bhangra Boys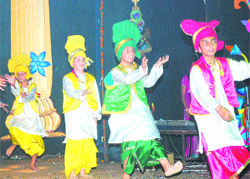 Students of DIPS perform during the annual day function in Jalandhar.
Tribune photo: Pawan Sharma
Hope floats for '84 riot victims
Jalandhar, November 20
The government has given another chance to the 1984 riot victims whose compensation claim papers were rejected on previous occasions. A communique from the district administration says that any victim could appear in person before the SDM-I in his office and present his case on the basis of documents or any other proof on November 23 till 3 pm. Such persons would also have to submit an affidavit to the effect that their name does not figure on the red cards of their family members
Young World
MGN kids' tribute to martrys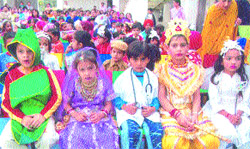 Jalandhar, November 20
The annual prize distribution function of the MGN, Urban Estate, was organised here recently. The theme of the function was "A vision of India - Its journey over the past 100 years". The children brought out the struggles of the Indian martyrs emphasising "Sone ki chiriya", "Sparks of inquilab", "Jallianwala Bagh", "Dandi March" and "Freedom at Midnight".
Kids of Kamla Nehru Public School decked up in fancy attires during a contest in Phagwara.
Man Friday for kids in distress
Jalandhar, November 20
'Our Man Friday'- that's what Surinder Saini is for children. Call it an inherited trait or inner quench, he started "Jalandhar Welfare Organisation" in 1980 for the children in distress.


Amit Rajput, who has been appointed senior vice-president of Ward 49, Jalandhar, of the Bharatiya Janata Party, according to a statement issued by ward president Deepak Jaura.
City gets into music mode with 'Voice of Punjab'
Jalandhar, November 20
It was one of the first few times that budding artistes, the semi-finalists of "Coca-Cola Voice of Punjab", took to the stage last evening. The confident performance of Rohil Gill, Sher Singh, Rajandeep Kaur, Sanjiv and Manjinder Singh won over the audiences as they shared the limelight along with artistes like Nachattar Gill, Kaler Kanth, Mannat Bajwa, Manjit Pappu and Mangi Mahal at the Dussehra grounds. Rohil Gill from Amritsar and Sanjiv from Jalandhar have entered the finals of the competition which will be held at Chandigarh on December 5.


Greener Pastures
17 travel agents booked for duping people
Phillaur, November 20
The police has registered 10 cases of fraud against 17 travel agents on the charge of duping 10 persons on the pretext of sending them abroad. The agents neither sent the latter abroad, nor did return the money. Phillaur SHO Sarabjit Rai said the police had registered different cases under section 420 of the IPC against Kulwinder Singh and Balbir Singh, both of Delhi, for taking Rs 2 lakh and Rs 3 lakh from Harneik Singh and Paramjit Singh, respectively, for sending them to the UK. But the agents neither returned the money nor sent the victims abroad.
Farmers' Day Out
Kisan mela marks 54th cooperative week
Jalandhar, November 20
A Kisan mela was organised at Khaihra Majha yesterday to mark the 54th All-India Cooperative Week.
Fun has new address
Jalandhar, November 20
Sarb Multiplex launched Amoeba, a family fun zone, within its complex this Sunday.