Slain LeT man got passport on fake CID report
Jammu, December 16
Slain Pakistani Lashkar-e-Toiba (LeT) commander Abu Tallah had got the Indian passport on the fake CID verification certificate, a crime branch spokesman said today.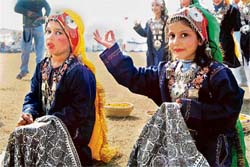 Heritage School kids perform during their annual sports day in Jammu on Sunday.
— A Tribune photograph
Water shortage hits Katra
PHE staff stir, damaged pipes compound problem
Udhampur, December 16
Although the number of devotees are likely to cross a record 70-lakh this year, the upgradation of civic amenities in Katra town, base camp for pilgrims to Mata Vaishno Devi shrine, have not kept pace with the increasing numbers, notwithstanding tall claims of the authorities. Shortage of drinking water in Katra is a routine affair but situation further aggravated last week.
Protests in Magam, Handwara continue
Locals allege police brutality; search operation on to recover snatched rifle
Magam, December 16
Thousands of people in Magam and Handwara towns of the valley took to streets today protesting against alleged police brutalities on civilians. Situation in Magam, where one person was killed and 25 injured, including policemen, yesterday, remained tense. The district authorities sealed off the township partially even as a search operation was launched for recovery of a rifle snatched by protesters from a policeman yesterday.

An injured woman with a relative in a
hospital on Sunday. She was injured
on Saturday after the police fired on
protesters demanding a degree college
in Magam, 30 km from Srinagar.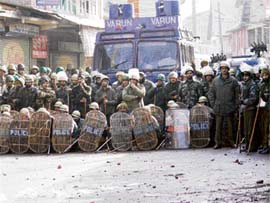 The police blocks Magam-Gulmarg road on Sunday. Magam villagers again took to streets on Sunday protesting against the killing of a civilian in Saturday's police firing. —Tribune photos by Amin War
After 20 hrs of captivity, cops released in Kakroosa
Srinagar, December 16
Two policemen, held hostage by villagers in Kakroosa in frontier district of Kupwara alleging that they were trying to set afire civilian houses, were freed after over 20 hours in captivity today, officials said.
Poonch-Haveli by-election
NC enters into introspection mode
Jammu, December 16
After the defeat in the Poonch-Haveli by-election at the hands of Congress, the National Conference leaders are treading on different paths. Though no official comments have come from party patron Dr Farooq Abdullah or his son, some insiders have blamed the high command of choosing a wrong candidate.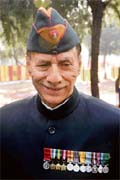 Col Prem Singh
Strategy, willpower helped us in winning: 1971 war veteran
Jammu, December 16
The veterans of 1971 war feel that the Indian armed forces have come a long way since then and are now better equipped to fight any kind of war. Col Prem Singh (retd) who served as the commando instructor in Belgaum during the war feels that it was not the equipments or weaponry but the willpower and the well planned and executed strategy that helped the Indian army to achieve the task of making 91,000-strong Pakistan army surrender before them.
Vijay Diwas
Army remembers martyrs
Srinagar/Jammu, December 16
Rich tributes were paid to Indo-Pak 1971 war heroes at Badami Bagh Cantt, Srinagar today. Lt Gen Mukesh Sabharwal, GOC, 15 Corps, led his officers in commemorating the memory of officers and jawan on the occasion.



Saluting the heroes: Vijay Diwas
celebrations in Jammu on Sunday.
— Tribune photo by Anand Sharma
Woman constable kills herself
Jammu, December 16
A woman constable in the 8th Battalion of the Jammu and Kashmir armed police has allegedly committed suicide by hanging herself from a ceiling fan at her workplace.
Four hideouts unearthed
Jammu, December 16
Security forces have unearthed four hideouts and recovered ammunition in Reasi and Kishtwar districts, official sources said today. In a joint search operation, troops unearthed a natural cave-type hideout at Jhanid in Reasi district, they said, adding recoveries from the hideout included five grenades and 4.5 kg of explosive material.
Killer leopard in wildlife dept net
Srinagar, December 16
A leopard, which killed six persons and injured 17 others in Handwara belt of Kupwara district in the past few months, has been captured by the officials of Jammu and Kashmir Wildlife Department, much to the relief of residents of the area.
Bahu aquarium: The new tourist bait
Jammu, December 16
Fish keeping is fast becoming popular in the state as the Department of Fisheries is enthralled with the response it has been getting from the newly-opened underground Bahu aquarium in Jammu.
Haj Pilgrimage
CM promises direct flight to Jeddah
Udhampur, December 16
As Jammu-based Haj pilgrims usually face hardships at Srinagar due to hostile weather, the Jammu and Kashmir Government has assured to make arrangements for their direct flight to Jeddah from Udhampur next year.
2 Armymen killed, six hurt in snowslide
Srinagar, December 16
Two Army personnel were killed and six injured in a snowslide at an Army check post in Turtuk in Leh, the police said today.