Teachers' protest to go on
Jalandhar, January 17
Representatives of Government School Sikhia Bachao Manch have decided to continue their protest against the suspension of nine teachers who had agitated against holding of training programmes during winter vacations.
The costume party never ends here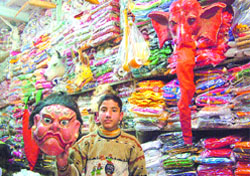 Jalandhar, January 17
Imagine a play with Julius Caesar coming onto stage in a pair of jeans and a denim jacket or a Punjabi folk dance (Giddha) with young girls performing in minis. Wrong clothes or a "wardrobe malfunction" can make most genuine and graceful actors and dancers look like clowns.
Mangi Lal's shop buzzes with activity. Photo: S.S. Chopra
Young World
New centre to boost research at DAVIET
Jalandhar, January 17
With the aim of opening up new vistas in the field of nanotechnology, DAV Institute of Engineering and Technology (DAVIET) has been sanctioned Rs 50 lakh from the DAV managing committee for setting up an advanced research laboratory. CL Kochher, director-cum-principal, DAVIET, said the management had promised to provide full support for establishing the facility within three years.
Max bonanza for rural population
Jalandhar, January 17
Max New York Life Insurance Company is going to provide "Rural insurance" to farmers of the state.