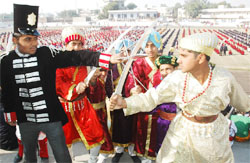 School students participating in the rehearsal for the Republic Day celebrations at the Sports Stadium in Bathinda on Thursday. Tribune photo: Kulbir Beera
Blame game continues over potable water supply
Abohar, January 24
Nearly 1.5 lakh residents in this sub-divisional town of political heavyweights have been deprived of potable drinking water for the past two days.
Stage set for state panchayati tournament
Bathinda, January 24
"All arrangements for the Punjab State Panchayati Tournament for boys and girls in the Under-16 category have been completed. The tournament will be held at the sports stadium here from January 27 to 29 and we expect these games to be a big affair," Pargat Singh, director, sports, said while talking to media persons here today.
Dyslexia theme appeals to kids
Bathinda, January 24
The Bollywood flick, 'Taare Zameen Par,' focusing on dyslexia, a learning disorder found among kids, has struck a chord with school kids making a beeline for the theatre where the film is being screened. While educationists have met with little success in achieving the goal of inclusive education, the film has dissected the problem, weaving the story around a child who suffers because no one recognises that he is a slow learner.
Leprosy awareness rally held
Faridkot, January 24
To observe the Anti-leprosy Day, a state-level function would be held at Nirog Bal Ashram in Kotkapura, near here, on January 25. On the eve of Anti-leprosy Day, an awareness rally was brought out in the sub-division today.
Accused on police remand
Bathinda, January 24
The HQ Chetak Corps said today through a press note that the sepoy Asha Singh, a serving Army person of Bathinda Cantonment, who had been allegedly involved in the Karamjit murder case, has been placed in the custody of the district police.
Gang of car thieves busted, 3 held
Barnala, January 24
With the arrest of three persons, the local police claimed to have busted an inter-state gang of car thieves. Police also recovered three cars and many fake registration copies.
Rs 20 lakh for school
Fazilka, January 24 
Punjab BJP vice-president and local MLA Surjit Kumar Jyani today presented a cheque for Rs 20 lakh under Sarv Shiksha Abhiyan to the principal of Government High School, Asafwala village, for the construction and repair of its building. Earlier, he paid tributes at the 1971 Indo-Pak war memorial.
BJP to avert anti-govt agitation
Abohar, January 24
The BJP has stepped up its efforts to avert the anti-government demonstration planned to be held by the District Kumhar Sabha and the Joint Forum of Trade and Farmers' Unions at Fazilka on February 1.
Dy Speaker to hoist flag
Muktsar, January 24
Punjab Vidhan Sabha Deputy Speaker Satpal Gosain would hoist the National Flag here to mark the Republic Day celebrations on January 26.