Friday, February 8, 2008, Chandigarh, India
Updated at 3:00 am (IST)

Kidney racket
Kingpin Amit held in Nepal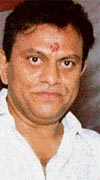 Kathmandu/Mumbai/Gurgaon, February 7
Dr Amit Kumar, the alleged mastermind of India's biggest kidney transplant racket, was today arrested from a jungle resort, 60 km from the Indo-Nepal border, ending a fortnight long manhunt for the doctor who is believed to have conducted over 500 illegal operations in a decade.



Nepal police was hot on kingpin's trail


Nepal will expedite Amit: Jaiswal

'Dr Horror': Amit Kumar alias Santosh Kumar Raut
Liquor scam
2 Brigs guilty, pay with loss of service
Chandigarh, February 7
A general court martial (GCM), trying two brigadiers for their alleged role in a liquor scam, has held them guilty of misappropriating military intelligence funds and wrongfully taking loans from a private party. They have been awarded a severe reprimand besides loss of service for the purpose of pension.
SC stays CBI probe of Moga sex scandal
New Delhi, February 7
The Supreme Court today stayed the Punjab and Haryana High Court order for a CBI inquiry into the Moga sex scandal involving some councillors, a journalist and businessmen facing trail for exploiting women, including minors.