PUNJAB

HARYANA

JAMMU & KASHMIR

HIMACHAL

REGIONAL BRIEFS

NATION

OPINIONS

MAILBAG

BUSINESS

SPORTS

WORLD
Wednesday, March 5, 2008, Chandigarh, India
Updated at 3:00 am (IST)

Kangaroos in Blue
India create history, beat Oz to win tri-series
Brisbane, March 4
The intoxication continues. Now, an Indian triumph in the triangular Commonwealth Bank one-day series, eclipsing world champions, Australia, that, too, by sweeping the finals 2-0, albeit by a narrow margin of nine runs in the second meeting here at the Gabba on Tuesday.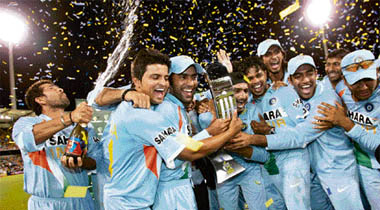 Reuters photo
My second birth: Azad Kashmir
Attari, March 4
Smartly dressed, Kashmir Singh, who languished for a record 35 years in almost all central jails of Pakistan, today walked to an emotional reunion with his wife and other family members at the Attari joint check-post. "It is my second birth and I shall start life afresh and support my wife, Parmjit Kaur, who struggled hard to take care of children in my absence," said Kashmir Singh in choked voice.

Now...: Kashmir Singh with his wife at the Attari/Wagah border after he was released by the Pakistani authorities.
— Photo by Vishal Kumar
(Inset) ...35 years ago

Punjab page: Burney gives hope for release of Sarbjit
Kashmir's return gives hope to another family
Having converted to Islam, he will be a Gursikh again


CAST YOUR VOTE
Is the commercialisation of cricket coming at the cost of sportsman spirit?

In Jobs & Careers today
In Jalandhar Plus today
In Amritsar Plus today
In Himachal Plus today
In Health & Fitness today

CHANDIGARH

LUDHIANA

BATHINDA

JALANDHAR

DELHI

HIMACHAL PLUS

HARYANA PLUS

JALANDHAR PLUS

AMRITSAR PLUS

LIFESTYLE

BRIDES WANTED

GROOMS WANTED

OTHERS

HOW TO PLACE ADVTS
We have to move with both Hyde Act, 123 pact: Boucher
New Delhi, March 4
US assistant secretary of state Richard Boucher today talked of the relevance of the Hyde Act in operationalisation of the Indo-US nuclear deal.



Editorial: Now or never

ICICI hit by sub-prime crisis, suffers $264-m loss
Mumbai, March 4
Private sector lender ICICI Bank has been roiled by the sub-prime crisis in the US following reports that it has suffered losses to the tune of $264 million. Shares of the bank took a beating today after minister of state for finance Pawan Kumar Bansal said in a written response to a question in Parliament that the bank had reported the marked-to-market loss to the tune of this amount.
HOROSCOPE

E - Revolution 2005:
A Two-day IT conclave

Assembly Elections - 2005

Turbans

Chandigarh is 50

125 Years of The Tribune
India: The Tasks Ahead
India at Sixty
A Tribune Supplement

EARLIER FEATURES
Prices zoom, post-Budget
Chandigarh, March 4
Four days after the Budget was presented by union finance minister P.Chidambaram, people of the poor, lower and upper-middle classes have begun to feel the heat. Spiralling prices of essential commodities have hit people hard.

Indian student ends life in US: Police
Karimnagar (AP)/New York, March 4
An Andhra Pradesh medico, who was found dead under mysterious circumstances in Pennsylvania in the US, apparently committed suicide, the police claimed today after earlier reports said he was murdered.


Remission of Sentences
Rape of law: Convicts walk free in Punjab
Chandigarh, March 4
At a time when voices seeking death penalty for rape are getting stronger, Punjab is remitting the sentences of those convicted for the heinous offence. If that's not shocking enough, picture this - rape convicts in the state have been walking free within days/months of being sentenced for the crime, sometimes within one day also. Among them is Surinder Singh, a rape convict lodged at the Hoshiarpur district jail, released on August 23 last year.

India will take N-deal forward: Pranab
March 4, 2008
India U-19 world champions
March 3, 2008
Need to do more for farmers: FM
March 2, 2008
Poll Cheer for farmers, salaried
March 1, 2008
Economic Survey pegs GDP growth at 8.7 pc
February 29, 2008
LS panel allows cops to check papers of 5 MPs
February 28, 2008
Lalu ke haseen poll sapne
February 27, 2008
Patil swears by N-deal
February 26, 2008
PPP stakes claim to form govt
February 25, 2008
Army chief praises Kayani
February 24, 2008