COLUMNS



THIS ABOVE ALL

TELEVISTA

GOOD MOTORING

AUDIO SCAN

MUSIC ZONE

FASHION

WEBSIDE HUMOUR

FOR CHILDREN



CROSSWORD

RHYME TIME

ROOTS
Sports authorities, players, media and the federation must share the blame for forcing Indian hockey into a corner. The failure of the team in the Olympic qualifier is also a huge loss for international hockey, which will never be the same without India, writes Prabhjot Singh
The 70-minute game Great Britain and India played at Santiago on March 9 has not only left hundreds of thousands of ardent fans of hockey in India disappointed, dejected and shocked but has also inflicted a critical and historic blow on the sport which may never be the same again.
We have not adjusted to the modern game
Balbir Singh Senior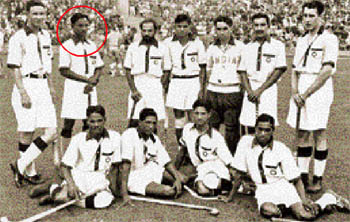 Hockey has been my first love since childhood. Because of my long association with the game, I am deeply hurt. It is easy to criticise but hard to be constructive. When the question of fixing responsibility arises the parent body i.e. the Hockey Federation comes under a scanner. There is much room for improvement in administration of the game.
Days of glory: The Indian hockey team which won the gold at the 1936 Olympics in Berlin. The wizardry of Dhyan Chand (encircled) amazed none other than Adolf Hitler

Need to start afresh
Pargat Singh
A lot has been said and written in the last few days about the downfall of Indian hockey. Now it is time to get over the anger and anguish and get down to some real soul-searching and work out a plan for the future. Long-term planning is often ignored by Indian sports authorities.
Small steps to the big screen
Eleven-year-old Darsheel Safary was recently awarded the Filmfare Critics Award for Best Performance. Shoma A. Chatterji says many child artistes, in the past too, have given indelible performances in Hindi films. While some of them went on to be successful adult actors, others simply faded away
Whatever happened to those naughty kids who regaled us all in Mr India? Of the many child actors, Aftab Shivdasani is the only child to have grown to become a hero. What happened to the two lanky boys from Gulzar's Kitaab? Master Alankar grew up to become Alankar.
'Taj Mahal' blooms in Tamil Nadu
Let a hundred 'Taj Mahals' bloom. Yes, indeed, the Taj Mahal in question is a new variety of deep red rose and it is wowing the world. The floral wonder with a one-metre-long stem and six-cm head has been created in Amudagondapalli, a tiny village in South India.