Explain your outburst, Cong tells Capt camp MLAs
Bathinda, April 20
Taking a serious notice of the statements issued by the four Congress MLAs belonging to the Amarinder Singh faction against party spokesman Bir Devinder Singh in Bathinda, the disciplinary committee of the Punjab Congress today issued a seven day time-bound show-cause notice to them.
Ayurvedic university awaits nod from cabinet
Bathinda, April 20
The proposal to establish a separate ayurvedic university in Punjab is awaiting green signal from the state cabinet.
Progress on Abohar-Fazilka Rail Link
Reality differs from what authorities claim
Abohar, April 20
The chairman of the Railway Board had reportedly assured members of the Parliament that construction of the 42-km long Abohar-Fazilka rail line would be completed by April 2009. However, ground realities here do not support this view.
Grain Procurement
PUNSUP official suspended
Ferozepur, April 20
A PUNSUP inspector has been suspended for dereliction of duty and licences of 15 commission agents have been cancelled due to various irregularities during the ongoing procurement process. This was informed by irrigation minister Janmeja Singh Sekhon after he visited various grain markets in the district today. He was accompanied by DC Megh Raj, ADC Jaskaran Singh and SSP D.P. Singh.
This grain market is for all but farmers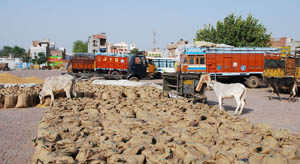 Bathinda, April 20
At the time when the arrival of wheat in markets all over the state is at its peak, the Bathinda Grain Market gives the look of a parking lot for trucks and buses. Not only this, there is no provision for clean drinking water, toilet and other basic amenities for the farmers.
A view of the Bathinda Grain Market that has become a thoroughfare for stray animals that graze on the wheat that has arrived for sale. Unauthorised parking of trucks adds to the farmers' woes. — Tribune photo by Kulbir Beera
Balluana Zila Parishad poll: SAD finalises two women candidates
Abohar, April 20
In a strategic move which may leave its arch-rival, the Congress, trailing in the Balluana Assembly segment, the Shiromani Akali Dal (B) has finalised two women candidates for the upcoming Zila Parishad elections. Both are daughters of senior political functionaries.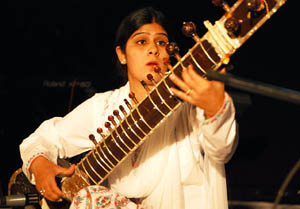 Musical soiree ends on a high note
Bathinda, April 20
Tushar Memorial College of Music and Dance, Bathinda, held its 3rd annual function at the Civil Lines Club here. The musical soiree had flavours from both the Punjabi milieu and traditional Indian classical music.


Patiala's Kumari Bhairavi performing in Bathinda on Saturday evening. — Tribune photo by Kulbir Beera
Spurt in suicides leaves psychiatrists worried
Bathinda, April 20
Twenty persons ended their lives in the city in the last three months. Contrary to the expectations of medical men and sociologists that the number of those opting for death in place of life would drop this year, there is no indication of that happening yet.
Cop's daughter consumes poison, ends life
Bathinda, April 20
In a shocking incident, Parminder Kaur, 27, the daughter of sub-inspector Ranjit Singh, in-charge CIA, allegedly ended her life by consuming some poisonous substance at Bhucho Mandi near here today. The deceased is survived by her husband and one-year old son.
7 killed, 8 injured in road mishap
Abohar, April 20
Seven persons, including an Abohar resident, were killed and eight injured, five of them seriously, in a road mishap early this morning near Loonkaransar town on the NH-15, in the neighbouring area of Rajasthan, police sources said. The victims included a newly-wed girl. The groom was also among those seriously injured.
Jashan-2008
Vivek, Shama win titles
Ferozepur, April 20
Shaheed Bhagat Singh College of Engineering and Technology, Ferozepur, celebrated its two-day annual cultural festival, "JASHAN-2008", which concluded here Friday amidst lot of enthusiasm and fanfare. The event, which encompassed various cultural and literary events, was organised by the Society for Extra-Curricular Activities (SECA) of the college.
Liquor vends gheraoed in Abohar
Abohar, April 20
Expressing anguish over the indifferent attitude of the administration to their long-pending demand regarding the shifting of liquor vends, hundreds of daily wage earners and farmers gheraoed these vends at the new grain market on Saturday.
May Day function
Mansa, April 20
A meeting of different trade unions was held at the Baba Buja Singh Bhawan here today to prepare for the May Day function, which would be organised at Maal Godam here in favour of the demands of labourers and employees.