Battleground: Congress misses its Captain
Bathinda, May 10
Though Capt Amrinder Singh, former Chief Minister, has been "sick" for the last few days and because of that, he is not campaigning for any of the Zila Parishad candidates in the state, his proxy presence can still be felt in the cotton belt.
Election for Bangi Ruldu postponed till May 26
Bathinda, May 10
A day after receiving the orders of the Punjab and Haryana High Court for provisionally allowing the Congress candidate to contest from Bangi Ruldu Zila Parishad zone, the state election commission today postponed the election for the seat till May 26.
Zila Parishand, Panchayat Samiti polls: Electioneering Ends
Congress supporters allege harassment
Admn refutes allegations, says no complaint received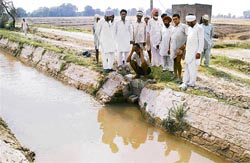 Badal (Muktsar), May 10
Posters of Chief Minister Parkash Singh Badal and SAD chief Sukhbir Singh Badal dot this hometown of Badals, except for the kiosk of Mohinder Pal where the Congress flag flutters, a few hours before polling for the Zila Parishad and Block Samiti elections.
Panchayat members of Manna near the Badal village stand over the blockage that has been put by functionaries of the department to stop flow of waters towards the fields of Congress supporters. Tribune photo: Kulbir Beera
All goes all out on last day of campaigning
Abohar, May 10
On the last day of campaigning for the Zila Parishad and Panchayat Samiti elections, the ruling alliance suffered a set back as some active BJP workers including, Shyam Lal Nambardar and a former member of the Panchayat, Lal Chand Ghorela, welcomed the Congress legislator Sunil Jakhar and extended support to the party candidates at village Kallarkhera on NH 15.
BJP office bearers resign
Mansa , May 10
Nearly 25 office-bearers of the district BJP resigned as a protest against cabinet minister and BJP leader Manoranjan Kalia for not visiting Mansa. District president of the BJP, Suraj Kumar Chhabra, told that cabinet minister came to Mansa district for election campaign and for this purpose workers of Mansa arranged a programme for minister but he could not stop at Mansa and workers of the BJP became sad due to this.
Left parties leave no stone unturned
Mansa , May 10
The CPI (ML) has raised some question before the Akali-BJP government and Congress. State secretary of the party, Rajvinder Singh Rana, district secretary Bhagwant Singh Sammaon, Balkaran Singh Balli, Gurjant Singh Mansa said that these two parties had been ruling the country and state, but why they had never raised the issues related to labourers and farmers.
Moga MLA gets blanket bail
Moga, May 10
Fearing that he may be implicated on charges of conspiracy in a rape case, the Congress MLA from Moga, Joginder Pal Jain, had got a blanket bail from a local sessions' court. However, the police authorities claimed that he was not required by them in this case for investigation.
Trident issue
BKU stages dharna
Barnala, May 10
As the proceedings regarding Trident-farmers land issue was continued in the court of additional sessions judge Vivek Puri till late in the evening today, the Bhartiya Kisan Union Ekta (Ugrahan) did not go for its proposed rail traffic blockade which was scheduled to be started from Saturday.
Mother's Day today
'It would be just another day here'
Bathinda, May 10
The mothers in Bathinda and surrounding areas, notorious for high rate of female foeticide are not likely to get any special focus on 'Mother's day' tomorrow. Very few people have idea of 'Mother's day' in this area and no public functions have been planned yet.
Big haul
28 kg heroin seized in Sriganganagar
Abohar, May 10
In a joint operation, directorate of revenue intelligence and customs department had recovered 28 kg heroin from a truck as it crossed over to Sriganganagar from Abohar side during the wee hours today, sources said.
Stray bull kills animal lover
Moga, May 10
A 70-year-old man, Harvinder Pal Singh, who throughout his life had worked for the welfare of animals, was killed by a stray bull yesterday that ran amok in Guru Ramdas Nagar of the town.