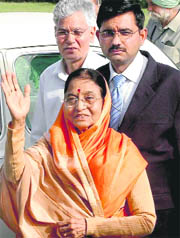 President Pratibha Patil at the Chandigarh Airport on her way to Shimla on Tuesday. — Tribune photo by Manoj Mahajan
UK co. complains against Wizcraft
Mohali, May 27
The allegations of racial discrimination by two black cheerleaders during the inaugural match of the IPL on April 19 has snowballed into a major controversy with a London-based company which hired the cheerleaders formally complaining against Wizcraft International Entertainment to the Mohali police.
30 CTU buses not fit for road
But transport dept thinks otherwise
Chandigarh, May 27
The controversy over the UT transport department wanting its old CTU buses passed took a new turn today.
Central Status: PU is a house divided
Chandigarh, May 27
There seems to be a vertical split between the Panjab University teaching faculty and the non-teaching staff on the issue of central status for the university.
UT HOME SECRETARY
57 Days gone still counting ...
Unfortunate delay
It is unfortunate that the post has been lying vacant. A lot has been said about the differences between the Chandigarh administration and the Centre.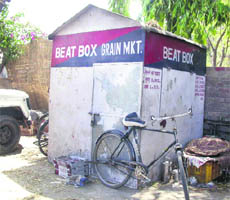 COPS NOT ON CALL: The police beat box at the Sector 26 grain market in Chandigarh remains closed. — Tribune photo by Karam Singh
Builders hoodwink admn yet again
Building comes up in Sarangpur area; DC serves notice
Chandigarh, May 27
Private builders have outwitted the Chandigarh administration in "developing" the Sarangpur area, west of the PGI.
It's urban vs rural for market panel's top post
Chandigarh, May 27
Intense lobbying is on for the post of chairman of the cash-rich market committee, elections to which are scheduled for May 29.
PGI
Costly equipment rusts sans infrastructure
Chandigarh, May 27
The fate of PGI's Rs 46-crore ambitious project of advanced cardiac centre hangs in balance as it is nowhere near completion even after two years of the expiry of the deadline. As a result, sophisticated and state-of-the-art medical equipment, worth crores of rupees, is lying unused and dumped.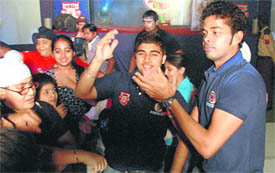 Kings XI Punjab players dance during a party at hotel Mountview on Tuesday night in chandigarh. — Tribune photo by Pradeep Tewari
Noor finds jail food unpalatable
Chandigarh, May 27
Noor Kataria has been sleeping on the floor of her cell in Burail Jail. Regularly seen at discotheques and parties, Noor has been in jail for the past four days.
Order on GPA stirs hornet's nest
Chandigarh, May 27
An order of the additional registrar of the cooperative societies, Chandigarh, in favour of a general power of attorney (GPA) of a flat in Burail Janta Cooperative House Building First Society Limited has stirred a hornet's nest. The order has raised several questions over the legality of the general power of attorney in relation to the flats of the group housing societies.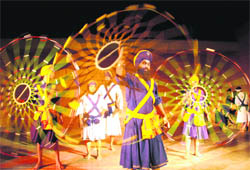 Nihangs show their skills at Kala Gram, Chandigarh, on Tuesday. — A Tribune photograph
Admn gives school ground to LIC cricket club
Rs 22 lakh infrastructure to be raised
Chandigarh, May 27
The Chandigarh administration has added yet another chapter of involving Public private partnership (PPP) with the allotment of ground of the Government Model High School, Sector 26, to a Chandigarh-based cricket club.
Beating up of parents
NGO helps resolve issue
Panchkula, May 27
Relatives and a Panchkula-based NGO came forward to help an elderly couple of Zirakpur who had claimed that they were being ill-treated by their sons.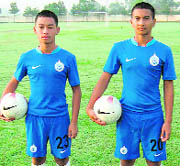 (From left) Umakanta Singh Kiyam and Golmei Mariamdun of St Stephen's Football Academy-45 represented India under-14 team in Asian Football Confederation Football Festival held in Iran from May 18 to 23. Golmei was the captain of the team. — A Tribune photograph
Central Status for Varsity
Issue to come up before political advisory committee
Chandigarh, May 27
The 51st day of the relay fast seemed to be a turning point in the history of the entire agitation of the PU students and teachers demanding Central University status for PU. "For the first time, we are receiving some positive signals from the Punjab Government.
Beggars, vendors flip coins to their favour
Chandigarh, May 27
The shortage of coins has proved to be a good business opportunity for beggars and roadside vendors in the region. With banks failing to supply coins to retailers and traders in the city, they have found roadside vendors to ensure a regular supply.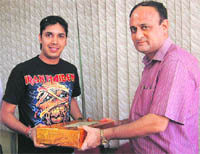 Summer Tango contest winners awarded
Chandigarh, May 27
As many as five winners of the Chandigarh Tribune Summer Tango contest were awarded here today. The Tribune general manager Sanjay Hazari awarded the winners of the contest launched by Chandigarh Tribune to connect with its readers.


A winner of the Chandigarh Tribune Summer Tango receives a prize from The Tribune general manager Sanjay Hazari in Chandigarh on Tuesday. — A Tribune photograph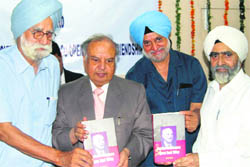 Book on Soviet collapse out
Chandigarh, May 27
Divergent views were expressed at the release function of the book 'Soviet Collapsed - How and Why' authored by Dr Prem Singh at Punjab Book Center here yesterday.



Chief Justice of Punjab and Haryana High Court Vijender Jain releases a book authored by Dr Prem Singh in Chandigarh. — A Tribune photograph

Class X result on mobile
Chandigarh, May 27
BSNL and Bharti Airtel today announced that its customers will be able to get CBSE class X results on their mobile phones through integrated voice response system and SMS.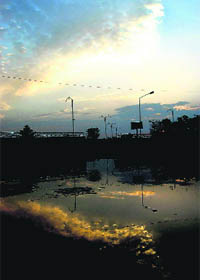 Nature's bounty:

The sun and clouds play hide and seek as rainwater absorbs the kaleidoscope of colours. — Tribune photo by Vicky Gharu
Man sets himself afire, dies
Chandigarh, May 27
A 40-year-old man died after he allegedly set himself ablaze at his residence in Badheri village, here this morning.
Fire at incense factory
Chandigarh, May 27
Incenses worth thousands of rupees were gutted in a fire that broke out in a factory at Hallo Majra village, here this morning.
Fire at crime branch office
Mohali, May 27
A minor fire broke out in the office of the crime branch of the district police in Phase I here today. According to officials of the fire brigade, an electric panel in the office of the reader on the first floor caught fire. The employees felt panicked and rushed out of the room engulfed with smoke.
Letters
Pay attention to southern sectors
THE southern sectors from 48 onwards under the jurisdiction of the Chandigarh administration are badly neglected. Residents of these densely populated sectors do not even have a post office at their disposal and have to go to distant sectors.


Summer camp gets underway at KB DAV
Chandigarh, May 27
A 20-day summer camp 2008 got underway at KB DAV SSS, Sector 7-B, here. To cater to the needs of students and encouraged by the overwhelming response in the previous years, seven different workshops like nritya and sangeet kala, kalakriti, calligraphy, natya rang mahotsav, yoga, skating, table soccer, computers are being run simultaneously on the school premises.