Friday, June 27, 2008, Chandigarh, India
Updated at 3:00 am (IST)

Beig, Omar ask Guv to revoke order
PDP sets a deadline over Amarnath land transfer row
Srinagar, June 26
Both the PDP and the National Conference here today claimed that they have urged Governor N.N. Vohra to revoke the controversial order on the diversion of forest land to the Shri Amarnath Shrine Board (SASB) in view of the mounting public resentment. Chief Minister Ghulam Nabi Azad also held a meeting with the Governor at Raj Bhawan here this evening.
Day IV: One killed, 100 hurt
Srinagar, June 26
One person was killed and 100 others were injured, two of them with bullet wounds, as protests continued for the fourth consecutive day over the Amarnath land transfer issue. Normal life was paralysed across the Kashmir valley. Demonstrators indulged in stone pelting and disrupted traffic on the roads forcing the police and the CRPF to lathicharge and lob teargas shells to disperse the agitating crowd.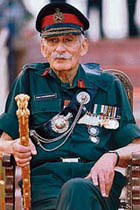 Sam Manekshaw dead
New Delhi, June 26
Field Marshal Sam Hormusji Framji Jamshedji Manekshaw, whose military victory in the 1971 Indo-Pak war led the creation of Bangladesh, died in the Military Hospital in Wellington, Tamil Nadu, late tonight. He was 94.



Manekshaw, a soldiers' General


Field Marshal Sam Hormusji Framji Jamshedji Manekshaw