The man of simple lines
By H.K. Dua
Editor-in-Chief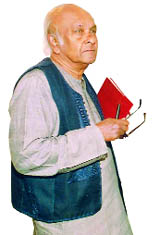 Those were bad times in India. Indira Gandhi had placed the country under emergency raj. Thousands of opposition leaders were arrested after midnight on June 25, 1975 and sent to undisclosed destinations. A severe press censorship was imposed. Electricity of newspaper offices was switched off; the printing presses were locked. No one knew what would be the shape of things to come. The mood across the country was of anxiety and uncertainty. Vidya Charan Shukla had been asked to take over the Information and Broadcasting Ministry. Apparently, Mrs Gandhi and her son Sanjay thought that he would do the job ruthlessly and Inder Gujral whom he had replaced would not. Shukla thought of addressing a press conference clearly to pass on the emergency message.
Queen of 'guilty pleasures'
Michelle Nichols
British author Jackie Collins is still inadvertently teaching teenage girls about sex through her steamy novels that have seen her regularly grace bestseller lists since her first book was published 40 years ago. Collins — who refuses to reveal how old she is, except to say that she is still several years shy of 70 — released her 26th novel, "Married Lovers," in the United States on Tuesday.
Spider as 'architect'
Black widow spiders spin a deadly web when they are hungry, and a fortress to have a better protection from predators when they are sated with food, according to a new study conducted at the University of Akron in Ohio. The study showed that the spiders fed daily with crickets spun tangled masses of non-sticky silk. They also found that similar-size spiders, when starved for a week, tended to spin sheets of silk connected to the ground by taut, sticky strands.
Water on Moon
Life on Moon could someday be a reality — thanks to scientists who have discovered evidence of water on the Earth's natural satellite. A fresh analysis of volcanic glass collected during the Apollo missions in the 1970s has revealed that the Moon's parched surface has water hidden beneath it, a major finding that dispels the notion that the Moon is dry.
Lama land
Leh, with monasteries perched on rocky crags and prayer flags fluttering in the air, may have been affected by commercialism, but it still retains a pristine charm, says Mukesh Khosla
As the plane begins its descent one can see a scattered township, the gurgling River Indus and the snow-capped peaks of the Himalayas. Leh is now firmly on the tourist map. This place, one of the most inhospitable and unforgiving mountain ranges, is less than an hour from Delhi.
Let viewers decide who is a better Bhishma: Ronit Roy
Ronit Roy can rightly be called the superstar of Indian television. The actor, who started his career with a little-known film Jaan Tere Naam, has achieved iconic status in the television industry today. Be it Rishab Bajaj in Kasauti Zindagi Kay or Mihir Virani in Kyun Ki Saas Bhi Kabhi Bahu Thi, he has been a hit. Srabanti Chakrabarti talks to Ronit Roy, who plays the role of Bhishma in Ekta Kapoor's Kahani Hamarey Mahabharat Ki

Royal suite
The Durbar Suite of the Raj Palace Hotel, Jaipur, has been voted Asia's Leading Suite at the World Travel Awards ceremony held recently at Shanghai. A total of 167,000 travel professionals, including 110,000 travel agents worldwide, voted. Other Indian suites to make it to the top ten included Kohinoor Suite at The Oberoi Udaivilas, Udaipur, Maharaja Suite at The Leela Palace Kempinski, Bangalore, Presidential Villa at Kumarakom Lake Resort and Royal Imperial Suite at The Imperial, New Delhi.
Best of East
The 10th Osian's Cinefan Festival of Asian and Arab Cinema, which concludes in New Delhi today, saw the screening of some of the world's greatest films, writes Shoma A. Chatterji
What do films like Johnnie To's Sparrow, Wong Kar-Wai's My Blueberry Nights and Mumbai Cutting have in common? All these films featured at the 10th Osian's-Cinefan Festival of Asian and Arab Cinema which concludes today. They feature among the over 150 films from Asia and the Arab world. This year's festival, held in Siri Fort and Alliance Fran`E7aise in New Delhi, brought together more than 40 short fiction films for the first time.
'Bollywood is getting better'
Radhika Bhirani
Anupam Kher, who's experimented with different film genres as an actor and director, feels that the quality of scripts, cinematography and screenplays in Hindi films hasn't gone down but actually improved over the years. "I don't think Bollywood is going through a bad phase. Instead, I think it is in its golden time right now," said Anupam.