COLUMNS



THIS ABOVE ALL

TELEVISTA

GOOD MOTORING

AUDIO SCAN

MUSIC ZONE

FASHION

WEBSIDE HUMOUR

FOR CHILDREN



CROSSWORD

RHYME TIME

ROOTS

Breathtaking Butterflies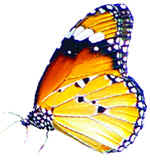 More than 700 species of Indian butterflies have been illustrated for the first time in The Book of Indian Butterflies by Isaac Kehimkar, writes
Lt Gen Baljit Singh (retd)
There are at least 1,501 species of butterflies in India. One is unlikely to see them all in a lifetime. Not even if one were to visit a chain of well laid and tended butterfly parks. However, most of us must have witnessed, given our fondness to plant even stamp-sized gardens around or in our homes, the four stages in the life cycle of a butterfly. These stages are fleeting and not too obvious but are fascinating.

Shooting star
Shveta Pathak
It was less than eight months ago that 19-year-old Ishmeet Singh shot to fame when he won the Star Voice of India contest. The victory of this rather introvert commerce student from Ludhiana, not only gave him a celebrity status overnight, it fulfilled dreams of many and did Ludhiana as well as Punjab proud.
Revolutionary to the core
Atul Khanna
A revolutionary has no caste, and his only religion is his motherland. Durga Das Khanna, a close associate of Bhagat Singh, who later went on to become the chairman of the Punjab Vidhan Parishad, was no exception. Long after his death, his life continues to be a tale of determination to succeed in his endeavours, a story of the unfolding of a free India and an example worth emulating.