All About Eves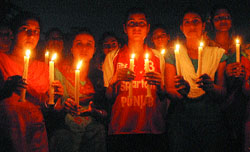 Students of the St Soldier group of colleges light candles to observe Girls' Day in Jalandhar on Tuesday. Tribune photo: Pawan Sharma
Security arrangements in place for Rahul's visit
Jalandhar, September 23
In wake of the visit of All-Indian Congress Committee general secretary Rahul Ghandhi, the district police claims to have made elaborated security arrangements.
Youth Cong must take lead in tackling drug menace, says Bittu
Jalandhar, September 23
Alarmed at the growing menace of substance abuse in the state, senior Congress leader Tejinder Singh Bittu would submit a detailed report of the "critical" ground situation to AICC general secretary Rahul Gandhi, urging him to motivate youth Congress members to launch a massive campaign against drugs in the state.
Medical age verification a must: Expert
Jalandhar, September 23
The recent strictness in implementation of laws related to child labour, child marriage, rape and elopement of couples and legal tangles involved in the matter, have necessitated the need for application of advanced techniques for age verification medically.
Young World
Bhavya, Sanya are 'smart kids'
Jalandhar, September 23
Nipun Nanda Nursing Home on Sunday organised a smart-kid competition under the guidance of Dr Taru Kapoor to check the creative skills of children. The competition was divided into junior (3-6 years) and senior (6-10 years) wings in which the children participated in joining dots, dart and drawing competition. In the junior wing, Bhavya stood first, while Eish bagged the second prize and in the secondary wing, Sanya got the first prize followed by Devyanshu.
16 pilgrims hurt in road mishap
Phagwara, September 23
Sixteen pilgrims were hurt when the tractor-trailer in which they were travelling collided with a police vehicle near a hotel on the national highway here on Tuesday.
Keira's Last Night
English actor Keira Knightley has signed on to star in Last Night. The film, which also stars Eva Mendes, Sam Worthington and Guillaume Canet, is the feature directing debut of Massy Tadjedin, who wrote the script, reports Variety.