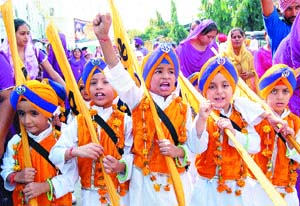 Gaiety, fervour mark Gurpurb celebrations
Amritsar, October 9
Birth anniversary of fourth Sikh master Guru Ram Dass was celebrated with religious fervor here today. Thousands of devotees paid their obeisance at the Golden Temple and took a holy dip in the sarovar. They also listened to Gurbani.

Kids dressed as 'Panj Pyaras' during a function to mark Gurpurb celebrations in Amritsar. Photo: Vishal Kumar

Land fraud: Adampur tehsildar suspended
Jalandhar, October 9
After being held guilty in a land fraud, Adampur tehsildar and a patwari have been placed under suspension.
Timely Act
Bid to rob bank foiled, 4 arrested
Jalandhar, October 9
The district police claims to have foiled a bid for a bank robbery and murder by arresting four persons near the inter-state bus terminus, late last night.
'Cong men complaints led to cases against Capt'
Phagwara, October 9
Reminding former CM and Punjab Congress election in charge Captain Amarinder Singh that all cases against him, whether of Amritsar or Ludhiana land scams, were registered on the complaints of Congress activists, SAD general secretary and former minister Prof Prem Singh Chandumajra stated that Parkash Singh Badal-led SAD-BJP government did not believe in indulging in witch-hunting.

Majha not a priority for CM: Bajwa
Pay for poor subscription service, forum to publisher
Hoshiarpur, October 9
The District Consumer Forum, headed by president P.D. Goel, directed Vipul Hoom, senior business manager of Living Media India Limited and India Today group of publishers, both of New Delhi, to send a gray Norman hat worth Rs 900, magazines for the months of March, May and June, 2007, and to pay Rs 3,100 on account of unfair trade practice along with litigation expenses of Rs 1,000 to complainant Maninderpal Singh, a local resident, within one month.
Train delay irks passengers
Nawanshahr, October 9
Accusing the local railway authorities of adopting adamant attitude and causing inconvenience to passengers, a number of railway commuters staged a demonstration and raised slogans at the railway station here yesterday. They also put a complaint in the complaint book in this regard.
3 die in mishaps
Phagwara, October 9
Three persons were killed in separate mishaps in different parts of the town during the last 24 hours. According to information, Ramgaria Engineering College student Ravinder Kumar was crushed by a rail engine when he was trying to cross a line on Wednesday.
Imposter held with fake sale deed
Batala, October 9
An imposter was caught by the naib-tehsildar in his office while he was presenting a fake sale deed for registration of a plot. Naib-tehsildar PS Goraya disclosed that Pritam Singh came to his office to execute a sale deed for 7 kanal and 3 marla of land in favour of his brother Sarwan Singh.
Man nabbed for bid on wife's life
Hoshiarpur, October 9
A n attempt to kill a bride by her husband and in-laws for more dowry was reported at the Garhshankar police station last evening.