SP unwilling to allot seats to Raj Babbar, Verma
Lucknow, October 25
The under-negotiation alliance between the Congress and the Samajawadi Party (SP) for Uttar Pradesh for the forthcoming Lok Sabha elections may run into fresh trouble as the SP appears adamant on not allotting two seats to former SP rebels-turned Congress leaders Raj Babbar and Beni Prasad Verma.
Cops, students clash in Bihar, 300 held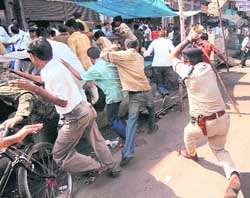 Trains targeted, highway blocked
Patna, October 25
The dawn-to-dusk Bihar bandh called by some student organisations today in protest against the Maharashtra Navnirman Sena's (MNS) offensive against the railway job aspirants from Bihar in Mumbai passed off without any major incidents of violence.

The police resorts to lathi charge to disperse students of Patna University, who were protesting against assaults on Railways exam candidates by MNS workers in Maharashtra, in Patna on Saturday. — PTI
Malegaon Blasts
Held sadhvi has ties with BJP
Bhopal, October 25
Sadhvi Pragya Singh Thakur, who was arrested from Surat by the Maharashtra anti-terrorism squad on Thursday for her alleged involvement in Malegaon bomb blasts in Maharashtra, has close ties with the state BJP leadership.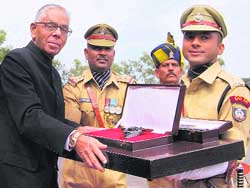 National security adviser M.K. Narayanan presents The Prime Minister's Baton and Home Ministry's Revolver for the best all-rounder Probationer to Divya Mishra, Parade Commander at the 60th Batch of IPS Probationers, in Hyderabad on Saturday. — PTI
SC: No varsity, college should violate Lyngdoh panel norms
New Delhi, October 25
The Supreme Court has issued a stern warning to universities and colleges across the country not to violate the J.M. Lyngdoh committee recommendations while conducting elections to student unions.
ISI behind Kabul embassy bombing, India tells Pak
New Delhi, October 25
India yesterday shared with Pakistan 'concrete and irrefutable' evidence that suggested the involvement of the ISI in the July 7 audacious car-bomb attack on the Indian embassy in Kabul.
Weaponised version of Dhruv showcased
Bangalore, October 25
In what signals a shift towards attaining self-sufficiency in defence production, the weaponised version of the indigenously built Dhruv helicopter was showcased for the first time here today, while the Defence Minister A.K. Antony assured: "All doubts about the light combat aircraft (LCA) have been cleared and it would be inducted by 2010".
Bastiat Prize for Aiyar
Chandigarh, October 25
The Consulting Editor of the Economic Times, Swaminathan S. Aiyar has bagged the second place in the IPN's Bastiat Prize for Journalism, 2008. The first prize went to Barton Hinkle, Deputy Op-Ed Editor, Richmond Times, USA, while the third prize went to Fraser Nelson, Political Editor, The Spectator, UK.
Now, outsourcing from Rajasthan backwaters
Chirahwa (Jhunjhunu), October 25
Phone rings would soon mean business time for 40-odd youngsters in this village, a typical hamlet of Rajasthan, where every day is a new struggle.