MLA rakes up kidney case
Amritsar, October 25
A tussle between local BJP MLA Anil Joshi and a senior police officer took a new twist today with the former questioning the wisdom of the administration in withdrawing approval for kidney transplant to former ADC Kirpal Singh.



India to be second largest economy by 2050: RBI expert
Patiala, October 25
Currently at the fourth place, India will be the world's second largest economy by the year 2050.
Special plan to revive Kanjli wetland
Kapurthala, October 25
The Punjab government has made a special plan to revive Kanjli wetland in an attempt to attract tourists to the district.
A nagar kirtan from Pak
Attari, October 25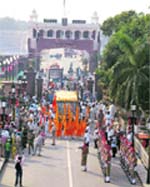 Amid chanting of religious hymns, first-ever nagar kirtan with 13 "sarups" of Guru Granth Sahib today arrived here from Pakistan at the Wagah joint check post to participate in the Gurta Gaddi Diwas celebrations in Nanded. As soon as the nagar kirtan entered the Indian territory, the Punjab police band played devotional compositions. Officials of the district administration, led by deputy commissioner Kahan Singh Pannu, welcomed the nagar kirtan.


A view of the nagar kirtan, organised by the Pakistan Sikh Gurdwara Prabandhak Committee, as it enters the Indian territory at the Wagah joint check post on Saturday. A Tribune photograph
Patna Sahib Jathedar, SGPC chief patch up
Hazur Sahib, October 25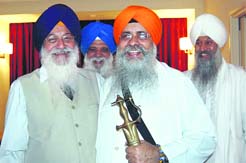 Akal Takht and the SGPC, which have already celebrated the tercentenary of Gurta Gaddi Diwas as per the new Nanakshahi calendar, today joined hands with the Takht Hazur Sahib Management, which is organising the mega event here on October 30 as per the traditional Bikrami calendar.


SGPC president Avtar Singh (left) and Giani Iqbal Singh, Jathedar, Patna Sahib, at Naurangabad in Maharashtra on Saturday. Photo: Vishal Kumar
Rights panel not to reduce members
Chandigarh, October 25
The Punjab State Human Rights Commission's (PSHRC) five posts will not be reduced to three. This was revealed by advocate general (AG) H.S. Mattewal while arguing the public interest litigation (PIL) filed by advocate H.C. Arora wherein he had sought for issuance of directions to the Punjab government to fill the three vacant posts in the PSHRC.
Calender on Patiala's heritage released
Patiala, October 25
A comprehensive calender, 'Shahi Patiala-2009', showcasing Patiala's rich heritage, was released by division commissioner S.K. Ahluwalia at his Baradari residence here today in presence of the State Bank of Patiala's chief manager J.K. Sareen and other eminent citizens.
612 women recruited in BSF
Hoshiarpur, October 25
Around 612 regular women constables have been recruited in the BSF of which regular training to 300 will be imparted in the first phase at the Subsidiary Training Centre (STC), Kharkan.


Notify member's name in 6 weeks: HC
Chandigarh, October 25
Punjab's failure to nominate College Tribunal member has not gone down well with the Punjab and Haryana High Court.


Bid to Loot Cash Van
Officer's gunman among 5 held
Moga, October 25
The Ferozepur police, in a joint operation with the Moga police, reportedly detained five youths, including a gunman of a senior IAS officer, in connection with the attempt to loot a cash van of the ICICI bank near Talwandi Mange village of Ferozepur district on October 8. A gunman of the bank had been killed while two others were injured.