Drunk man shoots wife
Husband pumps 5 bullets after she failed to respond to phone calls
udhiana, October 25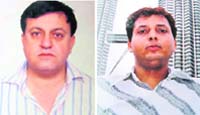 In a gruesome incident taken straight from a Bollywood flick on revenge in unsolicited love, a 35-year-old jilted man embraced his 30-year-old beloved and pumped five bullets into her for not responding to his repeated phone calls today.




Vivek and Billu, accused. Photo: Inderjeet Verma
Another shoots beloved, himself
Ludhiana, October 25
In another incident, a married man allegedly shot his beloved and turned the gun on himself at Choorpur Road this afternoon.
City Concerns
This Diwali, take pledge to shun crackers
The younger generation likes to copy others. They even compete in spending on crackers during Diwali. This trend is fast catching up with the lower middle class and poor at the cost of other basic necessities. This has not only led to air and noise pollution but the accident and other dangers for expectant women and the sick seem to be nobody's concern. Why is society so immune, that such sacred festivals have become ugly business?
Cracker dealers block traffic
Protest against "tax collection" by ST dept
Ludhiana, October 25
The wholesale cracker dealers at Dana Mandi got agitated today when a few officials from the sales tax department reached the spot and asked them to pay the "respective tax". The dealers objected to the sudden raids conducted by officials. They said since they had already paid huge amounts to the district administration while getting the shops, why should they pay to the department without selling the product?.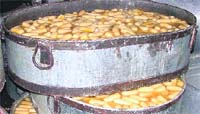 Use of synthetic khoya unabated
Ludhiana, October 25
Repeated raids by the district health department have failed to put a tab on the use of adulterated milk products, including khoya, in sweets during the festival seasons.
Sweets made from synthetic khoya seized by the district health department in a recent raid from a shop in Ludhiana. Photo: Inderjeet Verma



At the Crossroads
Kudos to translator of Manto's stories
Incidentally I have on my table 5 books concerning the works of Saadat Hasan Manto. In English there are two books, namely 'Bitter Fruit: The very best of Saadat Hasan Manto', edited & translated by Khalid Hasan and 'Naked voices: Stories & Sketches by Manto', edited and translated by Rakhshanda Jalil. In Urdu the two books are, 'Saadat Hasan Manto: Ek Legend', edited by Dr Humayun Ashraf and 'Fasane Manto ke aur phir bayan apna', by Khalid Ashraf. In Punjabi, the book is, 'Saadat Hasan Manto de Afaasane', edited and translated by Purdaman Singh Bedi.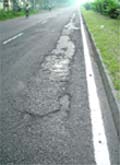 NH-1 takes toll on motorists
Doraha, October 25
The National Highway No. 1, with its rough and uneven surface, is barely No. 1! In spite of charging exorbitant toll from the motorists for the past over five years, the highway has not been re-carpeted even once. The highway is strewn with patchwork. Even these have come after prolonged effort of motorists and highlighting of the issue by media from time to time. The move of the National Highway Authority of India (NHAI) to carry out patchwork has only worsened its condition.
Patchwork offers a bumpy ride to fast-moving vehicles on the NH-1 in Ludhiana. Photo by writer

Dr Pirthipal - A pioneer in national health plan
Ludhiana, October 25
Dr Pirthipal Singh, former director (health), Punjab, who passed away on October 23, spent his childhood in Faridkot where his father, late Capt Puran Singh, an eye specialist, was posted. Having done his schooling in Faridkot, Dr Pirthipal got admission in Arya Medical School, Ludhiana, to study LSMF. Thereafter he went to Lucknow to study MBBS in prestigious King George's Medical College. His passion to serve his own brought him back to Punjab and he joined PCMS. He did his MS in surgery at Patiala.
Dr Pirthipal Singh
Workshop on basic life support at CMCH
Ludhiana, October 25
The department of pediatrics at CMCH organised a comprehensive workshop on "basic life support (BLS)" for medical interns and nursing students today. The basic life support is a specific level of pre-hospital medical care provided by trained providers, which is important for survival and quality of life of victims.
Centre to promote fish farming in state
Ludhiana, October 25
Close on the heels of the initiative taken by the state government to provide relief to debt-ridden farmers of the Malwa region, the Central government has decided to start a "Saline water" project in the region soon.
Official reviews procurement process
Khanna, October 25
Secretary of food and public distribution department, Government of India, Alka Sirohi along with state heads of various procurement agencies today visited the Khanna grain market and reviewed the ongoing procurement operations with officers, ahrtiyas and farmers.
Raikot residents feel politically marooned
Raikot, October 25
It has been an irony for Raikot as its MLA has always been from the opposition party. This has hurt the constituency in terms of development.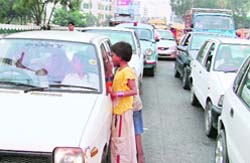 Now, beggars take to petty crime
Ludhiana, October 25
Covered with rags, such people could be found on every road and in markets of the city asking for alms and have started indulging in petty crimes.




Beggars hound cars at a traffic junction in Ludhiana. A Tribune photograph
Punjabis should join Army: J.J. Singh
Ludhiana, October 25
A function was organised by Guru Nanak International Education Trust today to mark the 300 years of Gurta Gaddi Divas of Guru Grant Sahib. Governor of Uttrakhand, former General J.J. Singh was the chief guest at the occasion.
Gold coins at post offices
Ludhiana, October 25
The Punjab Postal Service in association with Reliance Money limited launched services to provide gold coins here today.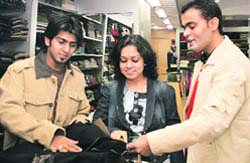 Jackets a rage this season
Ludhiana, October 25
With mercury dipping and winter round the corner, city residents are making a beeline for woolens. Hot trendy jackets in countless hues are the latest rage and have caught the fancy of the young and old alike.


Youngsters pick out jackets at a store in Ludhiana. Photo: Rajesh Bhambi
From Schools & Colleges
Diwali celebrated with fervour at GCW
Ludhiana, October 25
Diwali was celebrated here today with fervour by the staff and students of Government College for Women. The students decorated the college campus with diyas, candles and glitter. Sweets were distributed amongst the staff and students of the college. Principal R.K. Aulakh inaugurated the celebrations and gave the message of love, peace and joy.
PAU students call off strike
Ludhiana, October 25
Though the students of College of Agricultural Engineering at Punjab Agricultural University (PAU) called off their strike on Thursday but most of the students seem to be adamant to plead the case of one of their seniors, Amir Hameed Wani, who has been debarred from the varsity for "misleading" other students, with authorities concerned on Monday.
Talent competition showcases creative craft
Ludhiana, October 25
The annual talent search contest was organised by Sportking Institute of Fashion Technology (SIFT) yesterday.
Exhibition, inter-class contest
Khanna, October 25
The computer department of A. S. College for Women today organised an exhibition and inter-class web-designing, error handling and debugging competitions.
Assault on Christian institutions condemned
Ludhiana, October 25
The standing committee of the National Monitoring Committee for Minorities Education has condemned the attacks on Christian educational institutions and churches in Orissa and Karnataka.
Driver of school 'beaten up' by parents
Ludhiana, October 25
Darshan Singh, a driver at Greenland Convent School, Chandigarh road, was allegedly beaten up by the parents of a student, Sambhav, on two consecutive days. According to the police, Sameer Mohindra, father of Sambhav and a resident of the G.K. Colony has, however, lodged a report that his son was beaten up yesterday by the driver and he was not taken in the bus this morning.
State-level function on Vishwakarma Day
Ludhiana, October 25
Jails, tourism and cultural affairs minister Hira Singh Gabria today informed that a state-level function will be organised to celebrate the Parkash Utsav of Vishwakarma, the founder of art and architecture on October 29, Vishwakarma Day, at Guru Nanak Dev Bhawan. Punjab CM Parkash Singh Badal will preside over the function.
Public meeting held
Samrala, October 25
SSP Arunpal Singh, Khanna, today held a public meeting at the Nagar council office, Samrala, to know the problems and to give directions to people for the upcoming Diwali.
CM to hold sangat darshan today
Ludhiana, October 25
In an attempt to please the local residents once again, Chief Minister Parkash Singh Badal would be holding sangat darshan in various areas here tomorrow.
Letters
Firecrackers are unsafe


5 booked for fraud
Jagraon, October 25
The Jagraon police has booked five persons for making votes at two different places.
Man held with stolen bike
Jagraon, October 25
The police has arrested Gurcharan Singh of Gorsian Khan Mohammad village with a stolen motor cycle. Bus stand chowki in-charge Mukhtiar Singh had set up a check point on the Sidhwan Bet Road when he spotted a youth coming on a motor cycle.
Man held with smack
Khanna, October 25
The Khanna police today arrested Harpreet Singh, a resident of Rahon village with 30 gram smack.


Nepalese gets 10-yr jail for possessing charas
Ludhiana, October 25
A local court today convicted a Nepalese resident, Dilbahar, alias Dilbahadur Singh, of possessing 5.5 kg charas and sentenced him to 10-year rigorous imprisonment. He was arrested while coming out of the local railway station in 2003.
Eastwood emerge champions
Mullanpur Dakha, October 25
Eastwood International School emerged as the district champions in the CBSE School Kho-Kho championship. The district championship was held at Sardar Kartar Singh Sarabha Public School, Sarabha village, near Raikot. 10 CBSE affiliated schools of Ludhiana district participated, in which Eastwood International School was declared first. DAV School, Phillaur, and Satluj Public School, Goraya, bagged second and third positions, respectively. — OC