Engg Marvel:Roorkee owes it to Ganga canal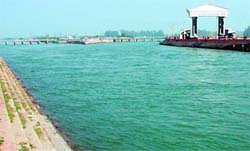 Roorkee, October 30
The town, which is today known as the 'Mecca' of civil engineering, owes this distinction to the evolution of Ganga canal system. Roorkee is situated at the end of first 30 kilometres of the canal, which has been a marvel of engineering eversince it was construted a century ago.
A veiw of the Ganga in Roorkee. Tribune Photo
Antique look-alikes made cheap

Dehradun, October 30
To a non-discerning eye, it would appear that the old hand-operated Gramophone, wall clocks and nautical equipments comprising hour glasses, time pieces etc - visitation from the past that have all but disappeared from our daily use - have made a come back.

Antiques manufactured in Roorkee up for sale during the Virasat festival. Tribune photo: Vinod Pundir
Bhaiya Duj celebrated
Dehradun, October 30
Bhaiya Duj was celebrated here on Thursday, the second day of the waxing fortnight in the month of Kartik.